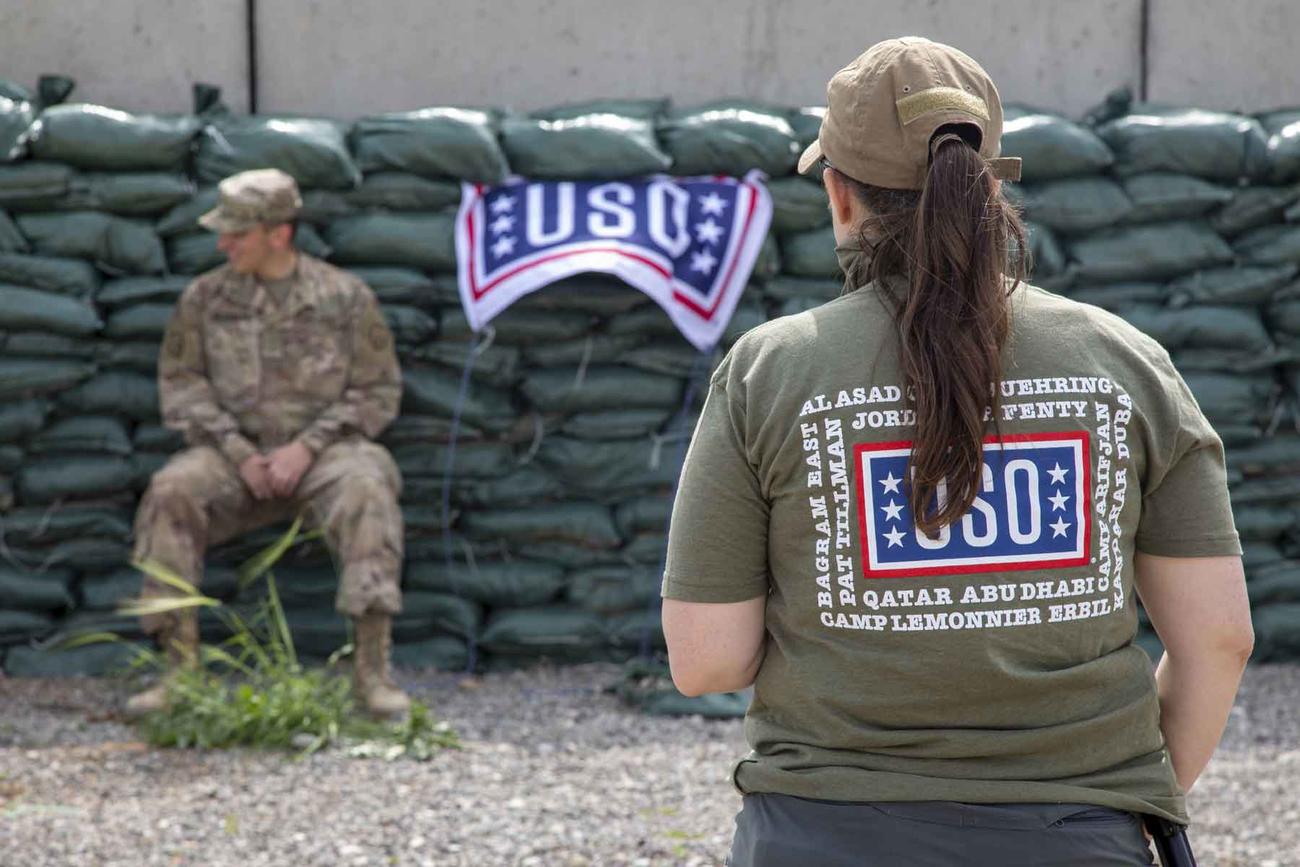 The United Service Organizations building at Fort Lee, Virginia, closed its doors indefinitely last week, one of several permanent and abrupt closures of USO facilities across the country.
Fort Lee's public affairs office issued a release Wednesday criticizing the nonprofit for its "no-notice shuttering," while noting that a range of other USO locations had closed suddenly.
The USO has been a staple of military culture since its founding in 1941. The nonprofit operates centers at military installations and airports to support service members and their families while they travel on assignments around the world, including unstaffed locations in war zones too dangerous for USO employees.
Read Next: Despite Flipping in Surf 4 Times in a Year, Marines Say New ACV Is the Future of Amphibious Warfare
In response to Fort Lee and local media, USO officials have pointed to a general reprioritization of resources, citing low foot traffic at recently closed locations in several cases. At least three of the closures came during the same week, included at airports in Ohio and Florida, despite increases in program spending and end-of-year net assets for the USO organization-wide, according to organization tax filings.
"The USO continually evaluates how it can best serve the needs of our service members and their families," Daniel Drummond, director of communications and social media for the nonprofit organization, told Fort Lee's public affairs in an email last week. "We have determined several of our locations have very low traffic and have decided to redeploy those resources elsewhere in the U.S. and around the world to better serve our military."
The USO did not respond to Military.com's questions in time for publication.
"This is a challenging environment for nonprofit fundraising, and the USO is not immune to that trend," a former employee of the nonprofit told Military.com on the condition of anonymity to speak about their former employer. "However, I am disappointed to see low foot traffic cited as primary causes for these closures.
"In my personal and professional experience, USO centers and programs on smaller bases may report lower 'numbers served' but [they] have the greatest need for wellness programming, accessible activities, and fellowship," the former employee added. "Often, this is where USO programs can be the most impactful."
As the Global War on Terror fades and military rotations to eastern Europe in support of NATO allies watching Russia's renewed invasion into Ukraine from the sidelines have increased, the USO has made a noticeable shift in rhetoric in its support for those troops.
A page on the organization's website titled "USO On The Frontlines" was launched this spring and features a number of initiatives that suggest support and resources for service members deploying to Europe.
The closures also come amid changes and improvements to some organization locations, with the USO opening its first-ever "gaming center" for service members at Marine Corps Base Quantico, Virginia, in February, according to a USO press release.
Local news outlets have also reported on closures. The Dayton Daily News reported that the USO at Dayton International Airport closed last week due to a reevaluation of resources. CBS47 out of Jacksonville reported last week that the USO in that city's international airport closed too, quoting a volunteer who said that he was not notified of the closure until days before the shuttering.
KVIA, an ABC affiliate out of El Paso, Texas, reported in August that the USO was also planning on closing its doors in that city's international airport, with USO Regional President Gary Cole pointing to a 75% decrease in foot traffic and a reprioritization of resources to USO locations at Fort Bliss — an enormous Army post in the city.
The Dayton Daily News cited USO center program manager Erik Oberg in an email to volunteers saying that the closures did not have to do with the economy.
"It is not being driven by the current economic environment," he wrote, according to the publication. "We would be making these reductions even in a better economy."
The USO reported a 17% increase in total end-of-year net revenue between 2020 and 2021, with last year's total surpassing $100 million, according to publicly available financial statements. The organization's fundraising also increased by 13% year-over-year, a continuation of a trend of five years of continued growth.
Meanwhile, how much the organization spent on program services, a category of expenses that ostensibly funds day-to-day operations and projects, has remained largely unchanged compared to the total expenses it has reported each year since 2017.
"Fort Lee recognizes and appreciates the USO's incredible support to our soldiers over the years," Maj. Gen. Mark T. Simerly, the Fort Lee commanding general, told Military.com in a statement via email regarding his installation's USO closure; that facility had opened more than 10 years ago. "The USO is always welcome on Fort Lee, and I sincerely hope our troops will again be able to benefit from greater USO services here in the future."
— Drew F. Lawrence can be reached at drew.lawrence@military.com. Follow him on Twitter @df_lawrence.
Related: USO
© Copyright 2022 Military.com. All rights reserved. This material may not be published, broadcast, rewritten or redistributed.