Key events
50 min: Spurs have calmed down after that ferocious start to the half are happily pinging the ball around in midfield.
48 min: "You provoke an intriguing thought," writes Richard Hirst, "who would teach those GCSE volleying classes? Lorimer (for us oldies), Bergkamp? Suggestions please."
Marco van Basten would be a worthy teacher, no? Some of these could at least get a gig as teaching assistants.
45 min: We're off – and Kane turns sharply and releases Sessegnon into the box immediately. He takes a touch when he could cross first time and Eintracht clear. Spurs come back and Son shapes to shoot, but he's met with a wall of Eintracht defenders and the ball is cleared. This is a sharp start to the second 45 by Tottenham. What was in their tea?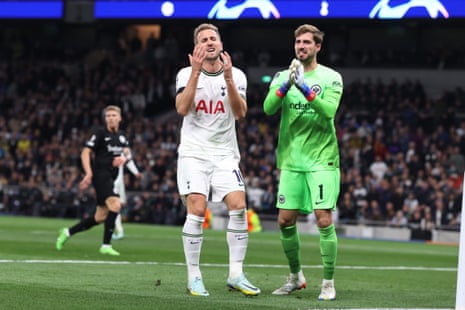 An email: "Re: the entry for 34 minutes, as someone who watched pretty much every single one of Richarlison's games for Everton over the last four seasons, I can confirm that he runs his proverbial butt off," writes Matt Burtz. "He'll always track back and is almost never just standing around waiting for something to happen. As you can probably tell, I was sorry to see him go, but I definitely wish him all the best (except for this Saturday and whenever Spurs come to Goodison next)."
Half time reading:
And this is the kind of journalism you come to the Guardian for:
Half-time: Tottenham 3-1 Eintracht Frankfurt
After a sloppy 20 minutes, Spurs burst into life. The first was a Kane-Son goal you have seen countless times before, the second was a clear penalty won and tucked away by Kane, and the third was a sensational volley from Son, who has got his mojo back … and some. Antonio Conte will be delighted. Spurs top their group as it stands.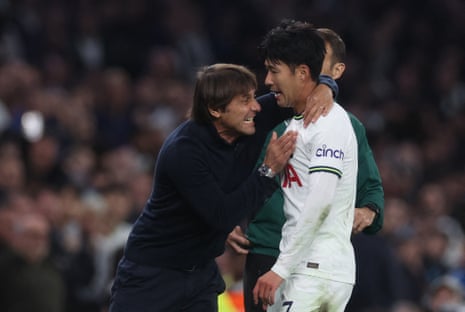 45+1 min: Lloris is almost caught as he takes an age to clear the ball right on his Spurs goalline. Blimey, that was risky. Then Spurs break and Emerson takes an extra touch in the box when he could square to Kane, allowing Eintracht to clear for a corner. Romero meets Emerson's corner, but his header is tipped round the post by Trapp as the half-time whistle blows.
45 min: The Eintracht fans are still making a decent noise but it lacks the hope of earlier chanting. Spurs are content to let the visitors have the ball for these closing moments, closing off space and waiting for them to give the ball away.
43 min: "Well if one mistake from your defender is gonna lit up fire under this team's ass, I'll take this approach of Tottenham every single time," honks Yash Gupta. So, you're saying Dier played a captain's role after all? I like it. Mind you, what works for Dier certainly doesn't work for Harry Maguire when he makes similar errors every other week.
42 min: Son is an outstretched Trapp left foot away from a hat-trick after firing low at goal following some lovely Spurs buildup through midfield.
41 min: Bentancur is booked for turning himself into a human lawnmower and going to work on Eintracht captain Rode. That was an unnecessary booking but also the clearest yellow card you'll ever see.
40 min: That Son goal should be taught in GCSE volleying classes.
Goal! Tottenham 3-1 Eintracht Frankfurt (Son 36)
What a goal this is! Hojbjerg shuffles down the right wing and lifts a floated cross to the middle of the penalty area where Son backs off and waits and watches. His eyes never leave the ball as he shapes to fire an unstoppable left-footed volley into the roof of the net. I'm surprised there aren't flames coming off the back of the ball, such is the ferocity of that volley. Wow.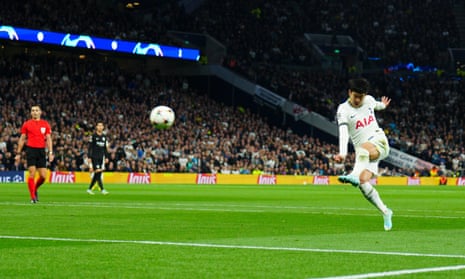 36 min: Richarlison flicks a header on to Son, who legs it up the left wing and somehow stings Trapp's palms from an acute angle.
34 min: Spurs are hounding Eintracht out of possession in midfield now in a way they weren't earlier on. Richarlison is dropping deep to help press, which is a part of his game he doesn't get much credit for.
32 min: Lloris makes a solid stop from Lindstrom. The resulting Eintracht corner comes to nothing.
31 min: In the other Group D match, Marseille are beating Sporting – who have had a man sent off – 2-0. That means Spurs top the group as it stands with Marseille second and Sporting third.
29 min: Well, this is great fun. Purists such as Kieran McHugh may prefer a riveting 0-0 but I'll take goals all day long.
Goal! Tottenham 2-1 Eintracht Frankfurt (Kane 28 pen)
Kane sidefoots powerfully to Trapp's left. The goalkeeper gets a finger to it, but the power takes it past him. Kane wanted to get off the mark in Europe this season … and now he has. What a turnaround.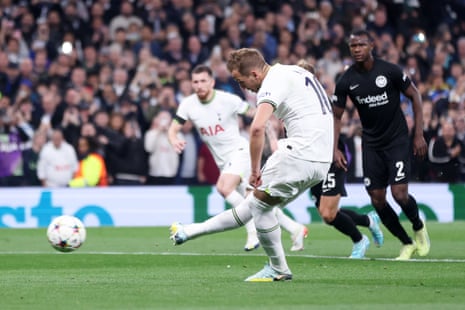 26 min: Yep. Referee Carlos del Cerro Grande points to the spot. Kane to take it …
25 min: Kane wriggles through a couple of challenges and emerges with the ball in the penalty area. He's about to race through but Jakic bodychecks him. The referee waves play on but that's a penalty for me. VAR will check it and the referee will look at this on the pitchside screen.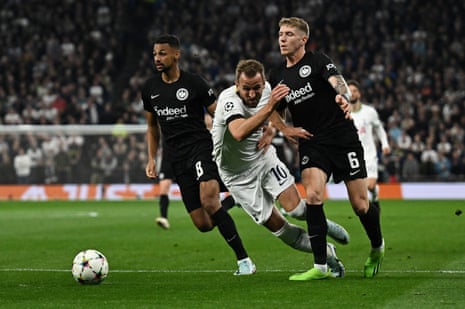 23 min: In case you're wondering what's happening at Ibrox, it's the same scoreline there (1-1), with Firmino equalising for Liverpool after Scott Arfield had given Rangers the lead after 17 minutes.
22 min: Spurs win a free-kick on the edge of the penalty area after some dazzling footwork from Son leads to a panicked clearance and a rash tackle 25 yards out. Kane tries to curl it into the top corner, but it's at least a foot over.
Goal! Tottenham 1-1 Eintracht Frankfurt (Son 20)
Well that was a quick response and so, so easy. Kane drops deep, picks up the ball and plays in Son, who races between two defenders and slots the ball to Trapp's left and into the corner. It's a goal you've seen many times before. We're level.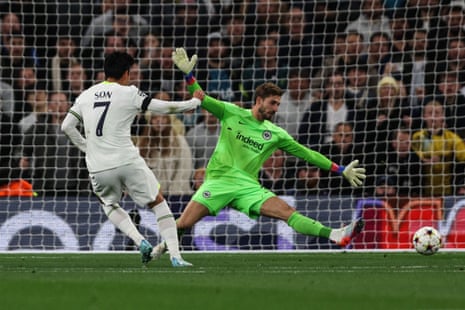 16 min: The Eintracht fans are bouncing even more wildly than they were previously. Emerson goes down after a challenge. He's holding his knee but gets back up gingerly. Spurs need to regroup after that horror show.
Goal! Tottenham 0-1 Eintracht Frankfurt (Kamada 14)
Oh Spurs! Talk about shooting yourself in the foot. Dier takes a hefty touch in the box and lets Lindstron get away in the box. He squares to Muani but Lloris is out sharply and blocks the attempted shot. The ball lands at Rode's feet. He shapes to shoot but unselfishly squares to Kamada, who slides home. Oh dear. I mean, oh Dier.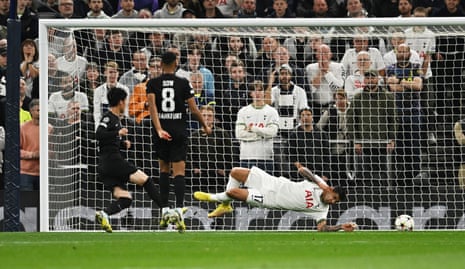 11 min: Kane attempts to find Son at the back post but N'Dicka stretches out a long leg and hooks the ball away athletically. Then Dier takes a yellow card for a hefty bodycheck on Muani, who was skedaddling up the left wing with menace.
10 min: Lenz has a dig from distance but Dier blocks the shot and then clears after a loose ball is knocked back in from midfield. Solid stuff.
8 min: After an even start, Spurs are getting a grip of the game now, bossing possession and looking comfortable in their setup.
6 min: Sessegnon hoiks a looping cross into the box that drops from a great height at the back post. Richarlison takes a great leap above Trapp and heads down at goal, but the ball drops just wide of the far post. There's a suggestion he might have fouled Trapp but a goal-kick is given which suggests either the ball was out before Sessegnon's cross, or Richarlison's header was deemed a legitimate one, as it should have been.
5 min: Eintracht don't look scared here. They're trying to knock the ball around at every opportunity and Kamada's movement, dropping deep into midfield, is causing problems.
4 min: Sessegnon gives the ball away and then hurts himself in a collision with Rode. Lindstrom picks up possession and whips a cross in to Kamada, but the ball bounces up high and the forward, unmarked in the box, can't get a clean connection. That's a warning.
2 min: Romero pings a lovely pass down the right channel to Richarlison, who peels off his marker cintelligently. He zips down the right wing but his cross is blocked back on to his shins and out for a goal-kick.
1 min: Peep! Eintracht, in black, get the match under way. They're kicking from left to right on my TV screen. Spurs, in white, are going the other way. Here we go!
There's a minute's applause in tribute to John Duncan, the former Spurs forward who died at the weekend, and Gian Piero Ventrone, the Tottenham fitness coach, who died aged 61 last week. RIP.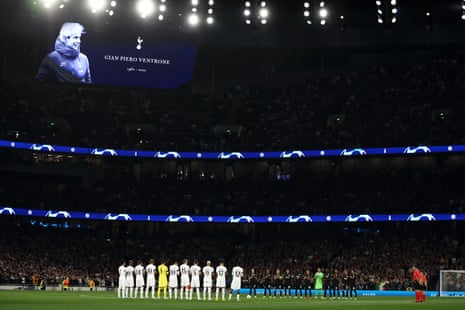 The teams are out at a rocking Tottenham Hotspur Stadium. The Spurs and Eintracht fans are making quite a din. With the group so tight, this is a big one. Almost time for kick-off.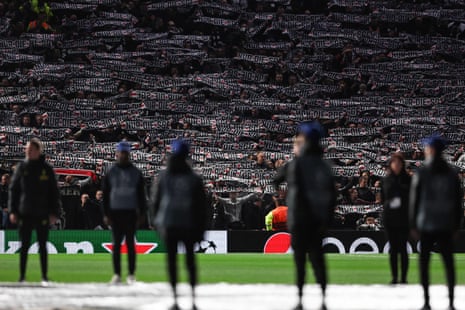 Napoli are great fun aren't they? They beat Ajax 4-2 and are in the last 16. Atlético are anything but. They drew 0-0 at home against Brugge who, incredibly, have qualified after four games without conceding a goal. Bravo.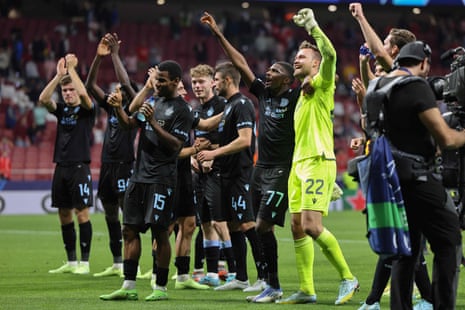 Antonio Conte speaks. On playing three up front: "We decided to set up in this way. The first leg was a game with great balance [but] we can be much better tonight. My expectation is to play a really good game and get three points." On picking Sessegnon over Perisic: "Sessegnon is a player I think is growing in an important way and now I think today he was the best choice to start with." On whether he has set Spurs up to be more expansive in their attacking play: "We try to score because if we don't score we don't win. Tonight we need the [forwards] to be clinical and take their chances. It's not a decisive game but it's really important for both teams."
Eintracht Frankfurt's last couple of visits to London have been very enjoyable. They beat Arsenal 2-1 in November 2019 and West Ham by the same scoreline in April. Both of those matches were in the Europa League – can they go one better in the Champions League? They'll have vociferous backing from their fans, who are making quite a racket as they march up Tottenham High Road.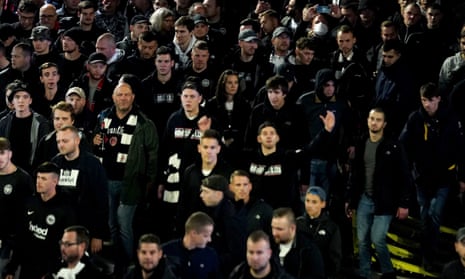 "Why is Sessegnon awarded an 'R' in the team news – have Spurs signed his twin Steven?" asks Richard Hirst. Nope, that would be my copying and pasting, R Hirst.
In the early Champions League matches this evening, Napoli are beating Ajax 3-1 in Group A and Atlético are drawing 0-0 at home with surprise package Brugge, who lead Group B. You can follow all tonight's matches with our live scores page here.
Kieran McHugh would like to make a case for last week's 0-0 draw. "I know the link to the Guardian match report claims last week's first instalment wasn't up to much, but it was actually a decent match, albeit without goals." Last week's report was actually a review of an Ed Sheeran gig.
Tottenham Hotspur: Lloris (c); Romero, Dier, Lenglet; Emerson Royal, Hojbjerg, Bentancur, R Sessegnon; Richarlison, Kane, Son. Subs: Forster, Doherty, Skipp, Sánchez, Bryan Gil, Perisic, Spence, Moura, Sarr, B Davies, Bissouma, White.
Eintracht Frankfurt: Trapp; Tuta, Hasebe, N'Dicka; Jakic, Rode (c), Sow, Lenz, Lindstrom, Kamada, Muani. Subs: Smolcic, Alidou, Borre, Alario, Chandler, Ebimbe, Götze, Grahl, Ramaj.
Referee: Carlos del Cerro Grande (Spain)
Spurs make three changes, with Richarlison, Emerson Royal and Clement Lenglet in for Yves Bissouma, Matt Doherty and Ben Davies. Lucas Moura returns to the bench after a lengthy injury absence with a tendon issue. Götze, Ebimbe, Alario and Borre drop to the bench after Eintracht's 3-0 loss against bottom-of-the-table Bochum.
This is the first Spurs home match since the death of Gian Piero Ventrone, the club's much-loved Italian fitness coach, and former Tottenham forward John Duncan, who passed away at the weekend. A minute's silence will be held to remember both men before kick-off. Here's how Ventrone's seat in the dugout looks this evening. It's a lovely, touching tribute.
If Tottenham are going to qualify for the knockout stage without any drama they could really do with a win this evening. They've beaten Marseille at home, lost at Sporting and drawn at Eintracht Frankfurt. With Sporting at home and then a trip to Marseille bringing Spurs' Group D games to a close, three points here is in order. Here's how the table looks:
It's pretty tight, then. Star of last night's CBeebies Bedtime Stories, Harry Kane, will hopefully provide a decent storyline. Kane has drawn a blank in the Champions League so far this season despite being prolific domestically. He read the Lion Inside on his BBC appearance, the story of a timid mouse who discovers his inner lion. After a quiet return to Europe's top table, now would be a great time for Spurs to follow that little rodent's lead and make some flipping noise.
Maybe Antonio Conte will loosen the handbrake a little to help with that. We could certainly do with a tad more entertainment than the two sides delivered a week ago in Germany. Tottenham should have the fit again Lucas Moura back in the squad though Conte will not risk Dejan Kulusevski given the hectic schedule they face in the leadup to the World Cup. Eintracht come into this game having been beaten 3-0 by the Bundesliga's bottom side, Bochum, on Saturday. They should have a stronger lineup this evening, mind.