HOLD THE IGHALOMETER
Any centre-half who played in England in the 1980s will tell you that the real meaning of hell is spending 90 minutes in the company of the journeyman striker Billy Whitehurst. A somewhat limited technician and unsentimental soul who was once described as looking like "Frankenstein's monster", by himself, Whitehurst has a case for being the most terrifying footballer ever to roam the green. Legend has it he once offered out the entire Crystal Palace team and kept himself busy away from football by partaking in bare-knuckle boxing.
During his short spell at Sheffield United – according to Wikipedia, Whitehurst had 23 clubs, and that doesn't include the bare-knuckle collectives – the manager Dave Bassett reportedly gave Whitehurst a simple pre-match instruction: "Go and cause some bo11ocks, Billy."
Such hi-jinks are no longer part of top-level football, now that casual GBH has been identified as a red-card offence, and possibly a custodial one. But your super soaraway Football Daily couldn't help but think we saw the modern-day equivalent at the World Cup, when the Netherlands coach Louis van Gaal sent on Luuk de Jong and Wout Weghorst – combined height 12ft 6ins – to cause some boll – er, mayhem in the quarter-final against Argentina.
How they obliged. Weghorst scored twice to take the game to extra time, and for a while Argentina's defenders looked like they were under attack from alien forces. Eventually Argentina won on penalties and a totally wired Lionel Messi called Weghorst an idiot after the game. For the country that invented Total Football, it was a helluva performance against type, and it was a couple of weeks before Johan Cruyff stopped spinning in his grave. Total Football is dead, long live Total Woutball.
Except there is a bit more to Weghorst than that. One of his goals was a header, sure, but the other was possibly the most courageously inventive free-kick in World Cup history, which he both devised and finished. When it became apparent that Manchester United were going to sign Weghorst on loan from Burnley via Besiktas, Football Daily's instinct was to sneer and fire up the Ighalometer to see how Weghorst might compare to all the post-Fergie centre-forwards – Falcao, Martial, Lukaku, Cavani, Ronaldo – whose signings didn't really work out. But as with most things in life, the more we actually think about it, the less inclined we are to laugh, or smile, or feel any joy whatsoever.
For various reasons, United are shopping in the reduced aisle, and at £2.7m – the compensation fee paid to Besiktas – Weghorst is better value than anything else with a yellow sticker on it. He had a progressively unhappy time at Burnley last season, scoring two in 20 games and taking the huff when he was subbed in a crucial game at Watford, but his goalscoring record everywhere else is excellent. In three and a half years at Wolfsburg, Weghorst scored 59 Bundesliga goals. That's more than anyone except Robert Lewandowski, and we're not going to let the fact Erling Haaland arrived a year later and was injured half the time get in the way of a good narrative.
There were reports that Weghorst might have moved to a bigger club than Burnley – Arsenal, Spurs and Chelsea were all linked – had he not openly been an anti-vaxxer, though we don't know where he stands on the subject now.
Weghorst's YouTube package suggests an accomplished finisher, though Burnley fans might tell you otherwise. What is clear is that, despite putting the fear of Billy into Argentina, he is not just an old-fashioned lump. Weghorst's link play is sufficiently good that we've taken the old Good Touch For A Big Man cliche out of storage. He is also ambitious, single-minded and confident enough to pick a fight with possibly the greatest player of all time.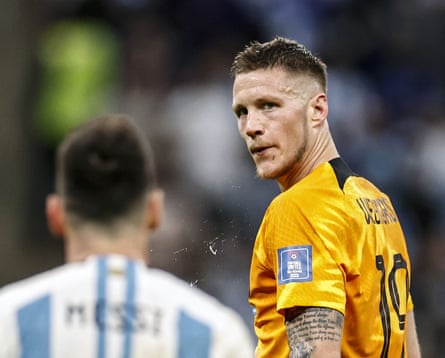 Most importantly, he is rated by Erik ten Hag, who has won eight games in a row and has so much credit in the bank at the moment that he could bring in Richard Madeley on a short-term contract and we'd probably nod sagely and stroke our chin in approval.
Nobody of sound noggin is suggesting Weghorst is the second coming of Henrik Larsson, never mind Eric Cantona. But nor is he the new Odion Ighalo. With United the only English team still in four competitions, Anthony Martial again looking like the poster boy for apathy and the club not having a metallic tub in which to pass water, he could be a shrewd signing. And if he tanks, we'll just dust off the Ighalometer and pretend this never happened.
LIVE ON BIG WEBSITE
Join Rob Smyth from 8pm GMT for hot MBM coverage of Fulham 2-2 Chelsea in the Premier League.
QUOTE OF THE DAY
"Tom approached us with the request a number of weeks ago and we were happy to show the same loyalty that he has to us since becoming one of our first-ever signings back in 2021. Despite the fact that we are disappointed to lose a player of Tom's calibre for the foreseeable future, we also recognise the incredible opportunity that this represents for both him and his family" – Macclesfield explain their decision to allow 6ft 5in striker Tom Clare to swap a title race in the eighth tier of English football for preening and bickering in the South African sun on the new series of Love Island.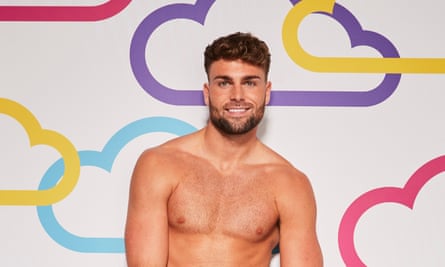 "Reading Neil Andrews's look at advertising hoardings (yesterday's Still Want More?) took me back to being a kid at Turf Moor and t1ttering at the sign for a scaffolding company with the tagline: 'For the perfect erect1on.' I'm 36 now and just checked, it's still there. It's great to see that some parts of society change slower than others" – Ste Ryan.
"Yesterday's Football Daily about Chelsea's spending habits on big-name players down the ages reminded me of a story about Hughie Gallacher. My dad was at an Arsenal v Chelsea match where, every time Gallacher went down the touchline, a stentorian-voiced Gooner standing three rows back gave him a right royal roasting. Gallacher put up with it until the last time it happened, when he simply stopped running, turned to face his nemesis and blasted the best shot of the match straight at him" – Frank Landamore.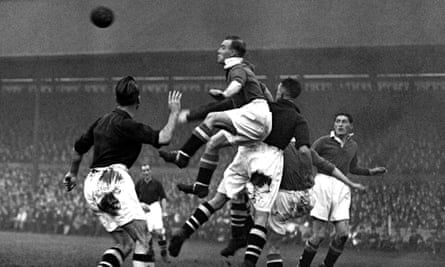 Send your letters to the.boss@theguardian.com. Today's winner of our prizeless letter o' the day is … Frank Landamore.