Few clubs are as used to the ups and downs of football as Strasbourg. Having won the Coupe de la Ligue in 2005, the club were either promoted or relegated in four of the next five seasons before dropping down to the sprawling fifth tier in 2011 due to financial issues. However, they earned promotion in four of the next six seasons and were back in Ligue 1 by 2017, before winning the Coupe de la Ligue again in 2019.
After a few seasons in the lower reaches of mid-table, the arrival of manager Julien Stéphan at the start of last season seemed to herald a sea change. The young, vibrant coach, who was fresh from winning the Coupe de France with Rennes, took the same players used by his wily but often pragmatic predecessor Thierry Lauray and turned Strasbourg into a functional but attacking outfit.
Thanks to towering striker Ludovic Ajorque, a dynamic midfield and high-quality deliveries from the team's flying wing-backs, Strasbourg were among the top scorers in Europe this time last year. They were genuine Champions League contenders last season and competed with Ligue 1's traditional heavyweights throughout the campaign. Stéphan's side finished a remarkable sixth and only missed out on qualifying for Europe after Nantes pulled off an almighty shock and won the Coupe de France.
However, that same squad, which wasn't picked apart during the summer as had been expected, has taken another turn since. Strasbourg have won just one of their 18 league games so far this season, drawing nine. With the club sitting second bottom of the table and four points from safety, Stéphan was sacked earlier this week. His sacking came on the same day as Lucien Favre's removal at Nice. As a result, one game shy of the season's halfway point, 13 of the 20 clubs in the division have changed their coach since the end of last season.
The rate of sackings can be partly attributed to a heightened fear of relegation. Four teams are going down this season. As a result, in a fiercely competitive division, more than half of the 20 clubs went into the campaign weary of relegation. Clubs know that, with Ligue 2 also decreasing in size from 20 to 18 teams from the 2024–25 season, not only is dropping down more likely but returning to the top flight would be even more challenging. St-Étienne's struggles – they are the foot of the second tier after being relegated from Ligue 1 last season – will not have gone unnoticed by club presidents.
Stéphan, son of long-time France national team assistant coach Guy Stéphan, is a victim of this fear. In a normal season, he might have been given longer to rescue the situation given how unfortunate his team have been with injuries. His wing-backs – a key position in his system – have been decimated. Frédéric Guilbert and Anthony Caci left the club last summer, but the three players brought in to replace them have lacked fitness and Dimitri Liénard has struggled to maintain his previous form.
Strasbourg have performed better than their league position would suggest. Although well below their ruthless, physical best of last season, they have only failed to score in one of their last 11 league games and have been unfortunate not to take more points from high-scoring and even games. Montpellier and PSG beat them thanks to last-minute penalties; Stéphan's side should have won against 10-man Toulouse (drawing 2-2); and they were 2-0 up at Ajaccio before capitulating. Conceding 31 goals in 17 games was not a great record for Stéphan, but it was by no means the worst in the league. Similarly, his team scored as many goals as some clubs in mid-table. Stéphan will rightly feel that he was very unlucky to win just one match this season.
It's difficult to tell if Stéphan is an unlucky coach or just too one-dimensional tactically to get the best from his squad consistently and engineer wins in tight games. His replacement faces an even tougher job given that the attacking midfielder Adrian Thomasson – a key player in the team – is expected to leave for Lens this week.
When exactly that new coach will arrive is unknown. Despite Ligue 1 clubs' hastiness in sacking managers this season, decisions over new appointments have been far more considered. Of the nine clubs who have changed coaches since the start of October, only Lyon hired a long-term replacement quickly, bringing in Laurent Blanc. Angers, Reims, Montpellier and Nice have all promoted from within, with a long-term replacement still likely for most of those sides. Auxerre, Brest and Troyes also took their time before committing to a new coach. Although aided by the World Cup break, it's a sign that Ligue 1 boards are taking a more methodical approach to team building and their projects as a whole, regardless of the relegation pressure.
For Strasbourg, however, their next appointment will likely decide whether they slip down to Ligue 2 yet again. Having been unfortunate so far this season, missing out on points in games with so many direct rivals, removing their promising young coach may yet prove to be the hastiest of sackings in a season of hasty sackings.
Talking points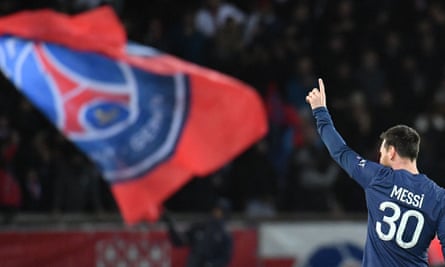 Lionel Messi returned to club action for the first time since he helped Argentina beat France in the World Cup final. Although Messi received a guard of honour from his teammates and club staff upon his return to training last week, PSG sidestepped an overt celebration at the Parc des Princes before their meeting with Angers on Wednesday night. Messi scored the second and was involved in the opener as PSG ran out comfortable 2-0 winners. Meanwhile, Lens' draw with Strasbourg helped PSG extend their lead at the top to six points.
Nice sacked Lucien Favre after their humiliating cup defeat to third-tier Le Puy at the weekend. Didier Digard, the former PSG and Middlesbrough midfielder, has taken over as interim first-team head coach, with sporting director Florent Ghisolfi refusing to say when the club will appoint a new permanent manager. "The coach won't have a particular pressure for results," said Ghisolfi. "We want to do our best in the championship, to construct and to build. To build, you sometimes have to deconstruct." Digard's opening 6-1 win over Montpellier, in which Ross Barkley scored twice, suggests the club can take their time.