Key events
Lap 10/61: The Williams mechanics scurry around Latifi's car, but to no avail. The Canadian is forced to join Zhou – who's annoyed at him after the incident – in ending his afternoon early.
Lap 10/61: Zhou has stopped by the side of the track and has retired – he ploughed into the wall after Latifi moved ahead of him. Latifi in turn has a puncture, and is heading back to the pits. And we have a safety car.
Lap 9/61: Verstappen's pursuit of Vettel continues in vain – for now – the German subbornly refusing to offer any way past.
Lap 7/61: Perez and Leclerc are pulling away of the chasing pack – a six-second gap now. The track is "not drying up very quickly" Lando Norris tells us.
Lap 5/61: Verstappen – who may have made contact with Magnussen at the start – passes Tsunoda for P9 and sets his sights on Vettel. That Hamilton gripe: "I told you about these tyres," he said to his team. "You need to listen to me in the future. No grip!"
Lap 4/61: Perez has opened up just under a one-second lead over Leclerc. Then it's Sainz, Hamilton and Norris. Hamilton isn't happy with his tyres, apparently disagreeing with his team about them before the race: he wanted to start on full wets but was overruled.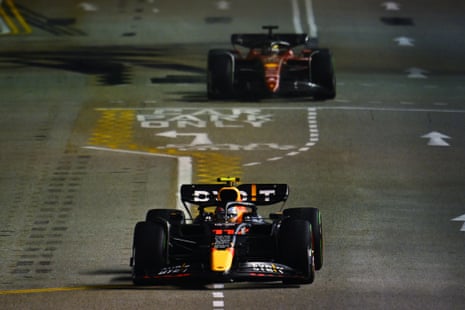 Lap 2/61: "Magnussen has the end plate loose," Verstappen tells his team on the radio. Grass. Hamilton went off track after a battle with Sainz, but they'll be no investigation.
Lap 1/61: Perez took advantage of a slow getaway from Leclerc and saw him off at the first corner. Meanwhile at turn seven, Albon lurched off track but managed to pick himself up and continue. Verstappen has sunk down to 12th after a hesitant start that saw him caught in traffic.
And we're off! Perez passes Leclerc straight off the bat. Hamilton goes wide into turn two, allowing Sainz to sneak into third.
The formation lap is underway, with all cars on the intermediate tyres. But when do they make the switch to slicks?
How they start:
1 Charles Leclerc (Ferrari)
2 Sergio Perez (Red Bull)
3 Lewis Hamilton (Mercedes)
4 Carlos Sainz Jnr (Ferrari)
5 Fernando Alonso (Alpine)
6 Lando Norris (McLaren)
7 Pierre Gasly (AlphaTauri)
8 Max Verstappen (Red Bull)
9 Kevin Magnussen (Haas)
10 Yuki Tsunoda (AlphaTauri)
11 Lance Stroll (Aston Martin)
12 Mick Schumacher (Haas)
13 Sebastian Vettel (Aston Martin)
14 Guanyu Zhou (Alfa Romeo)
15 Valtteri Bottas (Alfa Romeo)
16 Daniel Ricciardo (McLaren)
17 Esteban Ocon (Alpine)
18 Alexander Albon (Williams)
19 Nicholas Latifi (Williams)
20 George Russell (Mercedes)
A point of admin. I misread the rulebook – the three-hour race window is from the new start time, ie from 14:05, not 13:00.
Buckle up.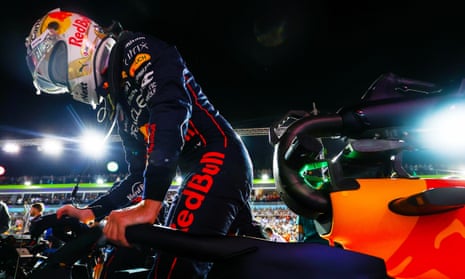 We wrap out our movie game with a winner: David Flynn submits The Truman Show rain scene – a great scene and a perfect film. Good afternoon, good evening and goodnight.
Right then. T-minus 10 minutes until the formation lap.
As the national anthem plays, here's Toto Wolff: "If you feel the slipperiness of the floor tonight, this is about who can stay on track in the beginning and who can time the safety cars."
On the grid, Martin Brundle corners Will-i-Am and delivers the inevitable "let's get it started" crack. Wince. Next up it's Pierre Gasly – "A little bit of standing water, but not too bad," the driver yelps over his shoulder while fleeing the cameras.
Some citizen journalism from the fan zone in Singapore:
Whether or not we'll get a standing start is still unconfirmed – though common sense would suggest it's a foregone conclusion. And the treacherous conditions make themselves known as Verstappen screeches into the run-off area having gone straight on at turn seven.
Blithely inventing his own rules, Ian Moore writes in with some nominations of his own: "Best wet races? Germany 2018 is right up there, not just for a superlative drive from Hamilton, but also Vettel's pantomime villain crashing out in pantomime fashion in front his home crowd! Best wet lap: Senna, Donington '93 (boring race otherwise, and Prost made 7 (SEVEN!) pitstops for tyres!!)." Any more for any more?
Meanwhile, the pit lane is open and the drivers are hitting the track. Verstappen has already hurtled back in to swap his full wet weather tyres to intermediates.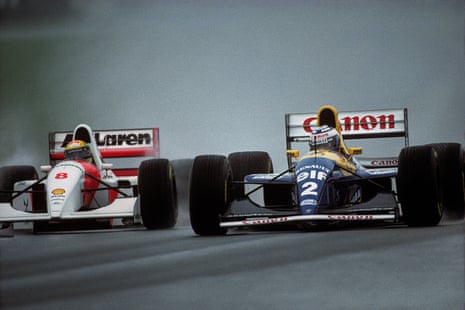 It isn't over! Steph in Potters Bar wipes away the tears to submit weepie-romance favourite The Notebook – impeccable taste.
Back on matters F1, Xan Bird – who may or may not be wiping away tears – says: "What is the point of F1 having wet tyres if we are never going to see them used in a race? Not having wet races detracts from the experience of F1 and means we don't get to see the skills of the wet weather experts! It's just a bit ridiculous."
Mustafa Coban comes in with a classic from the late-90s VHS action-movie market: "Hard Rain. Christian Slatering it down all through the film." Well played sir.
"I'd have to go with Jurassic Park," says James Crowder. "Simply because it involves a T-Rex." Good point well made.
Aiden Mcfarlane give us: "Rush, Seven Samurai, In Cold Blood, and of course Rain Man". Chortle.
Christian Horner speaks: "It's a very different race now today. As a street circuit, it's harder to overtake – but now it's a completely different ball game with braking distances extended. It was our mistake yesterday, hands up for that, and lessons have been learnt. It's time for us to bounce back today."
Early rain-scene nominations for The Shawshank Redemption and Singing in the Rain. Some would say "too obvious" (not me of course). In the meantime, soak up our report from yesterday's qualifying:
An announcement: the start procedure will begin at 13:05, the pit lane will open 20 minutes later and the formation lap is scheduled for 14:05.
TL;DR: Get the kettle on.
The Sky Sports team are currently living out every broadcaster's worst fear: filling dead time. Right now we are getting live commentary of people sweeping water off the track, alongside pictures of the very same. For the liveblogger, of course, filling dead time is never anything less than a delight. So: favourite film scenes in the pouring rain? I nominate Blade Runner and Four Weddings.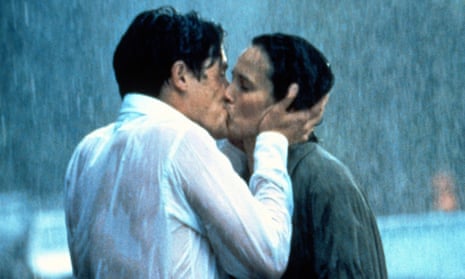 We'll get another update in 15 minutes apparently. If we get a shortened race, then points will only be awarded if we the leader completes at least two laps must be completed without a safety car. And there are three possible bands of reduced points: Up to 25% of distance would be 6 points for a win; 25-50% means 13 points for winning; and 50-75% is 19 points for the winner. After that it's full points – which Verstappen will need to clinch that title today.
In half an hour, the three-hour clock – within which the race needs to be finished – starts ticking down. Not to be confused with the two-hour clock, which starts when the race commences … and within which it must also be completed. Got that? Good.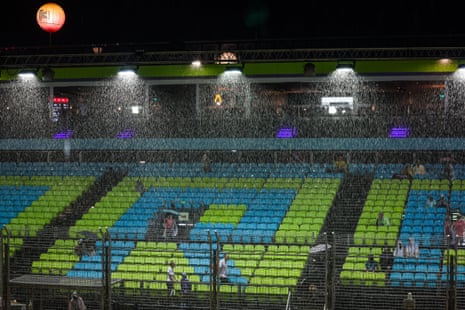 The best ever race in the rain? We Own the Night (2007). They'll be none of that today though – as long as it's chucking it down, the cars will remain in the garage. And the pit lane is currently flooded, so the start procedure isn't even possible.
More urgently though, it is absolutely tipping it down in Singapore, and the start of the race will be delayed – although we don't know by how long. An update is expected in 10 minutes or so.
Some news: George Russell will start from the pit lane after taking a new power unit, taking him above his number of allocated engine parts. He qualified 11th and has taken a top-five spot in every race he's finished this season – a record he'll do well to maintain today.
Never mind one victory lap, how about 309? That's the treat that'll await Max Verstappen if he manages to clinch the F1 title this afternoon. Japan, US, Mexico, Brazil, Abu Dhabi – all five could be rendered redundant, at least as far as the championship is concerned, if things go the Dutchman's way in Singapore today.
The small print: a hell of a lot would have to go his way. Not only has Verstappen – starting from eighth after a troublesome qualifying – got a gruelling task on his hands to overhaul Charles Leclerc in pole, he also needs to take the fastest lap and hope Leclerc and Sergio Pérez, who start first and second, finish below eighth or third respectively. Unlikely? Yes. Impossible? Most certainly not.
Exactly when the championship is sealed may seem like a point of mere administration but it also serves as a barometer of greatness: only Nigel Mansell and Michael Schumacher have ever sealed the deal so early. Verstappen, a would-be great whose sights are not just on titles but dynasties, will know this better than anyone.
The subplots? The return of Mercedes: after a nightmare start that effectively wrote off their season, the team has been creeping slowly back into contention, race by race, and Lewis Hamilton was the fastest man on track by far early in the final session yesterday, eventually losing his edge and settling for third. But on a circuit he loves, the seven-times champion will be desperate to convince the world that he will be back among the challengers next season. That said, the struggles of George Russell, whose "car let him down" according to Toto Wolff, suggests Mercedes' engineering problems are not behind them yet. Watch this space.
And some reason for cheer: Alex Albon makes a remarkable return just three weeks after spending nearly 24 hours in intensive car having stopped breathing following an appendectomy three weeks ago.
But until that title is definitively wrapped up, it's all eyes on one man. Not even Devon Loch could muck it up from here … right?