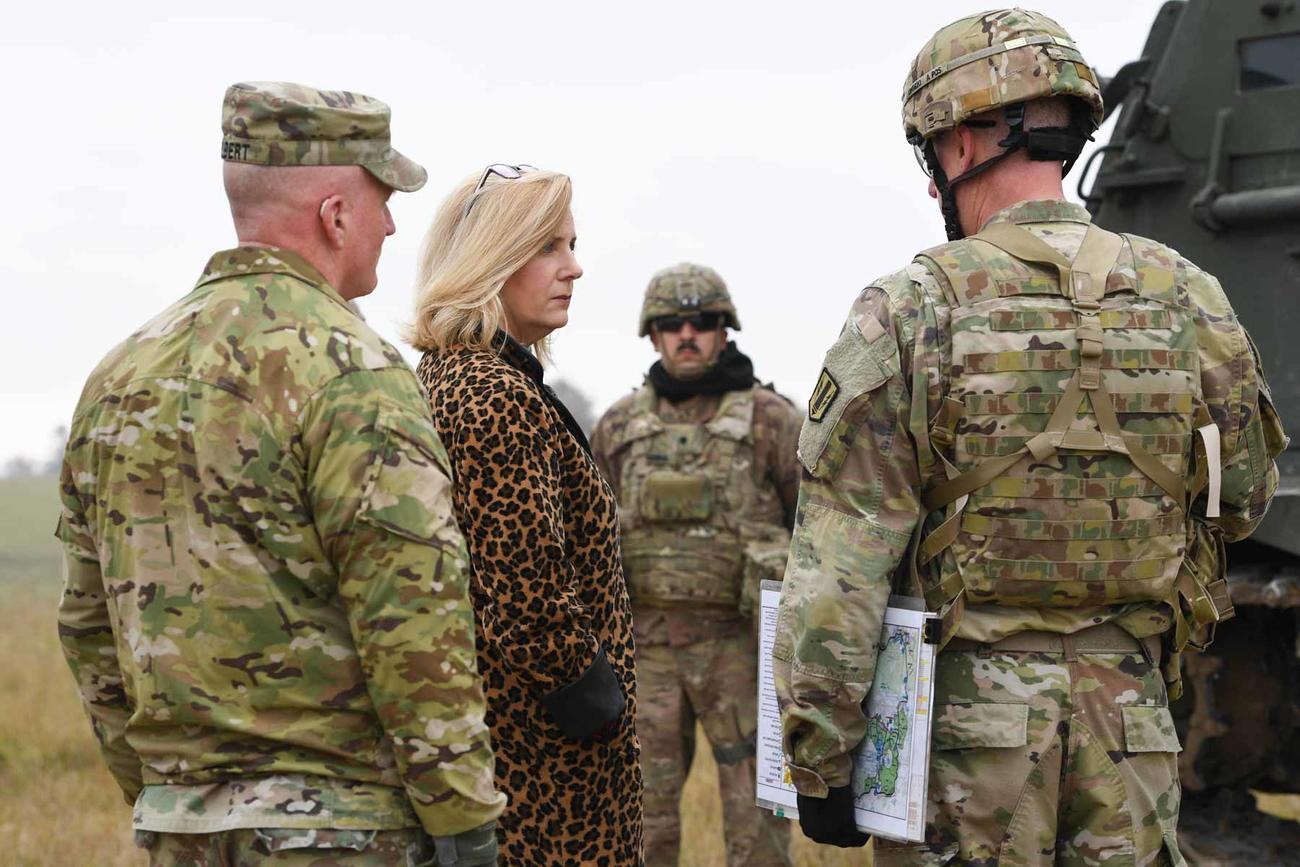 Army Secretary Christine Wormuth said Monday she is concerned about a public perception that the service's top leadership is partisan following an inspector general investigation of a general who stood up to right-wing criticism of women in the military on Twitter.
Wormuth, who spoke to reporters at an annual Army conference, said the service needs to have a "broad appeal" to attract new recruits and that senior leaders are expected to remain out of polarized politics and use good judgment online.
Public controversy erupted this month after the Army watchdog investigation found Maj. Gen. Patrick Donahoe's Twitter bouts with Fox News host Tucker Carlson and other right-wing personalities online — posts defending female troops — were in poor taste and drew unwanted national attention to the service, according to a copy of the report reviewed by Military.com.
Read Next: Russia Blasts Kyiv, Other Ukrainian Cities in Deadly Strikes
"The key for senior leaders in an environment that is as politicized, unfortunately, as the one that we're all operating in is to exercise good judgment," Wormuth said at the Association of the U.S. Army conference in Washington, D.C. "You know, one of the things I think that's most important to [Army Chief Gen. James McConville] and I is the Army being apolitical and keeping it out of the culture wars because, frankly, we have got to be able to have a broad appeal."
Last year during his primetime program, Carlson ridiculed female service members for their "new hairstyles and maternity flights suits," claiming "pregnant women are going to fight our wars."
The segment claiming the U.S. military is becoming feminized dovetailed into a movement on the political right and among some Republican lawmakers claiming the military has become "woke" and is adhering to progressive ideology as it seeks to be more inclusive of women — who were granted full access to all military roles less than a decade ago — and minorities.
Carlson's criticism was condemned by the Pentagon spokesman at the time. Other Army leaders also pushed back, including Sergeant Major of the Army Michael Grinston, who said on Twitter, "Women lead our most lethal units with character. They will dominate any future battlefield we're called to fight on. Tucker Carlson's words are divisive, don't reflect our values."
Donahoe was investigated by the inspector general after he posted a video of him reenlisting a noncommissioned officer on top of a tank and wrote, "Just a reminder that Tucker Carlson couldn't be more wrong." Investigators said that tweet "exhibited poor judgment" and kicked off subsequent news coverage that "cast the Army in a negative light."
Donahoe also engaged with female service members on Twitter, often congratulating them for their accomplishments. The IG found that was also in "poor judgment" and could have been seen as giving them preferential treatment over his other subordinates.
Lt. Gen. Donna Martin, the Army's inspector general, told Military.com she could not comment on an ongoing investigation when questioned about the subject.
When asked whether the Army's vague social media guidance should be updated, Wormuth suggested those rules should be reviewed, but said she was not familiar with the specifics of the guidelines.
"I confess I'm not intimately familiar with what our guidance says right now," she said. "I think senior leaders need to be careful about not getting engaged in partisan discussions over social media or in public remarks."
Donahoe's fate hasn't yet been determined following the IG report. He had planned to retire over the summer, but that was delayed by the investigation.
But the IG's findings were widely viewed across the force as an affront to recent progress by women in the Army — that simply defending a woman's right to serve in uniform is seen as partisan. Some senior Army officials interviewed by Military.com also saw the report's findings as evidence the service is not yet able to engage in an environment littered with disinformation.
"Intentionally or not, this whole thing showed women that we are not worth defending," one noncommissioned officer told Military.com. "If he can get slapped for this, why would anyone defend women in public?"
It remains unclear why Donahoe was singled out, given other service leaders retweeted his comment to Carlson and wrote their own messages. Some of those leaders, including Grinston, frequently use their online presence to congratulate or otherwise encourage soldiers who share their positive Army experiences on Twitter.
"We chuckle sometimes because a statement one or the other of us will make is criticized both from the left and from the right," Wormuth said, referencing herself and McConville. "So, I think it just demonstrates the difficulty, frankly, of being in the public arena, and not being accused of taking a partisan side."
— Steve Beynon can be reached at Steve.Beynon@military.com. Follow him on Twitter @StevenBeynon.
Related: 'The Army Gave a Hunting Permit to Radical Partisans': What a General's Bout with Fox Could Mean for Women
© Copyright 2022 Military.com. All rights reserved. This material may not be published, broadcast, rewritten or redistributed.