Key events
The first part of the statement from Hull:
"Hull City can confirm we have parted company with head coach Shota Arveladze.
Arveladze was appointed in January and helped guide the Tigers to Championship safety and a 19th-placed finish in a season of transition at the MKM Stadium. We can also confirm that assistant head coach, Peter van der Veen, will leave the club with immediate effect. Andy Dawson will assume the role of interim head coach until a permanent appointment is made.
Acun Ilıcalı, Hull City chairman, said: "During the international break, we had a number of meetings with Shota to discuss the direction of the team and the future of the club. As these meetings went on, it became clear our views weren't aligned so we have made the decision to part ways.
"Shota and Peter leave with our thanks, greatest respect and fond wishes for the future."
Breaking news: Hull City, who will play Luton tonight in the Championship, have sacked their head coach Shota Arveladze.
Thanks to my colleague John Brewin for the heads up.
The Newcastle head coach, Eddie Howe, is not yet ready to step into Gareth Southgate's shoes should he lose his job as England manager. Southgate is without a win in six competitive games after a disappointing Nations League campaign which saw his side condemned to relegation.
Howe was swiftly installed as the bookmakers' favourite to replace the England boss should this winter's World Cup go badly for him and is currently vying with new Chelsea head coach Graham Potter at the top of the odds list.
However, asked about the speculation at his pre-match press conference on Friday, the 44-year-old said: "Gareth has done an incredible job, and I mean that from the bottom of my heart. I have been lucky enough to go in and see him work and I have a lot of time for him and Steve Holland. They have been amazing for England. You have to remember where England were before he took over and what he has done for the country.
"I never say never, never say no it won't be something I am interested in. But in the short term, it is not on my radar at all. It is all Newcastle and trying to make this team better. I have always said I love the day to day coaching, love being with the players on the training ground, international football you get that taken away for long periods. At this moment in my life, that is not something I want to do." (PA Media)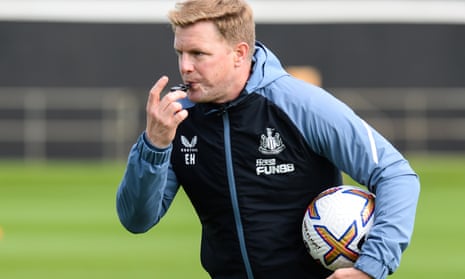 "North London derbies are always a stressful affair as no other game hurts more than when losing this one," comments zTom. "Both teams are relatively similar in strength these days too. Even if I'm really enjoying the step up in level we're seeing this season for the Gunners, this Spurs team excels at exactly the strategy we struggle to handle the most: soaking up pressure when we dominate play for extended periods then hit back with a lightning-fast counterattack."
"It'll be interesting to see how Conte sets up for Spurs," says Hardinho10. "I think we know how Arteta will approach the game, with the same system that's got them to where they currently are, but I suspect Spurs might go to a three in midfield, especially given rumours of Kulusevski being injured, bringing Bissouma in to support Højbjerg and Bentancur with Son and Kane as a front two."
Watford's new manager Slaven Bilic has been having a natter with the media and saying all the right things. The 10th-placed Hornets travel to Stoke for a 12pm kick-off in the Championship on Sunday.
"I am very optimistic and positive … I put my name on a 'world map of coaches' [after taking a break from coaching] and Watford was there.
"Stability, of course [is the aim] … Life is great, but big decisions, they've got to be clear … this club has very clear ambitions and directions and aims and that is to go back to the Premier League … Of course, I would love it if if this was the first day of the pre-season. But it isn't. So what? You can't get everything."
I also caught another snippet of his press conference, when Bilic said: "They [the owners] don't want to sack me … they want me to do good."
Which is reassuring.
There's going to be a lunchtime rush of gold-standard press conference quotes: Arteta, Ten Hag, Guardiola and Klopp will all be having their much-loved chats with the football media between 1pm and 2pm.
In last night's WSL action, Hanna Bennison's stoppage-time free-kick grabbed a dramatic 1-0 win for Everton against Leicester … and here's the report:
The Everton manager Frank Lampard said some of the criticism directed towards England head coach Gareth Southgate has been harsh and called on fans to throw their support behind the team in the build-up to the World Cup.
England were relegated from the Nations League top tier this month after a six-match winless run, with Southgate criticised for their performances.
"I think it's in some parts harsh. And when I say some parts, it's something that we all sign up to in our own ways, and the England job is right up there for the pressure," Lampard said before Everton's league trip to Southampton.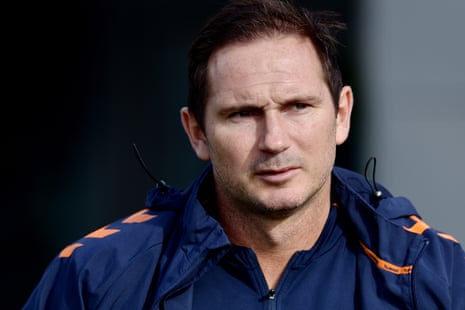 "I'm not going to sit here and say that people can't criticise. I think if things are constructive and people have opinions, great. But once this World Cup comes in and, in the build-up to it, it'll be great if everyone can really get behind the team and Gareth."
Much of the criticism directed towards Southgate has focused on his "cautious" approach.
"I remember the fantastic French team that won the last World Cup without really playing beautiful football," said Lampard. "[In] modern-day football, there are lots of different styles and little ways to win a game. I think it would be absolutely Gareth's decision about how to approach an Iran or USA compared to how they approach another type of team further into the competition if we get there." (Reuters)
"I would like to just say a word on the retirement of Mikel John Obi, a Chelsea stalwart for so many years," comments Quicknstraight. "One of my favourite Chelsea players and outrageously underrated, even by many Chelsea fans. His performance in Munich, when he was the easily best Chelsea player on the pitch over 120 minutes, and arguably the best player on the pitch on either side, was outstanding. His breaking up of Munich possession and calm retention of possession were key to us being in a position where Drogba's header was enough to get to extra time and penalties.
"He was an absolute rock in a deeper CM role, when Mourinho switched him further back. Incredibly strong, very hard to knock off the ball, and invariably found a teammate with his sensible passing."
Can France defend their World Cup title in Qatar? It isn't looking very likely, writes Raphaël Jucobin:
A comment from BTL, as we early adopters of the internet like to call it:
"Three cracking Premier League derbies," says trinder18. "It's really hard to call any of them with any confidence. City have won only two of the last eight home derbies, though the most recent was a 4-1 rinsing. I'm going for two draws and an Arsenal win."
Next up – here is Louise Taylor with some analysis of Newcastle: indifferent results to start the season, but no pressure on Eddie Howe.
"In previous seasons, Newcastle's collection of a modest eight points from the campaign's first seven games would have prompted concern among fans. This time things are very different."
Meanwhile on Merseyside: Farhad Moshiri is in advanced talks with Maciek Kaminski over an Everton deal which would see the US businessman provide funding for the new stadium and take a stake in the club.
Will Unwin and Andy Hunter report:
As stated, Spurs will meet Arsenal tomorrow. David Hytner reports here on the Italian's contract situation at Tottenham – he is being linked with struggling Juventus in Serie A, in view of the fact his current deal expires at the end of the season:
Football is back. It never went away, of course, but the top-end domestic programme returns this weekend after the first international break of this unique season. The World Cup kicks off in less than seven weeks' time, before which, eight rounds of the Premier League will be crammed in before the final pre-Qatar round on 5 and 6 November.
In the top flight things will kick off in style tomorrow lunchtime, with Arsenal v Tottenham in the north London derby. That's before Manchester City play Manchester United on Sunday and loads more besides. Team news, press conferences, previews and more coming up. But first – 10 things to look out for in the Premier League this weekend: