Key events
Half-time: Panthers 18-0 Eels
One. Way. Traffic.
40 mins: Moses draws a penalty from Kikau and the Eels have one final attacking opportunity for the half. Penrith are equal to it until Gutherson slants into the line and hits the 20m paint. The ball goes to the left where Sivo is hauled down. Moses kicks towards the crossbar, a pack forms, and Luai leaps highest to secure the AFL-like contested mark. That's pretty much all the Eels have had to enjoy this half.
39 mins: Almost a fourth try for Penrith! Leniu steamrollers up the guts, Luai sees space off the boot, Kikau gets a toe to it, it's a dive for the line – and Blake gets there in the nick of time!
37 mins: … for all the good it does them. Moses has to kick from his 30m line thanks to the extraordinary defensive pressure from the best side in the league.
35 mins: Penrith are so quick, so strong, so precise, and another try seems theirs for the taking but Luai can't gather Cleary's deft left-footed grubber. Parramatta aren't off the hook though because the phase ends with a 10m scrum feed to the Panthers. Yeo tries to bust his way through from the set-piece but he's held up. Another runner. Then a third! But this time the ball bounces off a chest and Parramatta can accept possession.
33 mins: Gutherson has been superb under Cleary's high kicks tonight but it can't be doing his nerves any good, first timing the catch, then, accepting the inevitable contact. From his latest effort he sets his side in motion and it's a drive that earns a penalty against Luai on halfway and the Eels can attack! That's right, an attack! Oh. It lasts only one tackle before an obstruction penalty against Simonsson and Lane. Sheesh. Back to Penrith pound-town it is.
31 mins: Oregon Kaufusi is dumped to the ground like a sack of flour on halfway but it's something of a win for the Eels as from the kick on the next play they chase the Panthers to their defensive 20m line. It's not got any better all night than that.
CONVERTED TRY! Panthers 18-0 Eels (Sorensen, 28)
It's almost a relief on the part of Parramatta's defence to see Sorensen land on Cleary's grubber in behind to end the most punishing, relentless phase of attacking football. For most of a set almost every gold defender seemed to execute a try-saving tackle until Cleary spotted Gutherson in the line and exploited the space he'd vacated. This has been an awesome show of force from the minor premiers. 18-0 does not flatter them.
26 mins: Penrith are all over Parramatta. From halfway the drive cruises inside 20m where there's a set restart courtesy of Luai's jinking run. The ball spins to the right and Staines almost inches over. Another set restart! Drive after drive hammering at the gold defensive line. The Eels look exhausted, desperately holding Penrith at bay, but the Panthers are patient and refuse to err. On the last To'o darts inside and chases his own chip ahead to earn another line drop-out. This one is infield at least, but very short from Gutherson, inviting another dangerous attack.
24 mins: Gutherson recovers his composure to defuse a wicked Cleary bomb. The Penrith defence is relentless though and the Eels just cannot find a yard. Moses has to kick from deep inside his own half, the kick-chase is laboured, and the Panthers have a full set from halfway, all on the back of their superb defensive intensity.
PENALTY! Panthers 12-0 Eels (Cleary, 22)
Kikau tramples over Moses, Edwards breaks the line, Cleary in support has room to sprint into and Koroisau almost finishes the job. Sivo has no option but to run the grubber kick over the in-goal to give his side a moment to0 breathe. Gutherson fluffs his lines, drop-kicking the restart out on the full.
Cleary dabs over a simple two-pointer, turning the screw.
19 mins: Nathan Cleary misses the touchline conversion, but he has been instrumental in his side taking the upper hand.
TRY! Panthers 10-0 Eels (To'o, 18)
The Panthers look ominous. From halfway the momentum just keeps building. Cleary holds his pass to Luai for Koroisau to run decoy, it's enough of a delay to wrongfoot the Parra defence and from there the ball is passed through hands at speed until To'o finishes with a juggle and a dive in the left corner.
16 mins: Edwards is lively, Luai sashays around a tackle, and Martin is almost through on the right edge! From tackle three the ball is recycled back to the left and Penrith look certain to score on the drive. Back infield Cleary is marshalling his troops, but his sharp flat pass misses the target and Parra escape. The Eels again have to kick from near halfway to Edwards who has all the time in the world to run to the line with no kick-chasers and offload to To'o who hits halfway.
14 mins: The Panthers gain ground again on the restart drive. Martin almost breaks the line, then Moses is forced into a challenging mark from a menacing Cleary bomb. The Eels only reach 40m wide on the left touchline before the easy kick to Edwards. Penrith are building nicely.
TRY! Panthers 6-0 Eels (Crichton, 12)
Neither side have had a proper look at the line yet with most of the game taking place near halfway. That is until Yeo and Cleary shift the focus of attack from left to right, the halfback darts towards the right corner, offloads to Edwards in support, and Stephen Crichton hits the angle perfectly for the inside pass to bust through the line and dash the remaining 20 metres to score the game's opening try!
Nathan Cleary dabs over the simple conversion.
9 mins: The noise is deafening, the action unrelenting, as the Panthers go through the gears in midfield. Luai has been lively but as he tries to orchestrate an attack from left to right on the 10m line there's a simple intercept for Sivo and the Eels escape. Escape soon turns to attack with a ruck penalty, and that attack happens at warp speed with Brown kicking early in the set for the chasing Moses over the top. Penrith have enough bodies covering but Moses' chase forces the Panthers to attack from their own line. That was clearly premeditated and an indication Brad Arthur has been plotting how to undo this Penrith machine.
7 mins: The first real attack of the night is sparked by Edwards on the right. The ball goes through hands to the left and Tago chips ahead on the last but Parramatta's defence is well set. The Eels rebound positively despite another massive hit from Leota, but Gutherson spills in contact just over halfway for the game's first error.
6 mins: Cleary has time to belt his first monster spiral bomb from halfway but Gutherson is equal to it. Parra's Brown is pounded by Leota as defence continues to dominate. The Eels are targeting To'o off the boot, as much to deny him the opportunity to participate in the second phase of the counter as anything.
4 mins: Luai kicks on the last this time after another safe and solid set and Gutherson takes an early tester. To'o deals with the latest Moses bomb from range. Both teams are defending with rabid intensity. No errors from either side so far.
2 mins: Fisher-Harris takes the first carry of the night, returning Gutherson's deep kick-off. Unsurprisingly, the Panthers take no risks before Cleary kicks from just inside his own half. Mahoney gets in the playmaker's face as the kick is executed, sparking an exchange of opinion. In response the Eels drive to halfway with no alarm and Moses is pressured by Kikau and co as he kicks long.
The 2022 NRL grand final is underway…
The Welcome to Country is observed with greater attention than last night's Australia Cup final. The national anthem is solid. The players break from their lines. Bums are patted, fists bumped, fives highed, the 2022 NRL grand final is here.
Peter Sterling is lost for words. "This is as good as anything I've ever experienced," he bellows through the din.
Hells Bells warns of the arrival of the black and white clad Panthers. Nathan Cleary steers his charges onto the park with a look of steely determination.
The Eels are out first, led by a grinning Clint Gutherson. Parra are in the goldest of their uniforms, trimmed with blue.
The noise is deafening as the two teams prepare to enter the field of play.
A reminder of the players in action tonight:
Penrith might be top of the pile right now, but James Colley has nothing but love for the Panthers' ability to connect with their community.
Penrith Panthers fan groups are filled with stories of players past and present donating their time, memorabilia and anything else on offer to members of the community. A young girl just this week walked away from a training session with signed shoes from charismatic superstar Brian To'o.
Officials: After taking charge of this year's Origin series, Ashley Klein is trusted with grand final duties.
Referee: Ashley Klein

Touch Judge: Phil Henderson

Touch Judge: Drew Oultram

Senior Review Official: Grant Atkins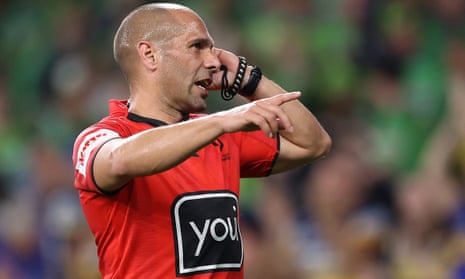 Conditions are perfect at the Olympic Stadium. It's been bright and dry and mild all day, and what little breeze has been floating around is dying off as evening falls.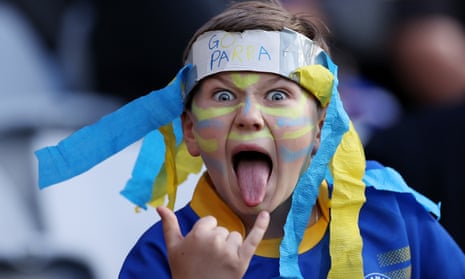 Ok, someone's pulled the plug on Barnsey, so it's time for some rugby league.
Bill Pennington is getting all nostalgic, from the people's republic of North Sydney, presumably. "Jimmy Barnes?" he questions. "Let's go completely 80s. Bring back the Bears."
Speaking of bears, I'd happily accept a Revenant situation right now.
Josh Teskey has joined Barnsey on stage, so now there's two men shouting at me.
Has anyone watched Stewart Lee's Snowflake routine? The bit when he doesn't speak for ages and just gurgles and goes all red in the face – that's exactly what Barnsey looks like now. The two are one and the same I'm telling you.
If it hasn't been broken since the 80s, why fix it? Barnsey's rolling out the classics like his life depends on it.
I turned away for a second and the ads have been replaced with a very early-rounds-Pop-Idol rendition of Everybody Wants to Rule The World. Thankfully that ends with Jimmy Barnes screaming his larynx from his body and the opening strains of Working Class Man.
Nathan Cleary won the Clive Churchill medal last year, and his game management and destructive kicking game will again make the NSW halfback the favourite this time around. Nick Tedeschi likes what he sees.
Nathan Cleary was, it seems, always destined for first grade. The son of not only a mercurial former first grader but nephew to two others in hard-heads Josh Stuart and Jason Death, Cleary was also blessed to have a dad as an astute top-grade coach. But while such advantages do help, it is his work ethic that has taken his game to a truly elite level.

Cleary is a perfectionist. He studies the game – his game, his opponent's game, the game as a whole – and has from a young age. He is not one of those talented playmakers who relies on talent alone. While blessed with plenty of natural skill, he has also taken every opportunity at hand and feels a constant need to improve. There are skills at which he is already the best. Still he attempts to get better.
Jimmy Barnes and friends on the way soon (after an ad break, of course – gamble responsibly).
It's 36-years since the Eels won a premiership, and this is the closest they've come since a fairytale run to the 2009 grand final. Matt Cleary reminisces.
Michael McGowan took a stroll around Sydney's west to absorb the grand final build-up in communities with divided loyalties.
As Father Chris del Rosario and Deacon Adam Carlow posed for photos in Eels scarves outside the Parramatta Cathedral this week, a senior vicar joked it could be a career limiting decision. The Parramatta Catholic diocese, after all, covers Penrith too. "I'm fine with that," Carlow quips back, waving a blue and gold flag. "Go the Eels."
Let's stick to the sport.
How good are the Panthers? Very, very good.
Only the seventh salary-cap-legal team to reach three consecutive deciders in the past 50 years, Penrith have won a remarkable 66 of the 77 games they have played since the start of 2020.
This is all a bit discombobulating – especially for anyone watching on free-to-air TV. We've gone from applauding (or in some cases booing) retiring players in the stadium, to decontextualised live hip-hop, to a gambling segment, to Johnathan Thurston linking to a package paying tribute to former players who died this year, a segment that ends abruptly with the umpteenth commercial break of the broadcast. Gah!
I'm not completely sure what just happened. It all came and went in a blur. It wasn't meant for me, but I hope someone enjoyed it. Robbie Williams is not looking over his shoulder nervously.
Bliss, and indeed it appears Eso, have appeared on stage, speaking very loudly, dressed unspeakably hip. I am bewildered, and I think somewhat intimidated. They are now rapping while Joy sings harmonies with an acoustic guitar.
Bryce Cartwright is the hard luck story for the Eels, missing out on the 17 after Nathan Brown was recalled for his first outing since early July. Bailey Simonsson retains his place in the centres with Tom Opacic still sidelined with a hamstring injury. Marata Niukore will start as loose forward with Ryan Matterson coming off the bench.
1 Clinton Gutherson
2 Maika Sivo
3 Will Penisini
4 Bailey Simonsson
5 Waqa Blake
6 Dylan Brown
7 Mitchell Moses
8 Reagan Campbell-Gillard
9 Reed Mahoney
10 Junior Paulo
11 Shaun Lane
12 Isaiah Papali'i
17 Marata Niukore
14 Nathan Brown
15 Jakob Arthur
16 Oregon Kaufusi
13 Ryan Matterson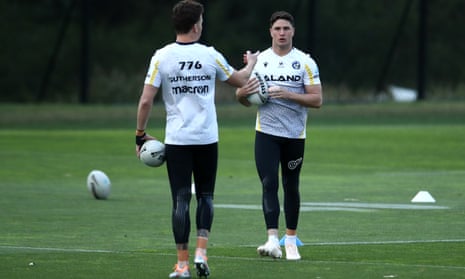 Viliame Kikau and Charlie Staines are both free to play after accepting fines for shoulder charges against Souths. Staines remains in the side after Taylan May failed to overcome a hamstring injury suffered in week one of the finals. Mitch Kenny will start as hooker with Apisai Koroisau coming off the interchange.
1 Dylan Edwards
2 Charlie Staines
3 Izack Tago
4 Stephen Crichton
5 Brian To'o
6 Jarome Luai
7 Nathan Cleary
8 Moses Leota
14 Mitch Kenny
10 James Fisher-Harris
11 Viliame Kikau
12 Liam Martin
13 Isaah Yeo
9 Apisai Koroisau
15 Scott Sorensen
16 Spencer Leniu
17 Jaeman Salmon
Being an Eels fan has not been easy in recent decades, just ask Conal Hanna.
The Eels' capacity for breaking hearts has become legendary. Abandoning an 18-2 lead with 11 minutes to play against the Bulldogs in the finals in 1998. Being eviscerated by Andrew Johns in the first half of the 2001 grand final. These, however, came in our good years. Far more of the past 36 have been spent in bumbling ineptitude both on and off the field. This is a team who cheated on the salary cap and still finished last.
Better news for the Panthers though who romped to a convincing 44-10 win over Norths Devils in the NRL State Championship.
Grand final day has not got off to a good start for the Eels with the Knights dominating the NRLW grand final.
How did we get here?
Parra have been there or thereabouts for four seasons now with this group of players under the leadership of Brad Arthur, but they've always been a step behind, in the shadow of the Panthers, Storm and Roosters.
A run of seven wins in their final nine matches saw then secure a double chance in the finals, and they took it with a narrow victory away to the Cowboys after dispensing with the Raiders.
Defending champions Penrith are the defining side of this era. A third grand final in a row complements two minor premierships in the past three years. They suffered only one defeat prior to round 20, and despite a late season wobble of three defeats in six outings they recovered for the finals series to smash first the Eels, then the Rabbitohs, despite giving Souths a 12-point start.
Preamble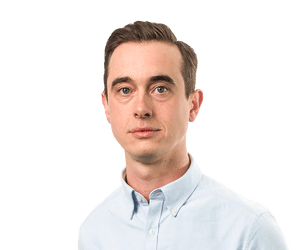 Jonathan Howcroft
Hello everybody and welcome to live coverage of the 2022 NRL grand final between Penrith Panthers and Parramatta Eels. Kick-off at Sydney's Accor Stadium is 7.30pm.
The NRL season has taken us from Townsville to Tāmaki Makaurau and everywhere in between, but it's a pair of local rivals, separated by just a half-hour drive along the M4 that will compete for the Provan-Summons Trophy.
For the Panthers it's business as usual, extending into a third season a period of excellence of historic proportions. For the Eels it's an occasion to savour, a first grand final in 13 years, and an unexpected one after capitalising on the late-season blowouts of rivals to finish fourth on the ladder, then upset the Cowboys in North Queensland in their preliminary final.
Consequently, Penrith head in overwhelming favourites, but if there's one team in the competition they wanted to avoid it's Parra. The Panthers lost twice to the Eels during the regular season – in rounds nine and 20 – before getting one back in the first week of the finals.
Since the beginning of 2020 and the Mountain Men's incredible run of form, the head-to-head tally against the Blue and Gold stands only 4-3 in favour of the minor premiers.
As Nick Tedeschi writes, a Western Derby on the biggest stage is a reflection of a changing tide at rugby league HQ.
Western Sydney has long been called the heartland of rugby league but it is also an area that under previous administrations was taken for granted, under-serviced and under-appreciated. During that time the AFL made its insurgence, launching the Greater Western Sydney Giants and then paying for the set-up of oval fields in traditional league and football strongholds. The A-League launched one – and eventually two – teams to service its dormant fanbase. And even then, the NRL did little to support an area with an inherent inclination to support the NRL.

That has very much changed over the last half-decade. Parramatta Stadium was knocked down and rebuilt as the spectacular CommBank Stadium. Penrith Stadium is, controversially, about to get similar treatment. In 2022, both the Panthers and Eels ranked in the top five for free-to-air games. It was the same story in 2021. Schedules have been favourable to both teams, particularly from a travel perspective, with Penrith playing just four interstate matches – including Magic Round and their final-round clash for which the starters did not make the trip to Townsville. Parramatta have boarded a plane just once since Magic Round.

The Panthers and Eels are clearly viewed as areas boasting not only rusted-on fans, but also growth demographics that can further entrench the code as the most supported in western Sydney.
There's plenty to get through before kick-off, and if you want to join in, you can drop me an email or send me a tweet.