CNN
 — 

The Nicaraguan government released more than 200 political prisoners, many of whom arrived in the United States on Thursday, according to officials, following years of repression by the country's President Daniel Ortega.
The authoritarian leader has jailed dozens of opposition figures and activists, particularly in the lead up to the last elections in November of 2021.
Judge Octavio Rothschuh Andino announced the release of at least 222 inmates by the Nicaraguan penitentiary system at a press conference on Thursday, saying several were already en route to the US.
"The deportees have been found guilty of treason and charged with serious crimes, they are forever banned from public office and from competing in elections," he added.
According to US State Department spokesperson Ned Price, the decision to release the individuals, some of whom had spent years in prison, was "a unilateral decision that the Nicaraguan government took."
Each of the individuals who left Nicaragua "voluntarily consented to travel," and "there were two individuals who, on their own volition, chose not to travel to the United States," Price said.
Among the released prisoners is one American, according to US Secretary of State Anthony Blinken, who welcomed their move, calling it a product of American diplomacy.
"The release of these individuals, one of whom is a U.S. citizen, by the Government of Nicaragua marks a constructive step towards addressing human rights abuses in the country and opens the door to further dialogue between the United States and Nicaragua regarding issues of concern," Blinken said.
"Today's development is the product of concerted American diplomacy, and we will continue to support the Nicaraguan people," he added.
Blinken noted that those who were detained included "include political and business leaders, journalists, civil society representatives, and students."
The individuals, who all flew to Dulles International airport, will be granted humanitarian parole for two years, allowing them to remain US and giving them the time to apply for asylum if they wish, according to Price.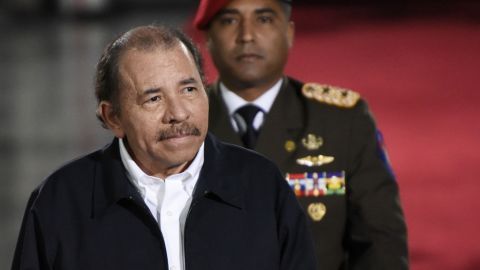 Images from the airport on Thursday showed tearful scenes as activists and supporters greeted the arrivals.
One of the arrivals was political activist Felix Maradiaga, who told CNN en Espanol that they only realized what was happening when by the plane.
"They made us sign some documents saying in one single line that we were leaving the country of our free will with no further explanation," he said. "On one side what happened is shocking, but on the other, I'm overwhelmed by this moment, the opportunity to hug our family. Personally, I haven't seen my daughter in more than three years.
Another freed political prisoner, Juan S. Chamorro, who was a pre-candidate in the 2021 presidential elections, told CNNEE that he realized something was up when "they gave us our clothes in the middle of the night and put us on some buses."
Chamorro, who has been in jail since June 2021, added: "We didn't know where we were going. When the buses turned to the right at the Air Force station we realized that we were going to fly out of the country, but still didn't know where… until eventually they told us."
Price said that the action "was not part of a broader bargain," and that "sanctions and other restrictions remain in place."
"It was the Nicaraguan government that decided to offer the opportunity to these individuals to travel to the United States," Price said. "We agreed that we would of course receive them."
According to Price, the US government is "working with partners beyond government to see to it that these individuals have a roof over their heads."
"We're also working, we have worked, with a diaspora population, knowing that there is a very active and engaged Nicaraguan diaspora population here in the United States who we imagine and are confident will be here to greet these individuals and to welcome them to the United States," he said.
The political prisoners will no longer be Nicaraguan citizens, after the Ortega-controlled National Assembly on Thursday passed a reform to the Constitution that strips the nationality of citizens convicted of treason.
"Ortega has two targets with this move: by stripping these political prisoners of their nationality, the regime pushes forward the de-humanization of dissent, it sends the message that opponents simply do not belong in Nicaragua," Tiziano Breda, a Central America analyst at the Italian Institute for foreign affairs, told CNN.
"The second target is directed at Washington: what type of legal measure will the United States take to simply deal with these people? It's extremely complicated for a country to interact with a stateless individual, from a bureaucratic and legal point of view," he added.
Nicaragua's government under fifth-term President Ortega has sharply cracked down on both the press and on critics over the past two years.
Many Nicaraguan journalists have been forced into exile, and there remains "practically no independent media within the country," according to press freedom group Reporters without Borders.