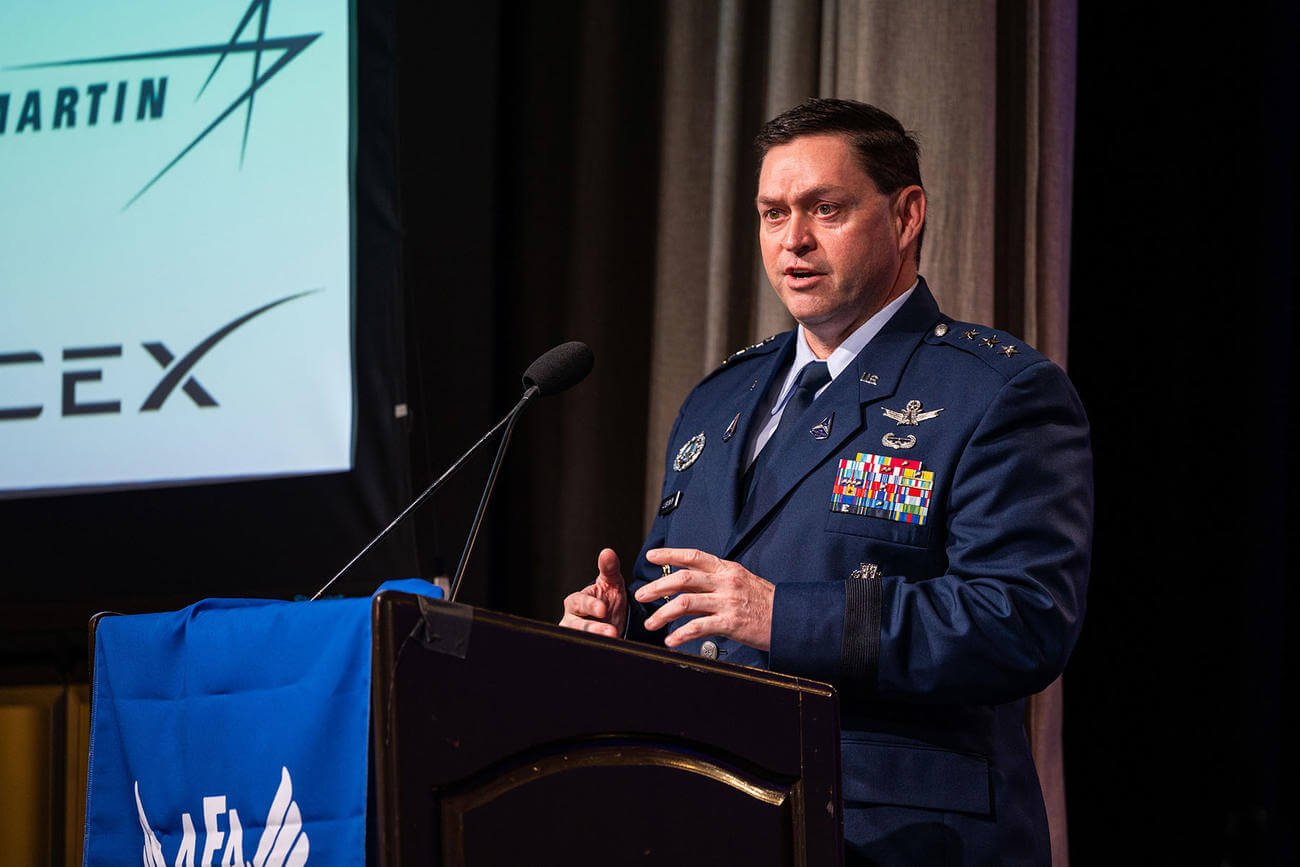 President Joe Biden's pick to lead the Space Force was confirmed last week by the U.S. Senate, giving the service its second ever chief.
Lt. Gen. B. Chance Saltzman was selected in August to replace outgoing Chief of Space Operations Gen. John "Jay" Raymond. He was confirmed by voice vote late Thursday and will receive his fourth star.
"I'm humbled and honored to be confirmed as the next Chief of Space Operations," Saltzman said in a press release. "I look forward to leading the US Space Force and building on the strong foundational leadership Gen. Raymond has provided for almost three years."
Read Next: Space Force Guardians Are Officially Eligible for the Bronze Star and Other Awards, Biden Says
Raymond is retiring after 38 years in the military that spanned both the Air Force and Space Force. He has led the Space Force since its founding in December 2019 and helped shape its mission, culture and identity as the newest military service. 
"Congratulations to Chance Saltzman on his confirmation to serve as the next Chief of Space Operations," Raymond said in a press release. "I couldn't be more excited for the Saltzmans and for our Space Force. The team is in great hands."
Gabe Myers, a spokesman for the Space Force, told Military.com that Saltzman's transition ceremony will likely be Nov. 2, with his first day of work starting Nov. 3.
Saltzman graduated from Boston University and was commissioned in 1991, according to his Space Force biography. In addition to most recently serving as the deputy chief of space operations for operations, cyber and nuclear, he has also served as a Minuteman III launch officer and as a satellite operator for the National Reconnaissance Office.
He also served as the deputy commander of U.S. Air Forces Central Command and the deputy, Combined Force Air Component Commander, U.S. Central Command, Southwest Asia.
Saltzman is tasked with continuing to shape the Space Force's culture and identity and also must face the looming threats against America's satellite fleet in orbit. 
"We are still the greatest spacefaring nation on the planet," Saltzman said during his Sept. 13 confirmation hearing. "The Space Force's capabilities … are extremely capable, and I still put us at the head of the table. Unfortunately, our adversaries are investing heavily to close that gap and supersede us."
One of the major agenda items facing Saltzman is whether Congress moves forward with establishing a Space National Guard or allows part-time active-duty Guardians instead, an idea heavily supported by Raymond and Air Force Secretary Frank Kendall.
During his first confirmation hearing, Saltzman declined to take a side on the issue, as some lawmakers continue to feel pressure from their home states to create a Space National Guard.
"If confirmed as CSO, I would certainly welcome the opportunity to continue to work with members of this committee and other stakeholders to make sure that we get the right organizational structure and take advantage of these capabilities," Saltzman demurred.
— Thomas Novelly can be reached at thomas.novelly@military.com. Follow him on Twitter @TomNovelly.
Related: Nominee for Top Space Force Job Grilled over National Guard
© Copyright 2022 Military.com. All rights reserved. This material may not be published, broadcast, rewritten or redistributed.