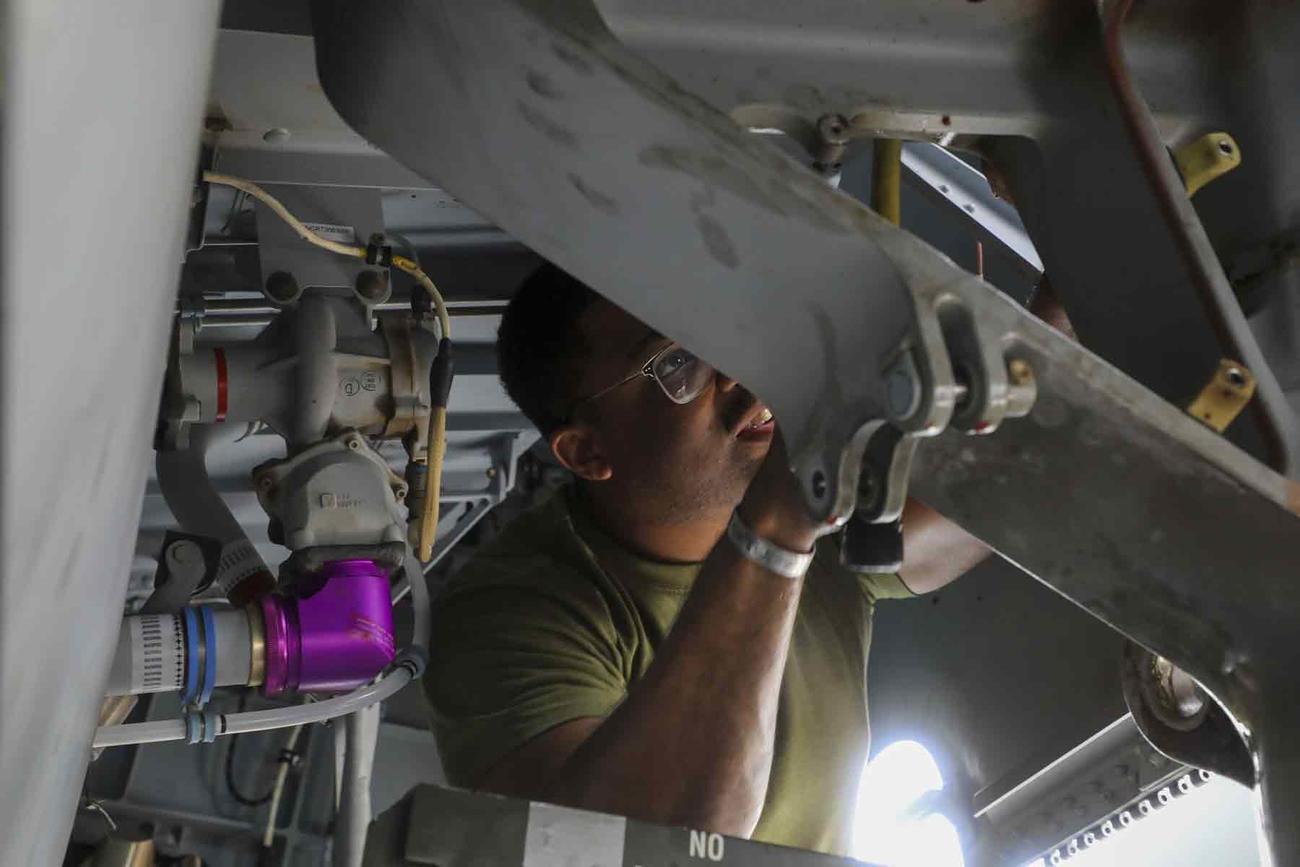 An unknown number of V-22 Osprey aircraft are being grounded across the military as the services continue to grapple with a gearbox issue that has led to several incidents tied to engine trouble.
The problem is known as a "hard clutch engagement," and it effectively involves a failure by the aircraft's complicated system of gearboxes and clutches to balance the power produced by its twin engines. One airman aboard an Osprey when it experienced the failure in 2017 described to Military.com that the issue "blew everything apart" in the gearbox, dumping buckets of oil and leading to an emergency landing.
At a media event Saturday, a defense official, who spoke with reporters on the condition of anonymity, revealed that the military now suspects the "input quill assembly" — a part that connects the aircraft engines to its gearbox — wears out more quickly than previously thought and would need to be replaced.
Read Next: Two Army Aviators Injured in Alaska AH-64 Apache Crash
Citing "operational security concerns," the official would not say how many flight hours it would take before that replacement is needed, would not specify how many Ospreys have been grounded, and would not say how long planners anticipate it will take before flight restrictions will be lifted.
Replacing the part is a "mitigation," the official said, while the whole clutch system is redesigned.
"That effort is already underway," they added.
The news comes months after the issue first became public with a surprise announcement by the Air Force in August that it was grounding its entire V-22 fleet "due to an increased number of safety incidents."
What followed was a disjointed response by the Marine Corps and Navy — the other branches that operate the aircraft — over the severity of the hard clutch issue. The Marines, who operate the lion's share of the Pentagon's Ospreys, said that they didn't need to ground their aircraft.
Bell Boeing has made at least 400 of the aircraft for the U.S. government since 2020, according to the defense manufacturer.
When the Air Force grounded its Ospreys a Marine spokesman said that the Corps had known about the problem since 2010, and "we have trained our pilots to react with the appropriate emergency control measures should the issue arise during flight." Meanwhile, the Air Force's statements suggested the service had known about the problem only since 2017.
In August, a Marine Corps official told reporters that there had been only 15 mishaps involving the "hard clutch issue" since the V-22 first came into service and 10 involved Marine Corps aircraft, while stressing every one of those involved a safe landing and no injuries.
On Saturday, however, the defense official said that the new "recommendation is based on a progressive increase in hard clutch engagement events and ongoing engineering analysis." The official would not elaborate further on whether more incidents had occurred since last summer.
Although the Marines have taken to describing these hard clutch incidents as usually occurring shortly after takeoff, Military.com reported on one incident involving an Air Force Osprey that had the failure mid-flight over Arizona and had to make an emergency landing in Flagstaff on one engine.
Crew members who were on the flight told Military.com that, after the aircraft landed, they saw that the entire side of the Osprey was covered in oil that had been pouring out of one of the engine systems after the clutch issue.
The incident caused more than $5 million in damage and required that both engines and five gearboxes, as well as nearly a dozen other components, be replaced. It took a team of six, working 12-hour days, 45 days to repair the aircraft, according to an incident report reviewed by Military.com.
The defense official who spoke with reporters Saturday noted that "every unit is going to do these [replacements] at slightly different rates based on their operational commitments." The official stressed that the fix can be done by individual squadrons, and the replacements can begin immediately.
Once swapped out, the official said the new quills will last for "years" before needing to be substituted again.
"We're not grounding all of the aircraft," the official noted. "We're still out there flying and training, making sure that we're ready to fight tonight."
Prior to Saturday's announcement, military officials had described uncertainty as to what was the cause of the hard clutch engagements on the Ospreys.
In early September, following a two-week stand-down, the Air Force's CV-22 Ospreys were back in the air, but the focus was on training to manage hard clutch engagements — called HCEs by the service — instead of solving the problem as a whole.
"Until a root cause is identified, and solution implemented, the focus is on mitigating operations in flight regimes where HCEs are more prevalent and ensuring our aircrews are trained as best as possible to handle HCEs when they do occur," Lt. Col. Rebecca Heyse, a spokeswoman for Air Force Special Operations Command, said in an emailed statement to Military.com this past September.
Lt. Gen. Jim Slife, then the head of Air Force Special Operations Command, told reporters at the Air Force Association's Air, Space and Cyber Conference that month that he was frustrated with the lack of progress on the issue.
"I've been dissatisfied with the progress that we're making," Slife said at the time. "We may not know why it's happening, but we do know what is happening."
Slife left his role as AFSOC commander in December to become the deputy chief of staff for operations of the United States Air Force.
Slife's comments came as an Air Force CV-22B Osprey was stranded on a remote island in Norway during a training exercise due to a hard clutch engagement issue. It was rescued by a crane barge on Sept. 27, after being left on the isolated island for nearly two months.
There were two fatal Osprey crashes last year that left nine Marines dead, neither of which have been tied to the hard clutch engagement issue.
This past June, five Marines aboard an MV-22B Osprey were killed when the aircraft crashed near Glamis, California. The cause is still under investigation.
Last March, an Osprey crashed near Bodo, Norway, while participating in a military exercise, killing four Marines. Investigators concluded that the pilots of the aircraft that crashed in Norway turned too sharply, causing the craft to lose altitude and speed and, ultimately, crash.
Those crashes were the first deadly incidents with the aircraft since 2017. Between 1991 and 2006, while the Osprey was undergoing testing, there were four crashes resulting in 30 deaths.
— Konstantin Toropin can be reached at konstantin.toropin@military.com. Follow him on Twitter @ktoropin.
— Thomas Novelly can be reached at thomas.novelly@military.com. Follow him on Twitter @TomNovelly.
Related: It 'Blew Everything Apart.' Osprey Accident Shows Danger of Clutch Issue as Services Keep Flying
© Copyright 2023 Military.com. All rights reserved. This material may not be published, broadcast, rewritten or redistributed.