Key events
23 min: That's a soft penalty, never mind the red card, and Milan are beyond livid. Kovacic and Hernandez go shoulder to shoulder down the Milan left, and the Milan player goes down theatrically. They'll be looking to goad the referee into making this ten versus ten, so expect more of this.
GOAL! Milan 0-1 Chelsea (Jorginho 21 pen)
Jorginho calmly rolls the penalty into the bottom left. Tătăruşanu, having been given the eyes, goes the wrong way. Chelsea lead!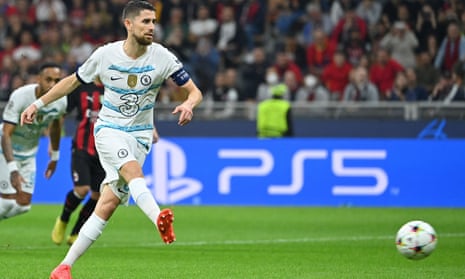 20 min: The referee obviously thought Tomori's hand on the shoulder denied Mount a goalscoring opportunity. That's pretty harsh, and Milan are livid. They surround the referee … who isn't going to change his mind. VAR isn't interested either. Penalty and red card it is!
Penalty to Chelsea and red card for Tomori!
18 min: Mount bustles into the Milan box down the right. Tomori tugs at his shoulder. Mount stays on his feet and tries to lob Tătăruşanu. The keeper blocks, but the referee points at the spot and flashes red at the former Chelsea defender!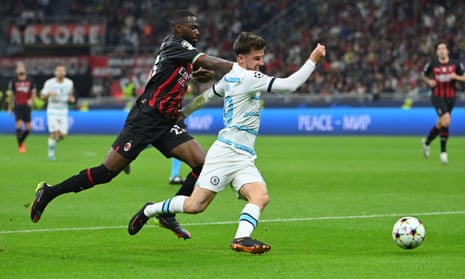 17 min: In the other Group E game, Salzburg have taken a 12th-minute lead against Dinamo Zagreb through Nicolas Seiwald.
16 min: This game continues to zip along hysterically. Prolonged periods of possession are at a premium right now.
14 min: A free kick now for Milan out on the right. Tonali hooks it into the mixer but Koulibaly heads clear with confidence.
13 min: Kovacic strips the ball from Bennacer, 30 yards from the Milan goal. He strides towards the box, with options either side, but the referee preposterously awards Milan a very generous free kick. The hosts were in a spot of trouble there.
11 min: Sterling scampers down the left and cuts infield. He enters the box and goes down, but there's no penalty claim, Bennacer having stopped him in his tracks legally.
9 min: Hernandez catches Mount late and is the subject of the referee's latest lecture. Then Aubameyang's presence down the left forces Gabbia into the concession of the game's first corner. From that, Milan launch a counter, which Sterling does well to break up with his defence all over the show. No real shape to this game yet, and it's lively and entertaining as a result.
8 min: The game is being played at 101 miles per hour. Mount flicks a header down the right wing in the hope of releasing James into acres of space, but Tătăruşanu races out of his box to clear.
6 min: Milan seem up for this. They're first to most balls at the moment. Probably no surprise, given their meek showing at Stamford Bridge last week. They'll want to make a statement.
4 min: Hernandez dribbles hard and takes on Koulibaly down the inside-right channel. He cuts inside and is brought down by the Chelsea defender's hanging leg. Just a free kick, but a sense that the former Napoli star will earn a yellow card if he tries it on again.
2 min: The first free kick of the evening as Mount stands in the environs of Tomori, who falls over. Confusion all around. Tomori springs back up and play restarts. Mount isn't happy at receiving a ticking-off from the referee, having done very little to deserve one.
Chelsea get the ball rolling. The stadium is bouncing.
The teams are out! The Rossoneri wear their titular red and black, while Chelsea sport second-choice white and [checks marketing bumf, adjusts pince–nez] chlorine blue. There's one heck of an atmosphere at the Stadio Giuseppe Meazza, or San Siro for short. We'll be off in a couple of minutes, once Uefa's mixmasters bang out their retooling of Zadok the Priest.
PRE-MATCH TACTICAL ANALYSIS courtesy of Phil Barker (because I'm certainly not doing any): "I like Potter, it looks like he's been reading the Winnie Schaeffer playbook. Lining up in a 3-2-2-1-2 formation, which was always the most effective when he was manager of Karlsruhe. Three at the back (which easily transforms to a five). James and Chilly wide, Kova and Jorgy central, with play going through Mount to the two strikers (who are both mobile, play middle or wide, and are lethal anywhere – bit like Mike Channon in a two up front). Plus while libero is a thing of the past, Silva does like getting forward and is probably closer to it. It may work better with Havertz or Gallagher in the hole, but let's give Mount a try."
Mick Channon, huh. Any old excuse to revisit the greatest goal scored in the entire history of the English top flight.
… and seeing we're riffin', be-boppin' and scattin' on the Old Lady's pain, just take a look at this early result in Group H: Maccabi Haifa 2-0 Juventus. The 1985 and 1996 winners, currently eighth in Serie A, are now plunged into a whole world of misery on the continent as well. That's a first home win in the Champions League for Maccabi in 20 years … and five defeats in 13 matches this season for Massimiliano Allegri's rabble. There's a lesson to learn here. Never go back, kids. Never go back.
Here's what Milan have been up to since last Wednesday. Poor old Juventus! Nicky Bandini has all the details.
Graham Potter speaks to BT Sport. "We're excited. We're here to compete. The home crowd will be right behind them. In terms of play, they'll be pretty much the same, but they'll be looking to improve their performance, and we need to do the same as well. You can second-guess the table all night, but the important thing is to focus on the match and play to win, and whatever the result is, we have to deal with. But we will be positive and try to win the game. We believe we can cause them a problem, but we also know they're a good team as well, and they'll be looking for revenge. So we have to be humble, suffer when we have to, and fight to get the points. We're all very privileged to be here."
Chelsea make two changes to the XI named for last week's match at Stamford Bridge. Jorginho and Trevoh Chalobah replace Ruben Loftus-Cheek, who is benched, and the injured Wesley Fofana.
Milan make three changes to the side they sent out in London last week. Brahim Díaz, Matteo Gabbia and captain Theo Hernández return; Fodé Ballo-Touré and Sergiño Dest drop to the bench, while Charles De Ketelaere has pulled a muscle and misses out altogether. Fikayo Tomori and Olivier Giroud, formerly of Chelsea, both start.
AC Milan: Tatarusanu, Kalulu Kyatengwa, Gabbia, Tomori, Hernandez, Bennacer, Tonali, Diaz, Krunic, Leao, Giroud.
Subs: Toure, Rebic, Dest, Origi, Messias, Pobega, Mirante, Coubis, Jungdal.
Chelsea: Arrizabalaga, Chalobah, Thiago Silva, Koulibaly, James, Jorginho, Kovacic, Chilwell, Mount, Sterling, Aubameyang.
Subs: Pulisic, Loftus-Cheek, Bettinelli, Mendy, Broja, Zakaria, Gallagher, Azpilicueta, Havertz, Chukwuemeka, Cucurella.
Referee: Daniel Siebert (Germany).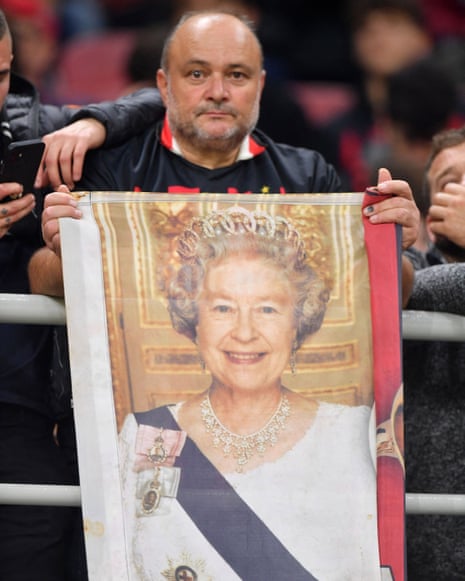 Last week this happened …
… and now Group E is much easier on Chelsea's eye. Graham Potter's side dominated Milan at Stamford Bridge last week, and if they put in a similar performance tonight at San Siro, they'll take a huge step towards the knockout phase. Or will Milan bounce back and throw everything up in the air again? Kick off is at 8pm BST. It's on!