After a trying and emotional time for Red Bull a win for Max Verstappen at the US Grand Prix was surely the release he and his team required. He duly delivered to seal the constructors' championship and dedicate his victory to the team's founder and owner Dietrich Mateschitz, who died on Saturday. Yet it was far from straightforward and a timely reminder of how much the challenge from Lewis Hamilton, who was second, has been missed this year.
Verstappen, already champion this season, took the victory he and the team craved in a style indicative of just how strong their car has been There was clearly a very personal satisfaction in winning on the weekend when it was announced Mateschitz had died at the age of 78. That he had to fight for it, it seems, pleased Verstappen even more when he paid tribute to Mateschitz.
"I had to give it everything and I pushed to the limit to come back. This win is definitely dedicated to Dietrich and what he has done for everyone." he said. "It definitely means a lot to me and the team, he was so important for the whole team and so instrumental."
Red Bull team principal Christian Horner echoed his feelings. "A very emotional moment, a big moment for the team and for everyone at Red Bull," he said. "A tribute to Dietrich for everything he has done for the team, for the company."
The result ensured Red Bull have taken their first constructors' title since 2013 and ended the remarkable run of eight in a row Mercedes began in 2014. A further morale boost after a weekend where the shadow of their breach of the 2021 budget cap has also hung heavy. On Saturday Verstappen was taunted by chants of "cheater" as he presented at a fan event and Horner felt he needed to launch a furious retort to accusations made against his team. Finishing with the drivers' and constructors' titles in Austin will be just the riposte they wanted, the team's 15th win this season from 19 races.
These are the numbers that reflect for Verstappen a season in which he has been utterly dominant on the way to his second title. He now shares a remarkable F1 record, that of the most victories in a season with 13. It is a total matched only by Michael Schumacher in 2004 and Sebastian Vettel in 2013. Verstappen has reached it with three races remaining this season and on this form can expect to surpass them.
Yet after such iron control from driver and Red Bull that has seen them all but untouchable thus far, this one hung in the balance perhaps like no other this year. The Dutchman had been in control out front only for his second pit stop to go disastrously wrong. A wheel gun problem on the left front cost him 11 exasperating seconds, putting him behind Hamilton in a 19-lap chase to the finish.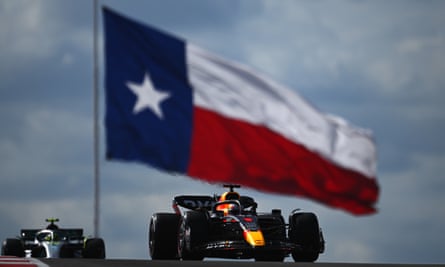 Suddenly the thrills, the tension of 2021 came alive again for the first time this season in Austin. Hamilton, with a five-second lead, threw his car to the limit trying to hold on to the front as Verstappen progressed inexorably behind him. He passed Charles Leclerc who finished third and then hunted down Hamilton. On quicker tyres and in a quicker car the Dutchman had the edge. Yet it remained deliciously tense – the pair's history was palpable as they closed.
With Verstappen in DRS range with seven laps remaining the game it seemed was up, Hamilton was defenceless but refused to roll over. They jousted through five corners only for Verstappen to emerge on top once more but Hamilton too had enjoyed the scrap, his first real bout with his rival this year.
"We were so, so close," he said. "I did everything I could to stay ahead but they were a little bit too quick today. I am shattered. The car was a handful. It felt amazing to be in the lead."
Verstappen and Red Bull meanwhile celebrated with joyous abandon, the way they felt Mateschitz would have wanted. The budget cap furore forgotten for now after a fight that demonstrated why they leave Austin as double world champions and the current benchmark in F1.
Sergio Pérez was fourth for Red Bull and George Russell fifth for Mercedes. Lando Norris was sixth for McLaren, Fernando Alonso seventh for Alpine, Sebastian Vettel eighth for Aston Martin, Kevin Magnussen ninth for Haas and Yuki Tsunoda 10th for AlphaTauri.