Key events
54 min: But…penalty to City. From a corner, Stamenic climbs all over Laporte and that's a plum penalty, and a booking.
53 min: Gomez again finds space down the left and cuts back the ball for Alvarez but the defenders read that. Copenhagen are playing like they almost have a chance.
51 min: Cole Palmer – named after Tom Cruise's character in Days of Thunder, Cole Trickle? – finds loads of space and shoots. Grabara, as he was to all but Haaland, and a deflection, is equal to the shot.
49 min: OK, what can Grealo, Bernardo, Jules, Mahrezy and Coley produce in the absence of the big man?
48 min: Copenhagen actually have a lot of possession here. City had just the 71 percent of the ball so far. They're slacking off, clearly.
Haaland subbed off at half-time
46 min: And that's enough from Him, now for Cole Palmer, local lad, who will play the next 45 minutes, and he starts off with a lovely change of pace. Copenhagen also made a change, with Valdemar Lund coming on, and Mamoudou Karamoko goes off. Too many shadows chased.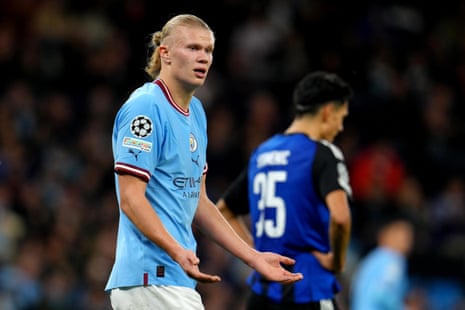 Craig McEwan gets in touch: "I know we're all talking about the lad and how many goals he's scoring, but how much fun do you think he's having playing at the pointy end of that team. Must be having a blast."
Joe Pearson gets in touch: "And here I thought "Him" was reserved by the Guardian style guide for one particular disgruntled United striker. Learn something new everyday."
There's a new Him in town.
The Voice of the Mysterons, probably not a Generation Zoomer judging by that name, gets in touch: "And that's the essential difference, Bernardo tries to be a bit clever, Haaland would very probably have just put his foot through it, and it's 4-0 …"
Half-time: Manchester City 3-0 Copenhagen
He's barely touched it, but still scored twice. Haaland's done what's he supposed to, while Kamil Grabara has had a good game in Copenhagen's goal. The question is whether the other City players fancy getting on the scoresheet.
45 min: Grealish keeps the ball in at the byline to set up a City attack but the referee adds no added time on.
44 min: Bernardo fancies a goal, and the chance was going begging. Grabara comes across, and narrows the angle. Bernardo is not happy he's missed that. Perhaps having a teammate who never misses is a problem for everyone else.
42 min: This is getting a bit painful for Copenhagen. Will Haaland play the second half? Or will Pep give the others a chance?
Goal! Manchester City 3-0 Copenhagen (Not Him, Khocholava OG, 40)
Gomez again shoots from the edge of the box, and via two deflections, the second off Khocholava, it goes in. If it hadn't then Haaland was there to knock in.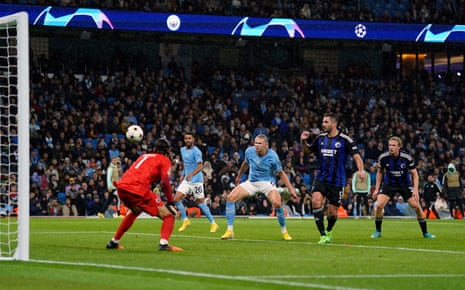 37 min: Copenhagen win a free-kick and choose to pass it around the back. Grabara almost gives it away again. There appears no way of stemming the tide.
35 min: Alvarez and Grealish, two players who probably need a goal, have shots blocked.
Goal! Manchester City 2-0 Copenhagen (You Know Who, 32)
This time, Grabara can't hold off the danger. Gomez smashes in a shot, and the ball bounces to Him, and he taps in. He's now level with Ryan Giggs and Jean-Pierre Papin on Champions League goal. Nine touches, four shots on goal, two goals.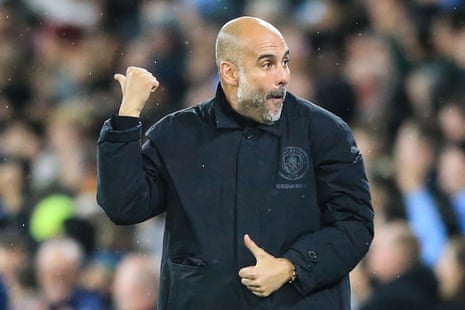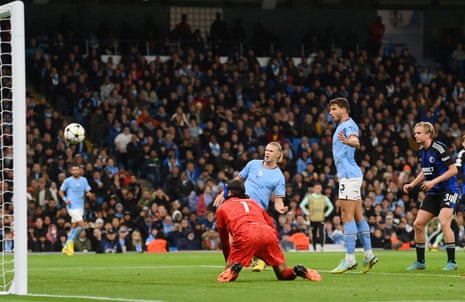 32 min: A fine save from Grabara, a decent shot from Grealish who looks aghast that didn't fly in.
30 min: Gomez, who despite coming from the relative backwater of Anderlecht, looks a readymade fit for left-back. And cost a lot less than Marc Cucurella – £50m less, in fact.
27 min: Gundogan launches one from distance, Gomez and Grealish link up, and there's some booing, perhaps from the away fans, for City. That seems to raise up a version of Blue Moon.
25 min: A lull, a breather for Copenhagen, whose fans are making quite a racket. The home fans, probably including Mike Pickering, he whose M People tune led off Liz Truss's speech today – much to M's annoyance – are quiet today. While Haaland's around, it's just one night in heaven.
23 min: Haaland takes the ball off the heels of Mahrez and crashes in a shot. Grabara, man of the match, flings himself headlong and saves well. Mahrez will have to be told that such loose balls, that one set up by Bernardo Silva, are for Haaland…while you are here, Grealish shoots and Grabara saves well again.
21 min: Yeah, more City. But then a Copenhagen attack. They seem determined not to suffer that record-low possession stat, and pass it around rather than waste it.
19 min: Grabara makes a fine save from Gundogan. And then catches one from Mahrez. His protective mask, the usual Phantom of the Opera affair, has a really pointy nose, and reminds more of the disguise used by Alex in A Clockwork Orange.
18 min: City, by the way, continue to dominate, and Mahrez dips over a cross that Haaland nods at Grabara. Then comes a real tangle, and City almost walk the ball into the net. Copenhagen get it clear. They are clearly vexxed by all the movement of the City players.
16 min: What can Jack Grealish do in this match? Something of the flat-track bully if he turns it on. But that's what the fans come to see.
14 min: A Copenhagen attack is opened up by a nice piece of skill by Daramy, with Karamenko waiting to receive. Soon enough the ball is back with Haaland, who is fouled and City can resume their previous rhythm.
12 min: Bernardo Silva strikes the post, running on to a pass from Jack Grealish, though it is going in until the toe of Grabara intervenes.
11 min: City continue to swarm all over Copenhagen. Mahrez and Alvarez have something to prove, and will want to get on the scoresheet.
9 min: Will Copenhagen have to come out to play? Probably not a bad idea to stay sat in for a while. This is a damage-limitation exercise already.
Goal! Manchester City 1-0 Copenhagen (Guess Who, 7)
Cancelo's ball to the edge of the box and blam! He scores. Yes, him. Pep Guardiola laughs out loud as it goes in.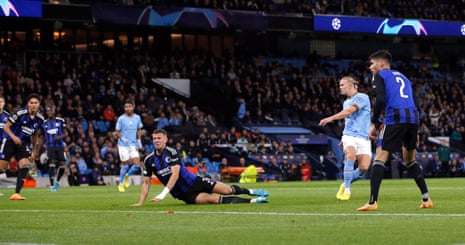 7 min: Haaland is the target as Alvarez gets to the byline. Copenhagen get it clear and they look solid to be fair to them.
5 min: No actual shots yet, though. And the ball is back with Ederson.
4 min: Yes, it's all City. Could this be a possession record?
2 min: Early dominance from City. Bernardo Silva has joined the attack-line, Pep Guardiola playing 2-3-5 in tribute to the buccaneering First Division title winners of 1936-7? They got relegated the next year, still scoring the most goals.
1 min: And we are away at the Etihad, and so begins the count to how many goals City will run in. Alvarez and Haaland are close together. This looks like a 4-4-2 for City, and two of the four are Grealish and Mahrez.
There is a minute of silence for those lost in the stadium disaster that took place in Indonesia at the weekend.
The players are ready to take the field at the Etihad. Past the tunnel club they go, those fans who have paid extra to peer through glass behind the scenes. And yes, the Uefa ban gets a boo from the City fans. It's been louder in the past but the loathing is still implicit.
Pep Guardiola speaks, and he's suggesting that with only 20 players everyone has to play all of the time. "Everybody has to play. They don't have to show me anything. We know them. If they are here we reply on them."
He's also happy to be able to field Ruben Dias and Aymeric Laporte together for the first time in a while.
In other news, Bayer Leverkusen have taken on perhaps the only coach and Champions League winner who listens to My Bloody Valentine and Swans.
– I was at this gig, most memorable for Michael Gira's expectoration.
This is only Julian Alvarez's second start of the season. He scored twice on his previous start, in the 6-0 defeat of Nottingham Forest, and this is his first Champions League start.
For Copenhagen, Mat Ryan doesn't get his chance as Kamil Grabara comes back in aftera facial injury. It looks like a 4-3-3 formation, and Mamoudou Karamoko will perhaps offer more mobility than Cardiff legend Andreas Cornelius.
Pep Guardiola make five changes from the 6-3 derby win. Kyle Walker is out, and may be for a while, Joao Cancelo switches to right-back and Ruben Dias, Aymeric Laporte and Sergio Gomez make up the back four. Kevin De Bruyne and Phil Foden are benched after their derby heroics, and in come Alvarez and Mahrez to play off Haaland.
The teams are in – Haaland starts, as does Alvarez
Manchester City: Ederson, Cancelo, Dias, Laporte, Gomez, Mahrez, Gundogan (C), Bernardo, Grealish, Alvarez, Haaland Subs: Ortega Moreno, Carson, Ake, Rodrigo, De Bruyne, Akanji, Foden, Palmer, Lewis, Wilson-Esbrand
FC Copenhagen: Grabara, Diks, Vavro, Khocholava, Kristiansen, Stamenic, Larager, Johannesson, Claesson, Daramy, Karamako. Subs: Johnsson, Ryan, Sorensen, Babacar, Cornelius, Mukairu, Jelert, Ankersen, Lund, Haraldsson, Bardghji.
More Haaland hype….will he start? Team news very soon.
"At his age no one can compete with him," Guardiola said. "The numbers speak for themselves and inside, in the locker room, and on the pitch we see things that are not in the stats that make us feel happy to have him here."
Brighton and Arsenal fans may recognise the Australian goalie for Copenhagen.
The question here, as it is now about Manchester City, is how many will Erling Haaland score against his fellow Scandinavians. Will Erling Haaland actually play against his fellow Scandinavians? Perhaps that's the problem with signing a generational talent; it can overshadow a club as successful as Manchester City, with a manager as generational a talent as Pep Guardiola. Even with a strikeforce shorn of the great young man, City are expected to smash their visitors, who only have a point from their first two matches, a draw with Sevilla. Get this one won, and that has to be the expectation, then City are looking good for the knockouts, taking place after the 2022 World Cup, when everything may look very different. It could be a night when the likes of Haaland and Phil Foden are rested, so a chance to see someone like Julian Alvarez given a proper run could be a lot of fun.
Kick-off is at 8pm, join me.