Key events
45 min: Sam Campbell gets in touch: "I don't support either of these sides but it's not hard to see why people get annoyed with the inconsistency of referees, when Rodrigo gets booked for asking for someone to be booked but the ref allows Martinez to run about 40 yards out of his goal to get him to go and look at the VAR monitor. Either both are bookings or neither are. Referees make it harder for themselves sometimes."
Three minutes added on to this first-half skirmish in the South Leeds area.
43 min: Jesse Marsch would have done his nut if he had been down on the sideline. As it is, he's calmly making notes up behind the plexiglass. His teams like a physical battle, and a bit of afters. Nowt wrong with that, especially considering it's Leeds, always a tough school.
41 min: More aggro, as Ashley Young, the old campaigner, clatters into Aaronson, who has spent much of the afternoon on the canvas.
40 min: Meslier shows why is he is a good goalie. Lovely pass from Young and then Watkins is through, and yet he can't find the net.
38 min: This time, Cooper clears the danger for Leeds. Villa coming into this one a bit more? Then a couple of fouls go in. Rodrigo is booked for dissent after Ramsey smashes into Aaaronson, and that's a third yellow for Leeds.
37 min: Meslier looking a bit flappy…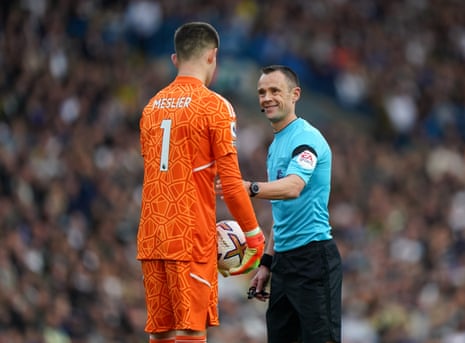 35 min: McGinn fires wide, and off for a corner. Leon Bailey takes. There's a melee in the area. These two teams don't like each other much, do they? It's cleared at the near post but then Meslier comes out to the second ball and is none too convincing. Another corner results.
32 min: It's getting testy out there. Stuart Attwell is being kept busy. Marc Roca is booked for smashing into Ollie Watkins. Villa players, Ashley Young leading the delegation, wanted a red. VAR has ruled out that outcome.
28 min: Jeremy Boyce gets in touch once more: "It's very sad that all those people died at a footie match yesterday, no question. But hang on, how many people died in Ukraine, Yemen, Myanmar, Burkino Fassa, Haiti etc. etc. yesterday just trying to go about their normal lives and survive ? Someone did a goal, the ref blew his whistle, some people were on the pitch, they thought it was all over, it is now. The real sadness is, footie is just a game, but some people can't see it like that."
The problem with this argument is what took place in Indonesia was football-related. It's the idea, like the myriad football tragedies in this country, that people went to a game and didn't come home. I remember feeling similar in 1992 at the Stade Armand-Cesari disaster, when 18 people died as a stand collapsed in a French stadium. Found it very hard to get the images from my mind, same with tragedies in Egypt in Port Said or at the African Cup of Nations this year in Yaoundé, Cameroon.
26 min: Luis Sinisterra lives almost up to his name with a nasty foul on John McGinn, and is booked. More worries for Villa as Jacob Ramsey has a knock. He's a rare bright Villa spark, and his brother is actually called Aaron Ramsey.
25 min: Villa look ragged. Mind, Villa look ragged every time I have seen them this season.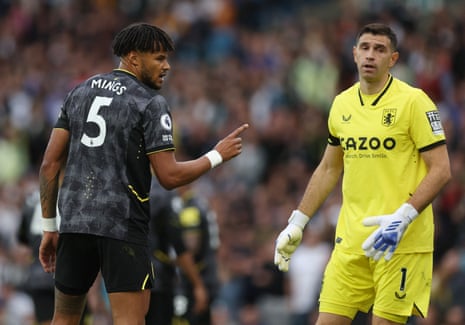 23 min: More Leeds attacking. Rodrigo is allowed by Konza to smash in on goal, and just wide. There's arguing among the Villa defenders. Too much space being found by the Leeds attackers.
22 min: Leeds get up a head of steam, though Aaronson holds on to the ball rather too long in the area. He is then robbed by John McGinn.
20 min: Jeremy Boyce, en France, gets in touch: "Speaking as a Sassenach lifelong NotSoNastyAsTheyUsedToBeLeeds fan currently living abroad but living it like i was in Chapeltown, who would you put your money on for an Andy Gray – Joe Jordan head-to-head ? 1 – 0 Leeds."
I assume the Andy Gray on Qatar fame, rather than the youngster who played in the 1996 League Cup final, against Villa, when Brian Little's lads utterly smoshed Sgt Wilko's team. Whatever, Joe Jordan wins any fight, even that one with Gennaro Gattuso when Joe was in his 60s.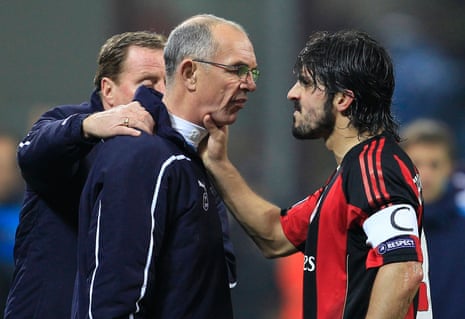 18 min: Coutinho goes alone, shoots, but wide. That seems to be his job under Steven: pick up the ball, and try and so something. There's the odd defensive detail, bit that's it. It seems a waste of a talented player who would surely do better within a proper support system.
16 min: By the way, both teams have been on the attack, and goalkeepers called into action but nothing too threatening. Watkins ran on, and perhaps Coutinho, goalless this season, really might have done better. He had been upended, in mitigation, though not deliberately.
14 min: Colin Young gets in touch: "Don't know.. maybe 'taking the knee' had its moment, maybe rainbow armbands aren't always the right call, maybe even cancelling football fixtures for HRM's demise can be justified..
"But on the day after the sport's biggest tragedy and in the run up to a world cup that so far cost over a thousand lives, not a peep from anyone. Doesn't anyone care anymore? Football is supposed to be for all. I'm not so sure anymore."
They *are* wearing black armbands, and I am prepared to be wrong on any commemorations carried out but yes, not nearly enough said in the UK or the Premier League, for which Indonesia is a key market.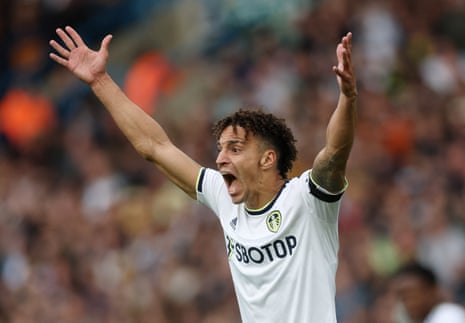 13 min: Douglas Luiz hoiks the ball into the air, and without much care as to where it might land. Yeah, it's one of those games.
11 min: Meslier, in the Leeds goal, flaps at a corner, but the second one comes in and Liam Cooper does his keeper's sweeping up for him. There's not much quality on show here.
10 min: Communication breakdown between Watkins and McGinn. The striker takes the ball down but the Scotsman fails to read the pass through. It rolls off for a throw. That's a precious moment squandered.
8 min: A first proper Leeds attack, Harrison speeds on, and Kristensen comes in off the flank, plays in a pass and Rodrigo gets his shot blocked.
6 min: Villa are not playing with much verve now and forever. There's a first yellow card, and it comes for Ludwig Augustinsson, the Swedish international making his debut after his loan for Sevilla. He's on sudden death now, the full-back.
4 min: It's been a slow start though Leon Bailey is perhaps lucky to escape a booking for a foul and then kicking the ball away. The referee, Stuart Attwell, was rather lenient there.
2 min: The players are wearing black armbands for the tragedy that happened last night in Indonesia.
1 min: Ok, here we go in West Yorkshire, where some form of memorial seemed to be set to happen, only for it not to happen. Jesse Marsch has a headset on, and is sat behind a screen in the fashion of an international rugby union manager. It's a loud crowd we have here.
A reminder: Jesse Marsch will not be on the bench today due to losing his temper with refs on previous occasions. Let's hope for some bluetooth headset chicanery or some NFL-style tic tac from the main stand.
Louise Taylor looked ahead to this game in our weekly 10 things piece.
Fireworks due at Elland Road as Villa come to town

Stuart Attwell will presumably be hoping history does not repeat itself when Leeds host Aston Villa on Sunday afternoon. Attwell has never forgotten the last time he refereed this fixture at Elland Road in April 2019 when Dean Smith's then Villa side faced Marcelo Bielsa's then Leeds team on the penultimate day of the Championship season. Both were assured play off places but the match contained a real edge which boiled over in the 72nd minute. When Villa's Jonathan Kodjia went down injured Smith's players came to a halt, expecting their opponents to put the ball out of play. Instead Mateusz Klich collected Tyler Roberts's ball and curled a shot beyond Jed Steer's reach. With Klich confronted by furious Villa players a melee ensured and Attwell red carded Villa's Anwar El Ghazi only for that decision to be retrospectively overturned. Albert Adomah was duly allowed to score a virtually unopposed 77th equaliser but since then both teams have played four Premier League games, collecting a total of 23 yellow and one red card, while John McGinn's reckless challenge on Archie Gray saw the Leeds teenager stretchered off during a pre-season game in Australia. Maybe Attwell should don a tin helmet?
Joe Pearson gets in touch: "No pressure, but you've got a 9 goal extravaganza to follow up. Good luck!"
Thanks, Joe.
For Leeds, three changes from Coach Marsch. Liam Cooper, Rasmus Kristensen and Rodrigo come in. Out go Diego Llorente, who drops to the bench. Cody Drameh and Joe Gelhardt are both out injured. Patrick Bamford is on the bench.
For Villa, without a point on the road all season, Lucas Digne has a heel problem so Ludwig Augustinsson comes in at full-back for his debut. Boubacar Kamara has a long-term knee injury and will miss the World Cup, too. Douglas Luiz comes in. As ever, Steven Gerrard will not be selecting Philippe Coutinho and Emiliano Buendia together.
Leeds: Meslier; Kristensen, Koch, Cooper, Struijk; Adams, Roca; Sinisterra, Aaronson, Harrison; Rodrigo. Subs: Klaesson, Ayling, Firpo, Bamford, Summerville, Llorente, Gnonto, Greenwood, Klich.
Aston Villa: Martinez; Augustinsson, Konsa, Mings, Young; Luiz, McGinn, Ramsey; Bailey, Watkins, Coutinho. Subs: Olsen, Sanson, INgs, Buendia, Nakamba, Bednarek, Dendoncker, Archer, Bogarde
Why is this game kicking off at 4.30pm rather than 2pm? One for the Premier League to answer, though Asian worldwide audiences may be the answer. Anyway, on with the show, where 13th takes on 14th. Leeds, a point above Villa, have enjoyed their season a little more than today's opponents, and have proved that a lack of Marcelo Bielsa need not mean a loss of their unpredictability, or even entertainment value. For Bielsa's bucket read Jesse Marsch, a manager whose rages at officialdom and all-American charm remind of a minor WASP character in The Sopranos. He's proven a few people wrong and has been a welcome addition, not least because he's quite amusing when he gets heated. Steven Gerrard meanwhile, continues to embrace life in Sisyphean fashion, carrying the weight of the Premier League on his shoulders despite being one of its all-time greats. Villa have improved a little over the last month, an impressive draw with Manchester City being followed by a win over Southampton. After losing to West Ham over the August bank holiday weekend, Steven looked in some trouble. Win here, and Villa fans can begin to look upwards again. Leeds will feel similar, but let's hope they can embrace the chaos and make this a fun one. Feels like that's their role today.
Kick-off at 4.30pm. Join me.