The puzzling thing is that, along the way to collecting an Ivy League history degree from Princeton University, Jesse Marsch produced an 117-page dissertation entitled: "Shaken, not stirred; an evaluation of earthquake awareness in California."
With that background, the Leeds manager might have been expected to be a little more conscious of the disciplinary fault lines which, quite apart from preventing his side displaying their true abilities, prompted a few alarming tremors on Sunday.
Ultimately an often ill tempered contest involving two feisty yet inherently fragile teams – if the jury remains out on Marsch, Steven Gerrard's Villa tenure also seems perched on the delicate cusp between impending calamity and mid-table stability – concluded with just the one sending off, namely Leeds' Luis Sinisterra for a ludicrous second bookable offence.
There were though moments when a game sporadically illuminated by Philippe Coutinho's skill threatened to descend into a full on brawl. If a Villa ensemble prone to time wasting at every opportunity played their part in provoking that, Leeds allowed themselves to be wound up far too easily; aggression may be a vital part of their pressing game but they need to be much better at controlling it.
"There's moments where I think we can be smarter, manage the referee and everything," conceded Marsch, who was clearly irritated by both Gerrard's tactics and Stuart Attwell's sometimes inconsistent officiating. "But it was a good clean sheet and, with a man down, a good result. I feel sorry for the fans though, they had to sit through a game where almost from the first minute it seemed the tactic of the opponent was to slow the game down."
By the final whistle the bookings score was 5-2 to Leeds, meaning that two teams who seem to have developed an almost chemical mutual dislike have now collected 31 yellow and two red cards in their last five Premier League meetings.
Attwell swiftly found himself presiding over an extremely tricky game to referee with snide little off the ball fouls happening all over the pitch as Leeds failed to establish their preferred high tempo.
Indeed it was probably a blessing in disguise that Marsch had been banished to the press box in the wake of his sending off in Leeds' last game, a 5-2 defeat at Brentford 29 days ago which prompted a one-game touch line ban. Without that suspension, few present would have bet against the sometimes volatile American and Gerrard crossing technical areas swords.
"We came here to frustrate Leeds," admitted Villa's manager. "If you let them play to their rhythm they'll run all over you so we slowed the game to our tempo and went to war where needed. I'm not interested in what Jesse thinks about our tactics. We did what we need to do." And the referee. "He didn't do much wrong," said Gerrard, smiling. "He had a very good game."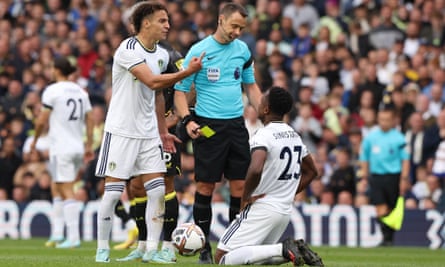 In between all the hostilities, not to mention those moments when Attwell either seemed in peril of losing control or overly pedantic, Illan Meslier reminded everyone of his talent, making a couple of decent saves from Ollie Watkins and another from Leon Bailey.
Despite initially dominating around 70 per cent of possession, Leeds struggled to test Meslier's counterpart, the desperately underworked Emiliano Martínez as they failed to pass the ball cleverly enough to properly challenge Gerrard's central defensive axis of Tyrone Mings and Ezri Konsa.
Sensing opportunity Villa gradually improved and, with Watkins making an increasing nuisance of himself, Coutinho started making his presence felt, sending a sumptuous volley ricocheting off a post early in the second half.
Gerrard probably could not believe his luck when Sinisterra was sent off for that idiotic second bookable offence. As the winger not merely failed to retreat 10 yards but stuck out a leg to block Douglas Luiz's attempts to take a swift free kick, Marsch's head sunk into his hands.
Leeds had paid the price for the sort of hot headed indiscipline which their manager has consistently failed to control. Admittedly Luiz provoked the Colombian by arguably aiming his delivery at his shin but had Sinisterra – earlier booked for a nasty challenge on John McGinn – not raised his foot he would have gone unpunished. Elland Road chorused "you're not fit to referee" but Attwell could hardly turn a blind eye. "I think Luis knows that was not an intelligent decision,' said Marsch who has already scheduled conversations about time wasting with the refereeing authorities.
Down to 10 men Leeds switched to 5-3-1 but although Konsa's blocked denied Patrick Bamford, a warmly greeted substitute, Meslier looked relieved when Emi Buendía bent a shot fractionally wide.
"I'm frustrated," said Gerrard. "We've got the quality but we need our big players to step up in big moments."