The Iraq Britain Business Council (IBBC) President Baroness Nicholson of Winterbourne supported by Managing Director Christophe Michels, and Board Member Haider Al Shamaa led a delegation of 20 IBBC members to Baghdad to meet the new Government of Federal Republic of Iraq
Welcomed by President of Iraq H.E. Abdullatif  Rasheed, and Prime Minister H.E. Mohammed Shiaa Al Sudani, the delegates met with H.E. Taif Sami, Minister of Finance, H.E. Mr Zyad Ali Fadhil, Minister of Electricity, H.E. Abdul Ameer Al Shimari Minister of Interior, and the Governor of the Central Bank.
Further meetings were held with Mr. Hameed Naeem Al Ghizzy, Secretary General of the Council of Ministers and the Prime Minister's Office, Dr Abdulkareem, Chairman of PMAC and Mr. Hazim Al Hafadhi, Deputy Minister of Transport.
In all meetings IBBC and its members were praised for its long and strong relationship with Iraq and were further assured of the Government's support for all of its continuing work. The IBBC Spring Conference 2023, to be held on the 16th June was welcomed, would be attended as speakers, special guests by ministers, officials, and leading financial experts.
New member Company, UK Education in Iraq brought a parallel delegation of Academics  led by  Professor Victoria Lindsay accompanied by IBBC, Health and Education Advisor Professor Mohammed Al Uzri. On Tuesday 24th January Baroness Nicholson and Christophe Michels  joined the academic delegation for an important meeting held with H.E. Naeem Al Aboudi, Minister of Higher Education and Scientific Research. At this meeting, an agreement was signed by the Minister enabling UK Education In Iraq to establish a British University in country.
Ambassador Mark Bryson-Richardson hosted a reception for the delegation at the British Embassy on Sunday 22nd, with special guests, H.E. Rakan Saeed, Governor of Kirkuk, H.E. Shakhwan Abdullah, Deputy Speaker of the Parliament and Dr. Laith Al Shaher, Director General of the Legal Department in the Ministry of Oil.
On Monday 22nd, outgoing Chairman of TBI Dr Salem Chalabi hosted a dinner for the delegation at the Babylon Hotel when Dr Salem introduced his successor, Mr Bilal Al Hamdani. The dinner was also attended by Dr Fareed Yasseen immediate past Ambassador to the USA and present Advisor to the Iraqi Prime Minister.
Baroness Nicholson of Winterbourne gave her warmest thanks to the President of Iraq, Prime Minister and all government for their support and looks for another opportunity  for IBBC to visit Iraq.
Christophe Michels stated:
"IBBC has just undertaken one of our most successful trade missions thanks to the open and helpful support of the Government of Iraq and especially thanks to the hospitality of the Prime Minister and President.
"Our large contingent of members all benefitted from the meetings and insights that were shared in relation to investment and educational opportunities. I am delighted to highlight of the continuing growth of the business being done between and among IBBC members and Government entities. 
"We look forward to a positive relationship with the Government and to welcome them to the Mansion House conference on June 16th ."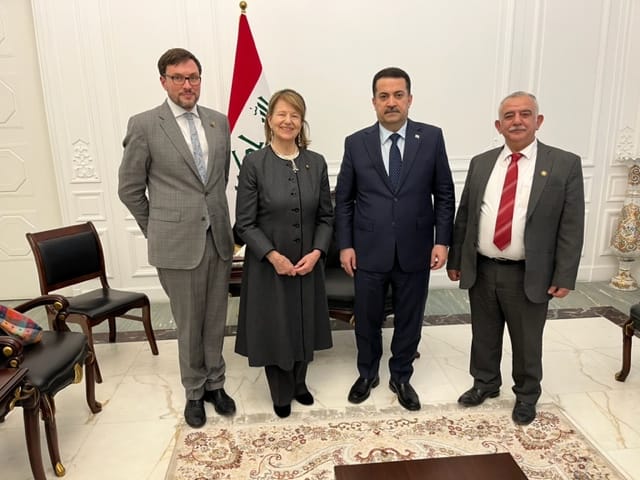 (Source: IBBC)