What's the perfect way for Harry Kane to become Tottenham's record goalscorer? It has to be a penalty, against Arsenal, in injury time, to win the north London derby on Sunday. A penalty he has won by 'being clever'. There was contact when Gabriel Magalhães nudged him ever so slightly in the back. He had every right to go down.
Craig Pawson is surrounded, forced into that impossible position of trying to look authoritative while tip-toeing backwards to evade Granit Xhaka screaming in his face. By this time, William Saliba has taken a trowel to the penalty spot. Paul Tierney looks at his monitor in Stockley Park. Check complete. Peter Walton sits in his cupboard agreeing it was the right decision. AFTV implodes.
Thank goodness Emi Martínez left Arsenal almost two and a half years ago or it would be a further 25 minutes before Kane steadies himself, takes a few steps back, stutters his feet, runs up and plants the ball high to Aaron Ramsdale's outstretched right hand. The net ripples. Martin Tyler has something perfect ready to go. Peter Drury bellows "Cosmic Chasmic Kane" for the international audience.
The Tottenham Hotspur Stadium erupts. It's 2-1. Two goals for Kane, who has exorcised the ghosts of Qatar, dented his rivals' title ambitions, lifted Spurs into the top four and overtaken Jimmy Greaves as the club's record goalscorer.
A less biased forecaster might suggest the above is optimistic at best. Arsenal are playing with a joyous fluidity Spurs fans can only dream of at the moment. Regardless of how this season pans out, Mikel Arteta has proved many wrong. Credit to those who trusted the process, who kept faith during his Blair Witch lightbulb tribute – I didn't.
When the only criticism is that you jump around a little bit too much (as opposed to Klopp … no; Pep … no; Conte, Simeone – you get the idea) you're probably winning. Five points clear at the top of the Premier League, but a manager who doesn't treat the dotted lines of the technical area like an electric fence seems a reasonable trade-off.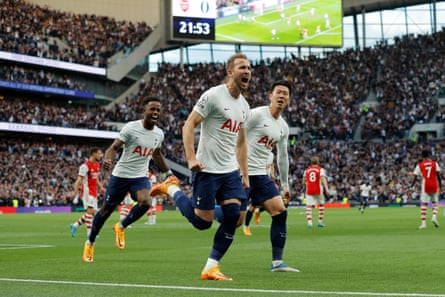 Even if Kane doesn't manage to do it on Sunday, he will soon break Greaves's record of 266 in 379 games. He has reached 265 in 412. Intergenerational comparisons aren't necessarily that useful. The footbal world tried again to work out Pelé's position in the pantheon of greats despite barely having seen him play.
To me, Greaves was one half of a great TV double act, but to those who saw him live he was something else. "The great Jimmy Greaves. I have never seen anybody with such speed off the blocks." So says David Rushden, who watched him from the White Hart Lane terraces as a young man in the 60s. "He was never tackled. It was on muddy pitches with a muddy ball and everybody was mud-splattered but his shorts were always clean.
"He just had an eye for goal. It was unbelievable the goals he scored from absolutely nowhere. He's my favourite." Thanks Dad.
Anyone who has seen the excellent Greavsie documentary or who goes down a YouTube wormhole of 60s Spurs will probably conclude Greaves is the more natural footballer. Hundreds of side-foot finishes. Dribbling with elegance, grace and balance, sitting the keeper down with the merest shimmy before rolling it home.
It is an oversimplification to say football is innate for some (Messi) while others have to work at it (Ronaldo). All of these players are ludicrously good, all train every day. But there is no questioning the obsessive work Kane has put in to reach elite levels.
He is also deceptively good. Even after all these years of watching him, he is quicker, more skilful, more subtle than many give him credit for. That touch and hit at Crystal Palace last week epitomises his finishing. We now recognise he is a creator where Greaves wasn't, dropping into pockets and whipping it around the corner for Son Heung-min.
But Kane can frustrate – always attempting the killer ball, sometimes slowing the game in the process. This again is where these comparisons fall down. It's hard to find YouTube compilations of Greaves's worst misses or games where he went awol.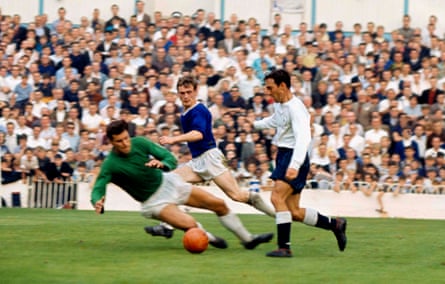 In a couple of months Kane may well become England men's record goalscorer. This summer he turns 30, potentially at the final crossroads of his career. To stick or twist. Gossip columns this transfer window have him linked with Manchester United, Real Madrid and Bayern Munich. There won't be too many more opportunities to move up, the Manchester City door closed a few months ago.
If football had a soul, there would be at least one moment where Kane could enjoy rather than endure walking around the pitch applauding his supporters, a trophy in one hand, a medal in the other. There have been too many slo-mo montages of him looking mournful, processing what might have been just minutes after a final whistle.
Fairly or not, Greaves was defined – at least on the outside – by what he didn't win and the same could easily happen with the England captain. Even if he leaves Spurs and hoovers up a Bundesliga or two, Kane has done enough to come back and work the lounges with Gary Mabbutt and Ledley King when he hangs up his boots. Perhaps this is time to get out and invest in a cabinet or at the very least a shelf.
In a way it'd be admirable to stay, that trophy would taste so much sweeter in a Spurs shirt. Champions League this year? Add the Euros after that? He can score a winning penalty against France. Unlikely maybe, but in 2011 when Kane was on loan at Leyton Orient, his record-breaking exploits seemed unlikely too. It's good to dream.
Perhaps it's an act of preservation of football fans who support teams who don't win things to suggest medals and trophies don't actually matter at the end of it all. It's about much more than that.