Key events
27 min
Willian isn't celebrating, but almost everyone else in Craven Cottage is going mad. Decordova Reid's cross was headed across the area by Chalobah and collected by Willian. He cut inside, dummied Azpilicueta a couple of times and hit a low drive that was going straight at Kepa – until it deflected off Chalobah and flew into the corner.
GOAL! Fulham 1-0 Chelsea (Willian 25)
Willian scores against his old club!
23 min: Decordova Reid hits the bar! Leno's long goalkick was misjudged by Chalobah, who headed it straight to Vinicus. He played in Decordova Reid to his right, and he rattled a first-time drive from 15 yards that thumped off the bar. Kepa didn't move.
21 min Fulham take a short corner on the right. Willian fires the ball back to Reed, who pings a sweet first-time shot from 25 yards that is blocked by one of the many Chelsea bodies near the penalty spot.
21 min "Forgive my ignorance but is Thursday night now a permanent fixture date for EPL matches?" says Paulo Biriani. "If so, are you always the fixture MBMer?"
No and hopefully, therefore, no. This game was rearranged after the death of the Queen in September. Having said that, I see Man City are playing Spurs a week tonight. And you won't believe who's on the rota.
19 min Chelsea are playing pretty well here, though I suppose the big test will come if they go behind again. Felix and Hall look bright on the left, and Kovacic has been excellent in midfield.
18 min Mount's outswinging corner is headed over by the backpedalling Thiago Silva. A half chance.
17 min "The internet being what it is these days, looking at any social media platform can be dangerous when assessing how fans actually feel about the club," says Justin Madson. "The hyper-unrealistic expectations by the loudest mouths tend to be incorrectly perceived and presented as such by the media as a wholly accurate depiction of how the general fanbase feels. Particularly when, as is the case with Potter, the media spends more time talking about how under pressure he is than anyone else does. I was thoroughly puzzled when certain outlets started running 'he's under pressure' articles regularly in the middle of the World Cup. From a totally calm and not at all worried Chelsea fan in Boehly-land."
I completely agree with that, and it's a huge problem in all journalism, not just sport; the media have basically let a gobby minority take over the world, and look how that's turned out. But the chants from the away end on Sunday suggested it's not just Twitter's finest who are unhappy with Potter. I think the whole thing is ridiculous, particularly given all the talk of long-term planning when he took the job.
16 min: No penalty Hmm, Zakaria's a bit fortunate there. I suppose the argument is that it wasn't a clear and obvious error from David Coote, but had it been given on the field it wouldn't have been overturned.
16 min Vinicius goes down just inside the area after a clumsy and unnecessarsy tackle from Zakaria. David Coote says no penalty, but it's being checked by VAR.
14 min Joao Felix misses a decent chance, volleying Mount's cross wide from eight yards after going at it with the wrong foot, but he was offside.
14 min And now Pereira is booked for fouling Felix, who got himself between the man and the ball and went down as soon as there was contact. I'm not saying he dived; it was clever play.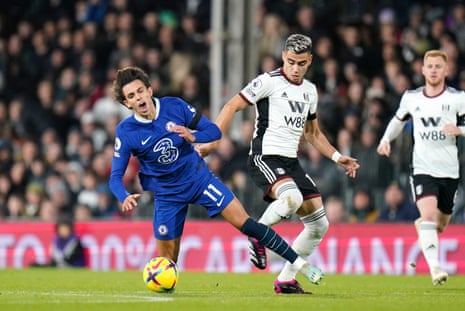 11 min Zakaria is a little fortunate to avoid a yellow card for a lunge at Pereira.
10 min The resulting free-kick is headed away to Kovacic, whose long-range volley hits his own player. Chelsea keep the ball alive and Kovacic feeds it out to Joao Felix, who drives wide of the near post from the left side of the area. A half chance at best.
10 min That yellow card means Robinson will miss Fulham's next league game: Newcastle away on Sunday.
9 min Robinson is booked for a foul on Joao Felix, who has looked the part in his first few minutes as a Chelsea player.
8 min Robinson surges down the left and hammers a low cross into Vinicius, 12 yards out. He turns smartly, despite the presence of Thiago, and cracks a shot on the turn that goes not far wide of the far post. Decent effort, that.
8 min Another inswinger from Pereira, another header away from Thiago, this time for a throw-in.
7 min Robinson's cross hits Chalobah and go behind for a corner. Andreas Pereira, who is having a fine season, wanders across to take it. His inswinger is headed behind for another corner by Thiago.
6 min Joao Felix looks sparky and full of confidence. I know his performance level fluctuates a fair bit, but at his best he's a delight. His skill and swagger might be just what Chelsea need.
4 min "First of all, Potter was involved in a great project at Brighton and should not have left until the season finished," says Jeff Sachs. "This is the price for being hasty. And he is smart enough to have known what he was getting into…"
Ah come on. Even thogh I think Potter should have stayed at Brighton, I know full well that if I was in his position, I would have struggled to resist an offer from Chelsea. I suspect that applies to 99.94 per cent of us. Also, it's not over yet.
2 min: Chances plural for Chelsea! Joao Felix almost creates a goal inside two minutes. He moseyed over to the right wing, nutmegged Ream majestically and picked out Havertz near the penalty spot with a precise low cross. Havertz's right-foot shot was blocked, and Hall's slightly tame follow up was kicked away by Leno. They were both decent chances, Hall's in particular.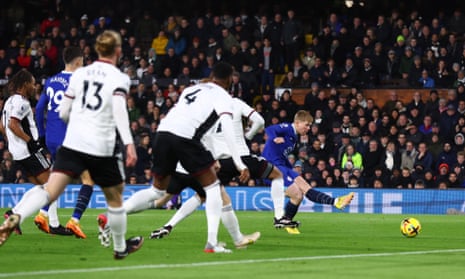 2 min Cesar Azpilicueta is playing at right wing-back, and Chelsea's attacking shape is as expected – Havertz up front with Joao Felix and Mount buzzing behind him.
1 min Peep peep! Fulham kick off from right to left as we watch.
This is Chelsea's first league game since the sad death of the adorable Gianluca Vialli, and the players have gathered round the centre circle to pay tribute with a minute's applause. Finding someone with a bad word to say about Vialli is needle/haystack territory.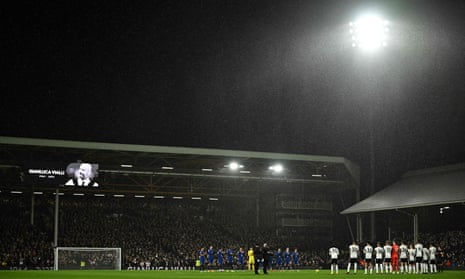 "Thanks for the concern; a strep infection which is being treated with heavy duty antibiotics, and yes, I'm much better," says Richard Hirst. "On football matters,I look at the strength of Chelsea's bench and I can't help feel that sympathy for their injury 'predicament' is a bit over the top. Not the weakest bench I've ever seen."
Well, they have just bought four players, which helps, but they are still missing some irreplaceables. I know it was only an hour at home to Bournemouth, but they looked a different team going forward when Reece James played. Very glad to hear you're okay; strep sounds thoroughly unpleasant.
"Setting aside that Graham Potter surely knew what he was getting himself into, him saying that managing Chelsea is the hardest job in football is brilliant," says Matt Burtz. "Succeed, and you're automatically the best manager in the world. Fail, and you're expected to because it's impossible to succeed. It's win win!"
I didn't like that comment. Potter is normally so considered and amiable and, though that hasn't really changed, there have been a few little signs that it's getting to him. I felt strongly at the time that he should wait for Arsenal or Spurs rather than go to Chelsea, because there are so many risks with that club and it was likely to be his only big job unless he succeeded.
Potter may have had assurances from Todd Boehly, but that's only part of the story – as we're seeing now, the media and a fanbase conditioned to instant gratification can make life very uncomfortable. I really hope it works out but I'm losing faith.
Relationship status: it's complicated
"We are probably lucky QPR aren't in the PL, or Chelsea might well be fourth in the West London League," says Julian Menz. "As for the teams: are you sure it's Azpilicueta and not Chalobah at right wing-back?"
I'm never sure about anything, least of all a Graham Potter formation, but that's how I expect them to line up. This graphic supports that idea, though I've noticed a few clubs have started peddling tactical disinformation on their team graphics. What is the world coming to.
GP on JF
"Lying in a hospital room in SW France with the MBM to keep me company," says our resident Fulham fan Richard Hirst. "I was hoping for three points to stimulate further improvement, but without Mitro I am trepidatious, and right now would bite your hand off for a non-stimulating 0-0. Still, I am sure I can rely on Dr Rob for sympathetic company."
Oof, sorry to hear that. Are you okay?
Whether it's fair or not (it's not), Graham Potter is under increasing external pressure at Chelsea. If they lose tonight, the noise might become insufferable.
(trænzɪʃən )
1. VARIABLE NOUN
Transition is the process in which something changes from one state to another.
Team news: Joao Felix starts
Marco Silva makes one enforced change to the Fulham team that won their last Premier League game at Leicester. Carlos Vinicius replaces the suspended Aleksandar Mitrovic up front.
Chelsea's big loan signing Joao Felix goes straight into the starting line-up, and, with Graham Potter switching to a back three, the impressive teenager Lewis Hall is preferred to Marc Cucurella at left wing-back.
Overall there are four changes from Chelsea's previous league game, the defeat at home to Manchester City a week ago. Hall, Joao Felix, Trevoh Chalobah and Mason Mount replace Cucurella Hakim Ziyech and the injured pair of Raheem Sterling and Christian Pulisic.
Fulham (4-2-3-1) Leno; Tete, Adarabioyo, Ream, Robinson; Reed, Palhinha; Cordova-Reid, Pereira, Willian; Vinicius.
Substitutes: Rodak, Kurzawa, Diop, Chalboah, Harris, Cairney, Wilson, James, Solomon.
Chelsea (3-4-2-1) Kepa; Chalobah, Thiago Silva, Koulibaly; Azpilicueta, Zakaria, Kovacic, Hall; Mount, Joao Felix; Havertz.
Substitutes: Bettinelli, Cucurella, Badiashile, Chukwuemeka, Jorginho, Gallagher, Ziyech, Aubameyang, Fofana.
Referee David Coote.
What do we have here then? A west London derby in which Fulham are the pre-eminent team in SW6, that's what. They begin tonight's game in seventh, three places and three points ahead of Chelsea, who are in danger of winning the transfer window and losing everything else. The last time Fulham started a league game against Chelsea in a higher position was 2 April 1983*, a 1-1 draw at Craven Cottage in the old Division Two.
All the pre-match talk has been, a little tediously, about whether Graham Potter should be sacked for his inability to build Rome in half an hour. Marco Silva knows all about P45s, having been sacked by Sporting Lisbon, Watford and Everton, but there was always a lot to like about his management and he has quietly done a spectacular job at Craven Cottage.
Fulham won the Championship in his first season, scoring 106 goals in the process, and have held their own against allcomers in the Premier League. Their late defeats at Arsenal, Manchester City and Manchester United were all unfortunate, and the only time they took a pasting was when they had 10 men for most of a 4-1 defeat at home to Newcastle. They have won all four games since Qatar, whereas Chelsea have lost seven of the last nine and are without almost an entire team of senior players.
I was going to say that, even without the suspended Aleksandar Mitrovic, Fulham will be provide a stiff test for Chelsea. But given the league positions and recent form, we should probably be assessing that the other way round.
Kick off 8pm.
* I think. Look, I checked it once and I might have made a mistake but I don't have time to go back over 40 years of league tables again, okay. This is a blog, your honour, not a judicial review!