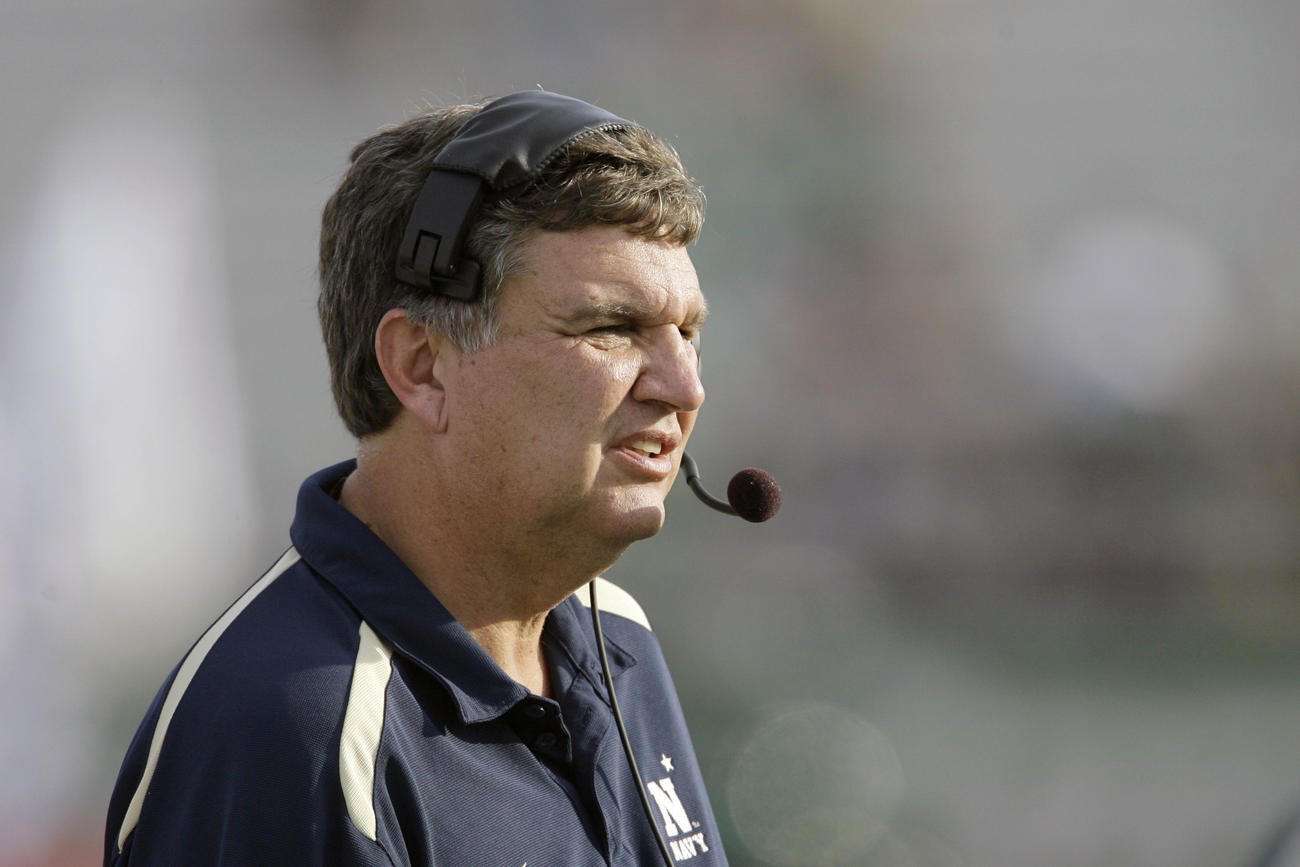 Former Navy coach Paul Johnson on Monday was selected to be inducted into the National Football Foundation and College Hall of Fame. Johnson, who also served as head coach at Georgia Southern and Georgia Tech, is among a class that includes 18 players, including former stars such as Reggie Bush and Tim Tebow, and four coaches.
Johnson becomes the 25th Navy player or coach to be voted into the College Football Hall of Fame. He is the fifth former Navy coach so honored, joining Gil Dobie (1917-19), William Ingram (1916-18), Wayne Hardin (1959-64) and George Welsh (1973-81). Twenty Navy players have been inducted.
The class was voted on by 80 players and nine coaches from the Football Bowl Subdivision, along with 96 players and 33 coaches from the divisional ranks. Johnson was named to the ballot in June in his first year of eligibility. He was among nine FBS coaches up for induction, a group that also included former Maryland coach Ralph Friedgen.
Johnson led Navy from 2002 through 2007 and was responsible for resurrecting the program. He had previously served as offensive coordinator under Charlie Weatherbie in 1995-96 before leaving to become coach at Georgia Southern.
Navy football stumbled after Johnson left as coordinator, suffering four straight losing seasons from 1998 through 2001. The Midshipmen went 1-20 in their final two seasons under Weatherbie.
Johnson spent the 2002 season completely revamping the program, as Navy struggled to a 2-10 record. However, the Midshipmen went 8-5 and earned a berth in the Houston Bowl in Johnson's second season.
That began a streak of five straight winning seasons capped by bowl berths under Johnson, whose best season in Annapolis came in 2004 when Navy went 10-2, beat New Mexico in the Emerald Bowl and finished the season ranked No. 24 in the Associated Press poll.
Johnson left for Georgia Tech after the 2007 campaign, which was highlighted by an epic 46-44 triple-overtime victory over Notre Dame that ended Navy's historic 43-game losing streak in the series.
Johnson is the fifth-winningest coach in Navy football history with a record of 45-29 in six seasons. His overall record as a college football head coach is 189-100 over 22 seasons.
Johnson posted a gaudy 62-10 mark in five seasons at Georgia Southern, which he led to two NCAA Division I-AA national championships. He went 82-61 in 11 seasons at Georgia Tech, which he led to four Coastal Division crowns within the Atlantic Coast Conference. The Yellow Jackets won the ACC championship game in 2009 in his second season.
The 2023 College Football Hall of Fame Class will officially be inducted during the 65th National Football Foundation awards dinner, being held Dec. 5, 2023, at the ARIA Resort & Casino in Las Vegas.
Each inductee will also be recognized at their respective collegiate institutions with NFF Hall of Fame On-Campus Salutes during the fall. Their accomplishments will be forever immortalized at the Chick-fil-A College Football Hall of Fame in Atlanta, and each inductee will receive a custom ring created by Jostens.
In addition to Johnson, former coaches Monte Cater ( Lakeland College, Shepherd College), Roy Kramer ( Central Michigan) and Mark Richt (Georgia, Miami) will be inducted.
"Each of these men has established himself among the absolute best to have ever played or coached the game, and we look forward to immortalizing their incredible accomplishments," said Archie Manning, NFF Chairman and a 1989 College Football Hall of Famer from Mississippi.
College Football Hall of Fame Class of 2023
— Eric Berry — DB, Tennessee (2007-09)
— Michael Bishop — QB, Kansas State (1997-98)
— Reggie Bush — RB, USC (2003-05)
— Monte Cater — HC Lakeland (1991-96), Shepherd (1987-2017)
— Dwight Freeney — DE, Syracuse (1998-01)
— Robert Gallery — OT, Iowa (2000-03)
— LaMichael James — RB, Oregon (2009-11)
— Derrick Johnson — LB, Texas (2001-04)
— Paul Johnson — HC Georgia Southern (1997-01), Navy (2002-07), Georgia Tech (2008-18)
— Bill Kollar — DT, Montana State (1971-73)
— Roy Kramer — HC, Central Michigan (1967-77)
— Luke Kuechly — LB, Boston College (2009-11)
— Jeremy Maclin — WR/KR, Missouri (2007-08)
— Terance Mathis — WR, New Mexico (1985-87)
— Bryant McKinnie — OT, Miami (2000-01)
— Corey Moore — DL, Virginia Tech (1997-99)
— Mark Richt — HC, Georgia (2001-15), Miami (2016-18)
— Michael Stonebreaker — LB, Notre Dame (1986, 1988, 1990)
— Tim Tebow — QB, Florida (2006-09)
— Troy Vincent — DB, Wisconsin (1988-91)
— Brian Westbrook — RB, Villanova (1997-98, 2000-01)
— DeAngelo Williams — RB, Memphis (2002-05)
___
(c)2023 The Capital (Annapolis, Md.)
Visit The Capital (Annapolis, Md.) at www.hometownannapolis.com
Distributed by Tribune Content Agency, LLC.
© Copyright 2023 The Capital, Annapolis, Md.. All rights reserved. This material may not be published, broadcast, rewritten or redistributed.