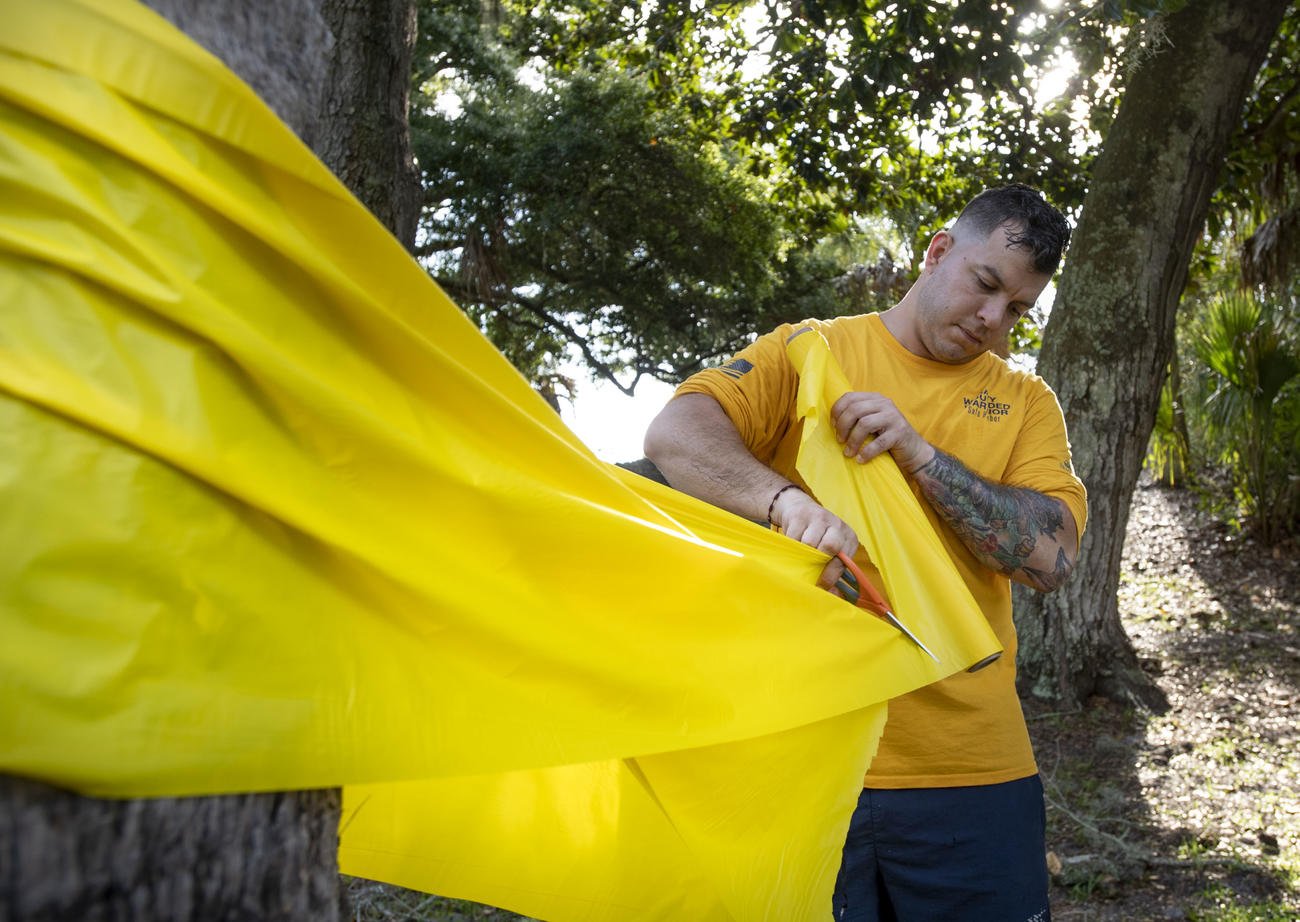 A website for Native American veterans to participate in traditional talking circles and storytelling with trusted elders. An app that locks a gun safe for a preset amount of time or requires a second person to approve opening it. A virtual reality headset for veterans on both sides of the justice system — guards and inmates — to use when they're stressed or depressed.
Those are just a few of the 30 proposals for veteran suicide prevention that were on display in an office building in Washington, D.C., on Friday as the finalists in the Department of Veterans Affairs' Mission Daybreak competition made their case to judges in hopes of winning up to $3 million and having their idea turned into reality.
"There are none that have not impressed me, and there are several that really come at issues from a unique perspective," Matthew Miller, director of VA suicide prevention, said in an interview with Military.com at the Mission Daybreak Demo Day. "I've seen unique perspectives to lethal means safety and firearms. I've seen unique perspectives and plans applied to Navajo Nation and native veterans, unique applications of risk prediction and integration of biometrics. So exactly what this was intended to do, lots of ideas put together into plans that could be applicable to the VA."
Read Next: National Guard Leaders Warn More Cyber Security Spending Needed to Help Protect Elections
The VA launched Mission Daybreak earlier this year with the goal of seeking fresh perspectives and innovative ideas to combat the epidemic of suicide, which despite decreases in the rate in recent years still kills thousands of veterans annually.
The competition has a total of $20 million up for grabs. The 30 finalists have already earned $250,000 each, and another 10 entries that didn't move onto the finals earned "Promise Awards" of $100,000 each.
Of the finalists, two will win the top prize of $3 million, three second-place finishers will earn $1 million, and five third-place finishers will get $500,000.
The department announced the finalists last month, after which the proposals entered an "accelerator" phase for fine-tuning ahead of Demo Day. Demo Day is not the only factor in determining the winner, but it gave the finalists the chance to make their pitch to judges in person, as well as meet each other and showcase their ideas to other interested VA and Pentagon officials and congressional staffers, among others.
In a setup similar to a school science fair, each finalist Friday had a table complete with videos and posters or other props as judges with clipboards walked around to each and heard the pitches.
One of the finalists is Televeda, a proposal for a web-based application where Native Americans can participate in a support group that incorporates their traditions and rituals. Their table was sparse, with just a small woven table runner and an arrowhead, but they appeared to elicit great interest from those who stopped by.
In addition to having few mental health resources that recognize their culture, Native Americans have unique difficulties that contribute to a higher suicide rate than the general veterans population, including historical trauma, said Mayank Mishra, co-founder and chief technology officer of Televeda.
"Any other professional … who studies this population has always come to the exact same conclusion: Please incorporate their traditional practices and their culture," Mishra said. "However, that sort of ends as a sentiment or a white paper, so we're hoping here to present the first operational plan, which is scalable that includes a web interface that is culturally appropriate and a method that can be applied tribe-by-tribe by using agnostic symbols like storytelling and talking circles."
Several proposals also dealt with firearm safety, including Vara Safety, which started as a gun safe company that relied on biometrics to access the safe and has now developed an app where users who know they are in distress can keep the safe locked for a set amount of time. The app also allows users to turn on two-party approval for opening the safe, as well as a feature that will send happy pictures and videos of loved ones to display on the safe when it's opened.
There was also Overwatch Project, which seeks to train veterans to talk to their veteran friends about firearm safety. They attracted Demo Day attendees to their table with a unique hashtag: "JustFKNAsk."
"It's basically the 'Friends Don't Let Friends Drive Drunk' model except, instead of alcohol and cars, we're talking about guns and suicide," said Casey Woods, executive director of Overwatch Project. "So if you got a buddy who's struggling, while you're there supporting them, helping them, [you can ask] what's up with their firearms, can you hold on to them, can you secure them?"
Other projects on display Friday included BioMojo, which is developing a virtual reality program for both prison guards and inmates who are veterans that can provide them with an AI therapist or friendly face to talk to or soothing situations; Same Grain, which works like a social networking site or dating app to match veterans with things in common to support each other or veterans to therapists and other professionals; and Team DSS, which uses AI to help responders on the Veterans Crisis Line interpret callers' emotions and intent.
Judges will now digest what they saw on Demo Day, and the winners are expected to be announced by the end of the month. Whether and how soon any of the winners then become integrated into the VA will depend on contracting processes, Miller said.
"In the last two years of available data, [which] did not include Mission Daybreak sort of interventions, we've seen an approximate 10% reduction in veteran suicide," Miller said. "What I would love is to see another 10% in another two years, if not more, from creative and innovative ideas."
All 30 finalists that were on display can be found here.
— Rebecca Kheel can be reached at rebecca.kheel@military.com. Follow her on Twitter @reporterkheel.
Related: VA Selects 30 Programs for Suicide Prevention Competition
© Copyright 2022 Military.com. All rights reserved. This material may not be published, broadcast, rewritten or redistributed.