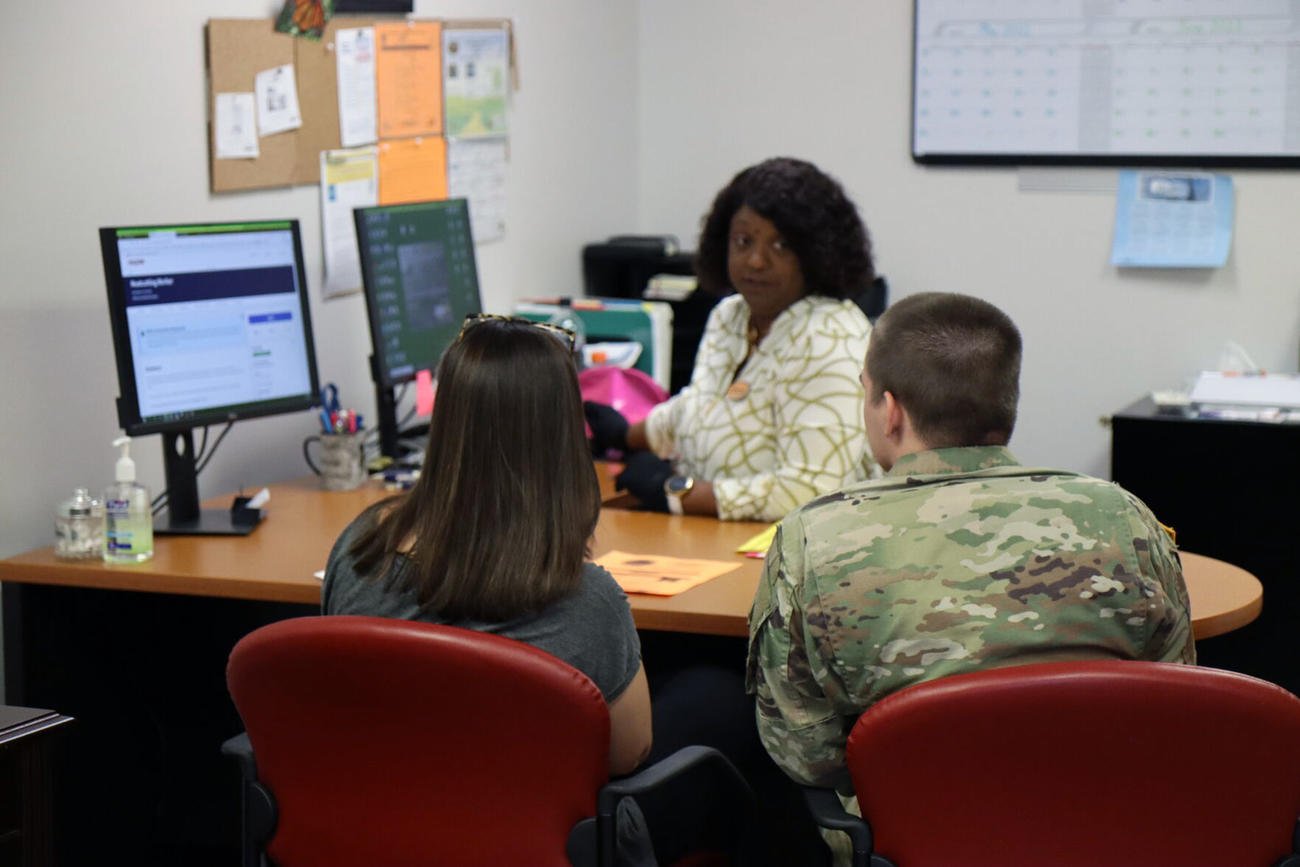 For many military spouses, the prospect of moving overseas means weighing opportunities for adventure and experiencing a new culture versus the lack of employment opportunities or complete inability to work, thanks to a document called a status of forces agreement (SOFA).
SOFA is an agreement between a host country and a foreign nation sending military forces to that country. It defines the legal status of Defense Department personnel and their families and often addresses entry and departure from the host nation, employment, driving privileges, taxation and more.
Nerissa Alford, an Air Force spouse of 20 years, is familiar with living and working (or not working) under SOFA.
"I call my resume a chopped salad. I think a lot of spouses can relate," she said.
Alford and her family spent four assignments overseas in Kuwait, Turkey, Korea and Germany.
Each location presented unique barriers to employment. With a background in apparel design and merchandising, Alford found herself working part time at the embassy post office in Kuwait. In Turkey, she secured a position in the Morale, Wealth and Recreation (MWR) marketing department doing graphic design.
"At least it was in my relative field, and I enjoyed it, but I think I was making $11 an hour," Alford said.
New orders took the Alford family to Osan, Korea.
"With the SOFA agreement there, it was very limiting in terms of what I could do or where I could work. If a job could go to a local national, it was given to a local national first," she explained.
This is a common theme among SOFAs. Many country-to-country agreements include stipulations that give employment preference to locally hired, non-U.S. citizens.
A final overseas PCS brought Alford to Germany, where she explored the option of her own business in visual and creative arts but ultimately decided against it after hearing horror stories of employed spouses ending up with huge tax bills from the German government.
"We didn't want to go that route. It was just a complication we weren't willing to tackle," Alford said.
While they typically enjoy their time abroad, the barriers to meaningful and well-paid employment for spouses can hit military families hard.
"A lot of these agreements were written in the 1950s when there wasn't a necessity for a two-income household. For many families, it is now," Alford added.
Deborah Bradbard, Ph.D., is well-versed in SOFA and its impact on spouse employment. As a lead research associate at the Institute for Veterans and Military Families (IVMF) at Syracuse University, she's authored many studies on the subject, including "Understanding Status of Forces Agreements (SOFA): Removing Barriers to Military Spouse Employment Overseas" and "SOFAs Overseas: A Portability Roadmap for Military Spouses and Their Employers."
"The SOFA agreements themselves are diplomatic agreements at the highest levels of state and defense, and so those are not easy to just change," Bradbard said.
As a retired Navy spouse of 26 years, Bradbard brought firsthand knowledge of spouse employment difficulties to her work at IVMF.
"We were overseas for two tours, and not working was really challenging for me. It doesn't just affect the spouse during that PCS overseas; it affects their career trajectory after that. If they have a gap, they've missed out not only on those years of employment, but maybe they've missed out on a promotion or earning towards retirement," Bradbard said.
Still, she cautioned against a push to change these agreements to address spouse employment.
"That wasn't their primary purpose," she said.
Instead, Bradbard said it might be helpful to assign legal officers at installations in countries where SOFAs exist with the collateral duty of de-conflicting these agreements for spouses.
"Right now, there's no designated person to address these issues," she said. "There needs to be more education, more resources and more oversight."
She said additional guidance around remote work is needed for spouses and employers.
"The workforce has changed, but some of the policy has not kept pace," she added.
Sue Hoppin, a retired Air Force spouse of 22 years and president and founder of the National Military Spouse Network, agrees that updating these decades-old SOFAs may not be the best answer.
The organization released its fourth annual National Military Spouse Network White Paper  earlier this year. The report provided key recommendations for addressing military spouses' barriers to gaining meaningful employment. One of those recommendations included expanding the use of the Department of State's Domestic Employees Teleworking Overseas program, which would help ensure that military spouses who secure employment with a federal department or agency can maintain their employment during assignments overseas. 
"With military spouses, you have this potential pipeline for federal service that is underutilized," Hoppin said.
Hoppin also thinks the DoD should better equip military families with information on SOFA before they decide on orders, when possible.
"It all comes down to getting a better handle on this topic. We need clarity of information so spouses aren't blindsided when they get to a country and cannot work," she added.
Read the original article on MilitaryFamilies.com.
© Copyright 2022 Military Families Magazine. All rights reserved. This material may not be published, broadcast, rewritten or redistributed.