Key events
46 min: England 50-4 Greece First prolonged bit of possession this half from Greece. Meads is clattered by Knowles, which brings up a penalty, and this is the closest the underdogs have been to the England line in quite some time.
Converted try! England 48-4 Greece (Makinson)
42 min: By god this is messy … a popped ball over the top from Sneyd early in a fresh set unleashes cartoonish mayhem. Ilias attempts to hoof it out of play but finds nothing but fresh air, and from there England mainly compete with one another for who's actually touching it down. Tommy Makinson, it turns out.
Ben Thaler, the video ref, takes a breath to untangle it all, finds nothing to quibble with, and Sneyd adds his seventh conversion as England bring up the half-century.
41 min: England 44-4 Greece The minnows try and close Young down after they kick and press. Progress back up the field is far, far too easy however …
A word on the crowd today. Suffice to say it's gappy, as you might expect for a dead rubber in a 32,000-capacity ground in a country where the biggest clubs are only averaging 12,000. Bear in mind the biggest crowd outside Magic Weekend last season was 19,210.
The RFL have been talking a good game about aggregate attendances and the tournament being on course for its biggest numbers overall, but it would surely have been better to have crowds touching the sides all-round in this group stages.
The teams are out again. Second half incoming …
Half-time: England 44-4 Greece
A big team-talk needed in the Greek changies just to keep their heads up and in the game at all now. Shaun Wane might have been grumpy early on at some sloppiness and slow releasing from his England side, but they're finding space at will now, and there's a heavy final score on the way now, you fear.
There is, however, plenty to be heartened by for Greece, as Taukamo's try was beautifully taken and they were in the match for a decent little spell there.
Converted try! England 44-4 Greece (Williams)
40 mins: Ominous signs of premature knackeredness from the Greece defence. Hill bursts free into the opposing half, and releases perfectly to give Williams the option of running in himself or passing any one of three teammates in for a simple walk over the line. He keeps it to himself, and understandably so.
This match was surprisingly even for a spell, but that already feels a long, long time ago. Sneyd closes out the half with another successful kick.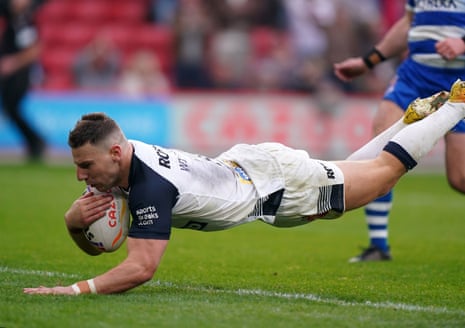 Converted try! England 38-4 (Young quadruple)
37 mins: It's a bloody good job I can touch type, that's all I'm saying. It's the same combination again, with Pearce-Paul and Young having just one man to get by on the right again. That's now four in 23 minutes for Young, and Sneyd's eye is in with the boot now. Arrrrrggh. And England are off again …
Converted try! England 32-4 Greece (Young hat-trick)
35 mins: Quick hands from Pearce-Paul puts England in again. He moves it on in an instant to open up another chance for Young on the right wing, and suddenly that's a 21-minute hat-trick. Sneyd pops another good 'un betwixt sticks. And oh god … they're attacking again …
Converted try! England 26-4 Greece (Burgess)
32 mins: Good lord. Tom Burgess smashes through three men and if anything is actually still picking up speed and he touches down. We're suddenly in scoring-quicker-than-I-can-type territory … strap in. Sneyd gets his kick over this time.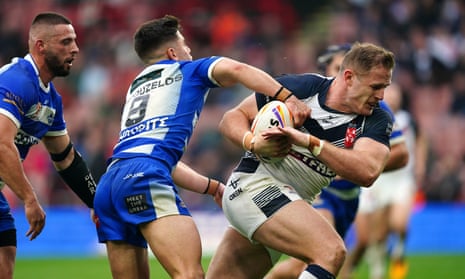 Try! England 20-4 Greece (Hall)
28 mins: A whiff of some floodgates working their way open here. Burgess smashes into a brace of defenders, and from there it's worked to Sneyd, who sees the gaps open once more and pops a kick towards the left corner. From there Ryan Hall steams through two men and touches down. Another miss from Sneyd though, who is getting annoyed with himself off the tee.
Elsewhere, Radley is wincing and Morgan Knowles has swapped in for him.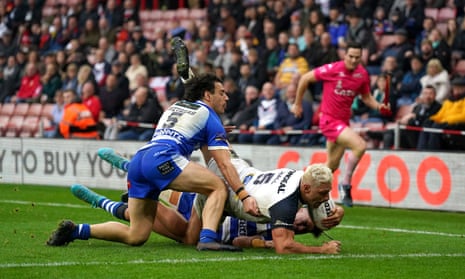 Converted try! England 16-4 Greece (Young)
25 mins: Greece have been keeping a good shape on the whole, but when the pace is picked up, the gaps are yawning. Young has a third of the pitch to himself after Williams arcs a long pass over the top, and has plenty of time to fall exaggeratedly over the line on the right. That's two for the Newcastle Knights man, and Sneyd adds his second conversion of the game.
22 mins: England 10-4 Greece A brief interlude as the video referee has a look to check a late challenge as England attack. On-field decision upheld, and Wane's side are tapping on the door once again. They're getting a little lost in central areas, however, and possession is coughed up.
Try! England 10-4 Greece (Taukamo)
18 mins: And blimey, they don't half take advantage! Hall thinks he can intercept a pass but Siteni Taukamo, the Greece full-back, gets a hand to it, shimmes, and leave his man sprawled watching the ensuing passage of play from afar. From there Taukamo's eyes widen and to say he hurtles adrenalised to the line would be a grave understatement. A really well-worked move and on the balance of play, a deserves score. Ilias is unable to add the conversion, however.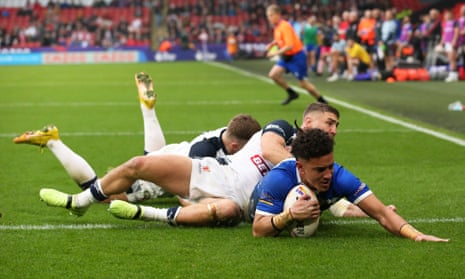 17 mins: England 10-0 Greece Young can't deal with a skied kick and once again the underdogs get a spell of possession well within sight of England's line …
Try! England 10-0 Greece (Young)
14 mins: Once again the Greeks pass up possession in their own 22. England move from left to right, before Bateman embarrasses Constantinou with a borderline ludicrous basketball-style pass over the defender's head out to Young in space on the wing. The Newcastle Knights winger takes it from there. Sneyd scuffs his conversion attempt from out wide.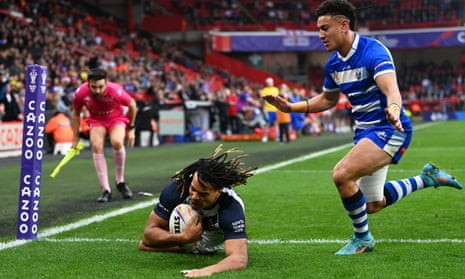 10 mins: England 6-0 Greece Some surprisingly nervy moments for England, after they cough up the ball under relatively little pressure. It's been a prolonged spell since they crossed halfway, but once there, the difference in class starts to show.
7 mins: England 6-0 Greece Some nice possession for Greece in immediate response, as they tap away on the right wing. They get a third set of six, and eventually find Mitsias with a glimmer of an opening. He hesitates at the crucial moment as England's defence re-gathers, is held up, and possession turns over.
Converted try! England 6-0 Greece (Lees)
4 mins: Uh oh. The hosts charge on receipt of Ilias's kick, with Greece a man down after a knock in the preceding play. Ominous signs as Sneyd puts Lees through in almost absurdly straightforward fashion – that's Lees' first try for his country in his second appearance. Sneyd himself adds the extras.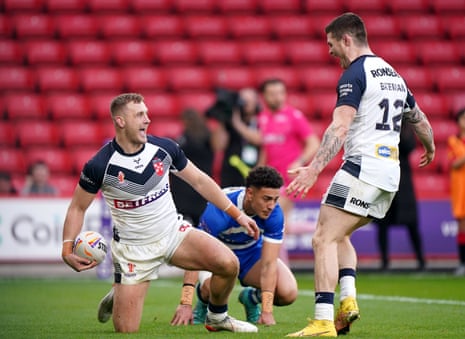 2 mins: England 0-0 Greece England receive and make immediate headway towards Greece's 22. Williams tries to dink one through on the last tackle, but the Grecian defence gathers well. A mistake immediately follows however, and they are bundled before their own line for a drop-out under their own posts …
I can report that at least two England players still haven't got their head around the fact that the words are now "God save the King". That's an adjustment that's going to take quite some time, I guess.
A little bit of history to report: Belinda Sharpe is today's referee – the first woman to helm matters at either a men's England or Greece international. Lachlan Ilias will kick us off …
As always with modern rugby league in England, it's a relief to see the teams out on the field more than 30 seconds before the scheduled kick-off time (admittedly less of a problem with 2.30pm KOs than 8pms where putting a newspaper together is concerned).
Bit of anthem action is imminent, and then away we shall go …
In the sole round three match so far, New Zealand put Ireland on the brink of a tournament exit last night after running in 10 tries for a 48-10 win that secured them top spot in Pool C. Ed Chamberlain kicked the Wolfhounds into a surprise early lead at Headingley but the world's top-ranked team roared back with returning half-back Jahrome Hughes getting the first try, then setting up two scores for Peta Hiku and one for Jordan Rapana.
The Kiwis led 24-6 at half time and continued to dominate despite Jared Waerea-Hargreaves' yellow card just before the interval. Hughes and Rapana scored their second tries, with Ronaldo Mulitalo, James Fisher-Harris, Kenny Bromwich and Joey also touching down. Will Senior went over for Ireland once in each half, taking his tournament try tally to six.
Michael Maguire's Irish side are now facing an early exit from the tournament, unless Lebanon slip to an unexpected loss against Jamaica on Sunday in the final game of the group. PA Media
England's Victor Radley, who has sent eyebrows shooting for the stars regarding his decision to represent the country of his father Nigel's birth, will take to the field today in Radley Sr's home city. The Sydney Roosters loose-forward, speaking in the lead-up to the game, said: "I've got like 60 people coming from all over the world for this game …"
Can you imagine if Wane had seen him as among the rotatables today …
Seven changes then for England, and some squareish pegs into round holes.
Wigan's Kai Pearce-Paul and St Helens' Joe Batchelor both make debuts, while Warrington's George Williams is captain, as Tommy Makinson, normally seen hugging the wing, comes in for Sam Tomkins at full-back.
Jack Welsby, Mike Cooper, Andy Ackers and Matty Lees also come in to the starting lineup.
For Greece, captain Jordan Meads returns to their side after a bug, while Billy Magoulias has already flown home to be on hand for the birth of his first child (awww). The loose-forward was released early from his Warrington contract in June on compassionate grounds.
England Makinson; Young, Pearce-Paul, Welsby, Hall; Sneyd, Williams (capt); Cooper, Ackers, Lees, Batchelor, Bateman, Radley
Interchange Knowles, McMeeken, Burgess, Hill
Greece Taukamo; Mougios, Vrahnos, Constantinou, Mitsias; Ilias, Meads (capt); Tuliatu, Mamouzelos, Rousoglou, Zampetides, Kambos, Flocas
Interchange Nake, Sell, Katsidonis, Nianiakas
Hello! More final group stage game action this afternoon, and after New Zealand's canter past Ireland last night, Shaun Wane's England are targeting three wins from their opening games.
So far there's been surprisingly smooth progress past Samoa, a rockier but still-comfy-looking path beyond France, and now the time arrives to try and secure top spot in Pool A against minnows Greece. For the group's bottom side, keeping their aggregate points difference below -100 – which would involve keeping the score to within 10 of the hosts – would represent an astonishing result. That said, news arrives that Wane has rung the changes, of which more imminently …
Kick-off at Bramall Lane is at 2.30pm BST.