Key events
Shaun Wane's grandson carries the match ball onto the pitch, resulting in a little cry from the England coach.
Here comes the teams … and some pyrotechnics.
When I was 15 I was called up to play for Salford, and then realised I was to much of a coward to play rugby league, but is is nice to see some Salford players represent England.
Shaun Wane: "I was very happy with what we did last week. We have a 24 man squad and some need a game, the rest will play next week. We've had a few knocks last week so we are using the squad."
Dom Young says he has faith in the England squad and thinks they are capable of winning the World Cup. Only time will tell …
England were in fine form last weekend.
The France team have #Burrow7 on their kit to show their support for former Leeds Rhino Rob.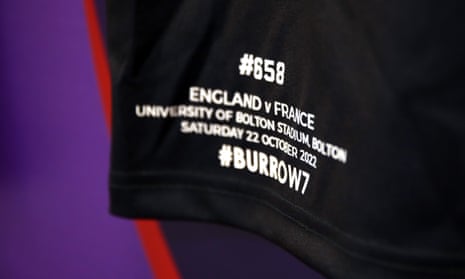 There's already been a game today in the RLWC, and it finished Fiji 60-4 Italy at Kingston Park in Newcastle.
Here's how England got on last week. Ten tries is not a bad place to start.
These are the standards that England – and the rest – must live up to.
England: Tomkins, Hall, Watkins, Farnworth, Young, Welsby, Williams, Burgess, McIlorum, Hill, Whitehead, Bateman, Radley Subs: Thompson, Batchelor, Oledzki, Pearce-Paul
France: Escare, Romano, Langi, Laguerre, Puech, Mourgue, Gigot, Dezaria, Da Costa, Belmas, Jullien, Seguier, Garcia Subs: Pelissier, Sangare, Goudemand, Corentin
England 19-man squad: 1. Sam Tomkins, 3. Kallum Watkins, 4. Herbie Farnworth, 5. Ryan Hall, 6. Jack Welsby, 7. George Williams, 8. Tom Burgess, 9. Michael McIlorum, 10. Luke Thompson, 11. Elliott Whitehead, 12. John Bateman, 13. Victor Radley, 14. Dom Young, 18. Chris Hill, 19. Andy Ackers, 21. Marc Sneyd, 22. Joe Batchelor, 23. Mikolaj Oledzki, 24. Kai Pearce-Paul.
France 19-man squad: 1. Morgan Escare, 2. Arthur Romano, 3. Samisoni Langi, 4. Matthieu Laguerre, 5. Fouad Yaha, 6. Arthur Mourgue, 7. Tony Gigot, 8. Jordan Dezaria, 9. Alrix Da Costa, 10. Lambert Belmas, 11. Bejamin Jullien, 12. Paul Seguier, 13. Ben Garcia, 14, Eloi Pelissier, 15. Justin Sangare, 16. Gadwin Springer, 17. Mickael Goudemand, 19. Corentin Le Cam, 23 Cesar Rouge.
Confidence is high in the England camp after thrashing Samoa in their opening fixture last weekend. France will be a far simpler opponent for the tournament hosts on paper and England will be desperate to build momentum.
A victory would all but seal a place in the quarter finals for either side. France began their campaign by defeating Greece, as anyone would have expected them to do.
France have never beaten England in 31 meetings, a sign of the task ahead of them today in Bolton.
Let's hope for a cracker!
Kick-off: 5pm BST