Key events
29th over: India 153-2 (Mandhana 68, Kaur 26) Kate Cross replaces Sophie Ecclestone (6-0-27-0). Mandhana clunks a full ball just short of mid-on before Kaur clips another boundary to fine leg. They are 7t runs away from an emphatic victory.
28th over: India 146-2 (Mandhana 67, Kaur 22) Kaur misses a vigorous pull at a short ball from Lamb that keeps low and just misses the off stump. But a decent over is tarnished by a poor final delivery that Mandhana helps to fine leg for four. She's 33 away from another ODI century.
27th over: India 139-2 (Mandhana 62, Kaur 20) A misfield from Lamb (I think) gives Mandhana a couple of bonus runs. England look resigned to their fate.
26th over: India 133-2 (Mandhana 57, Kaur 19) Mandhana survives an enquiry for caught behind after pushing at a delivery from Lamb that keeps a bit low; then Kaur gets her first boundary with a classy glide past short third. India need 95 from 24 overs.
25th over: India 127-2 (Mandhana 56, Kaur 14) Ecclestone almost slips a quicker ball through Kaur, who adjusts at the last second and defends. England's only chance of victory is to break this partnership in the next few overs.
24th over: India 122-2 (Mandhana 55, Kaur 10) Emma Lamb replaces Charlie Dean, who bowled a mixed spell of 7-0-32-1, and concedes three from her first over. India are strolling to victory.
23rd over: India 119-2 (Mandhana 54, Kaur 8)
22nd over: India 116-2 (Mandhana 53, Kaur 6) Mandhana runs down the pitch and drives Dean over mid-off for four. That brings up a typically elegant fifty from 61 balls. Eight from the over in total, and India are now more than halfway to their target.
21st over: India 108-2 (Mandhana 46, Kaur 5) Apologies, we're having a few technical problems. You haven't missed much, just a couple of economical overs from Dean and Ecclestone.
19th over: India 104-2 (Mandhana 43, Kaur 4) Kaur laps Ecclestone for a couple to get off the mark, a shot so effective that she plays it again off the next ball.
18th over: India 99-2 (Mandhana 42, Kaur 0) The new batter is the captain Harmanpreet Kaur.
WICKET! India 99-2 (Bhatia b Dean 50)
Bhatia, on the charge, inside edges Dean this far wide of leg stump. The ball runs away for four, which takes Bhatia to a breezy 45-ball fifty.
But she falls later in the over, bowled through the gate as she walks down the pitch again. Not a great shot, but her innings has put India in complete control.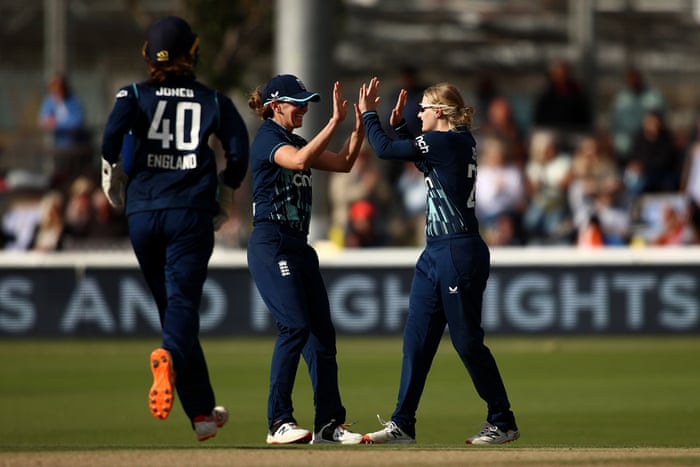 17th over: India 95-1 (Mandhana 42, Bhatia 46) Sophie Ecclestone belatedly comes into the attack. Mandhana charges her second ball, lofting it into the leg side for a couple. That could easily have gone to a fielder, and India don't really need to take such risks given the match situation.
16th over: India 90-1 (Mandhana 39, Bhatia 44) Mandhana glides Dean for another four, the 13th of the innings. This is too easy for India, who now need 138 from 34 overs.
15th over: India 84-1 (Mandhana 34, Bhatia 43) A top-edged pull from Bhatia lands just short of Wong, running in from long leg. That aside it's a quiet over.
14th over: India 81-1 (Mandhana 32, Bhatia 42) India's fast start means they can play low-risk cricket now, working the ball around while they wait for the bad ball. That's what they do here, with three more coming from Dean's third over.
13th over: India 78-1 (Mandhana 30, Bhatia 41) A better over from Davidson-Richards, three from it.
12th over: India 75-1 (Mandhana 28, Bhatia 40) Bhatia drives Dean wristily through extra cover for four more. England are in urgent need of a wicket or three.
11th over: India 71-1 (Mandhana 28, Bhatia 36) England are haemorrhaging runs. Bhatia top edges Davidson-Richards for six, just over the head of Wong at long leg, and then tucks the next ball off the pads for four.
10th over: India 59-1 (Mandhana 27, Bhatia 25) The offspinner Charlie Dean comes on, and she almost strikes when Bhatia inside-edges wide of leg stump for four. That's the 11th boundary of the innings.
9th over: India 53-1 (Mandhana 26, Bhatia 20) Alice Davidson-Richards replaces Issy Wong, and Mandhana walks down the track to pull sweetly for four. She does it again later in the over, nailing a pull through square leg. This is terrific batting from India, who are cashing in while there is pace on the ball. They need 175 from 41 overs.
8th over: India 45-1 (Mandhana 18, Bhatia 20) That's a gorgeous shot from Bhatia, who stands tall to drive Cross for four off the back foot. She survives a biggish LBW appeal later in the over, with the ball pitching well outside leg stump. England decide to go upstairs, a very poor decision that costs them a review.
India are making superb use of the Powerplay; at the same stage, England were 21 for one.
7th over: India 41-1 (Mandhana 18, Bhatia 16) Too short from Wong, and Bhatia clatters a pull to the midwicket boundary. Then Mandhana times a wide half-volley through the covers for four. On this pitch, Wong's extra pace is a mixed blessing; her four overs have gone for 26.
6th over: India 30-1 (Mandhana 14, Bhatia 11) Cross has a hopeful appeal for LBW turned down when Bhatia plays across the line at a full delivery. It pitched outside leg. A good over from Cross, just one from it.
5th over: India 29-1 (Mandhana 14, Bhatia 11) Bhatia gloves Wong's bouncer down the leg side and is dropped by Jones. For a keeper as good as Jones, that was a relatively straightforward chance, but all she could do was help it on its way to the boundary. Later in the over, Mandhana drives Wong beautifully through extra cover for another four. India are off to a flyer.
4th over: India 20-1 (Mandhana 10, Bhatia 7) Mandhana waves Cross through the covers for four, a glorious way to get your first boundary, and she back cuts another off the next delivery. It was in the air for a while, but I don't think it carried to gully.
3rd over: India 9-1 (Mandhana 1, Bhatia 5) Bhatia gets off the mark with a boundary, timing Wong nicely past backward point. Later in the over Mandhana is beaten by a grubber that only just misses the off stump. This really isn't a great pitch.
2nd over: India 4-1 (Mandhana 1, Bhatia 0) The new batter is the wicketkeeper Yastika Bhatia.
WICKET! India 3-1 (Verma c Dean b Cross 1)
Kate Cross shares the new ball. It's already clear that England are going to bowl very straight, challening the Indian batters to force the pace on what is an awkward pitch.
Verma tries to do just that, flicking a straight ball wristily towards midwicket, but Charlie Dean swoops to her right to take an outstanding two-handed catch!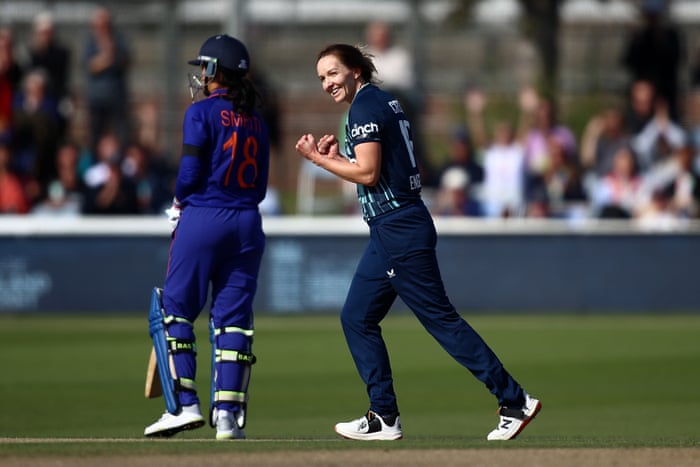 1st over: India 2-0 (Mandhana 1, Verma 1) The speedy Issy Wong opens the bowling – and she almost strikes immediately. Shafali Verma, aiming to leg, gets a leading edge that loops just wide of the fielder at point. That was close.
The players are back out on the field. Here we go!
50th over: England 227-7 (Davidson-Richards 50, Dean 24) Davidson-Richards clips a full toss from Meghna for four to reach an excellent fifty, her first in ODIs, from 60 balls. She survives a stumping referral later in the over, which yields eight runs in total. It's a decent recovery from England, who were in all sorts at 128 for six. India are still favourites, but England will fancy their chances on a tired pitch.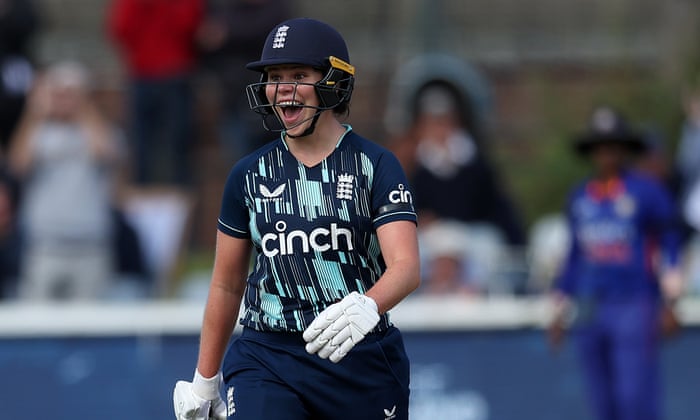 49th over: England 219-7 (Davidson-Richards 46, Dean 22) Davidson-Richards swaggers down the wicket to launch Sharma to long on for a one-bounce four. Lovely shot. The next ball beats everyone and everything on its way for two byes. Sharma ends with figures of two for 33.
48th over: England 210-7 (Davidson-Richards 41, Dean 20) Dean scoops Meghna towards short fine leg, where Goswami fails to get a hand on an awkward low chance. The next ball is edged for four, and a single later in the over takes Dean to 20 from just 15 balls. England's lower order have been excellent today.
47th over: England 202-7 (Davidson-Richards 40, Dean 13) Davidson-Richards drives Sharma for a single to bring up the 200. That's a decent recovery from 128 for six in the 34th over. Six runs from the over.
46th over: England 196-7 (Davidson-Richards 38, Dean 11) Davidson-Richards plays a nice reverse sweep for two off Gayakwad, and repeats the shot off the final delivery. Gayakwad ends with figures of 10-0-40-1.