Key events
Aaron is clearly saving his grandiose verbosity for his report. He's not wrong though. This lot (as in England) can play.
Very good.
Here's a message from the organisers. In case you missed the start, it was slightly shambolic. Though everyone in the ground probably couldn't care less after that display. Still, worth sharing the apology, I think:
Player of the match Victor Radley is chatting with the Beeb:
It was really enjoyable. It was really tough start. I'm not sure how I was man of the match, that's a bit embarrassing.

We scored some points in the end which didn't show how the game went.

I didn't feel like an underdog myself. We showed that tonight.

We're getting tighter everyday. Giving everyone a hug and a kiss after, it was really good. I'm really happy.
FULL-TIME: England 60-6 Samoa
Well that didn't go according to the script. This was supposed to be a tight game. One team was stacked with superstars and Grand Final winners. The other were wearing the white of England. But don't get it twisted. They've got plenty of big names in their ranks and every one of them glistened in Newcastle. To name the players who impressed would simply be an exercise in naming the entire England squad. They were brilliant from back to front and absolutely swept aside Samoa, who only scored thanks to an intercept.
Quotes and report to follow. Stay with me for the reaction.
TRY! England 60-6 Samoa (Burgess, 80)
I literally can't keep up. A 40-20 kick (completing the bingo set from a perfect match for England) means they have the ball back within touching distance of the Samoan try line. The ball stays short and big Sam Burgess gets his mitt on it. He's not passing it. Oh no. He pins the ears back and rampages from close range, getting his name on the scoresheet. Makinson slots the added two.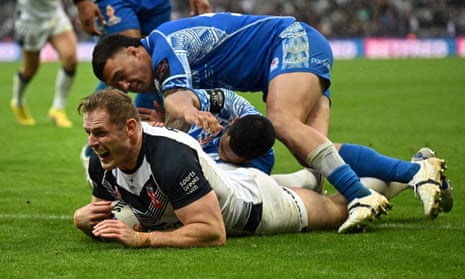 TRY! England 54-6 Samoa (Williams, 77)
It's as if one team is on fast forward and the other is running through a vat of porridge. England are rampant. They're cutting holes in midfield, recycling the ball in the tackle, they're weaving through half gaps and finding runners aplenty. This is a brilliant team try that seemed to involve every Englishman to ever touch a rugby ball.
Welsby with the cahrge and off-load, Tomkins and Makinson getting their hands on it. Ultimately it was Williams with the final contribution, scything through space and sliding over.
Makinson makes it 50 (England 50-6 Samoa, 75))
After converting his own try, Makinson brings up half a century for the home side.
TRY! England 48-6 Samoa (Makinson, 74)
It's a try a minute. A lovely kick along the ground from Williams, perfectly timed, and Makinson gathers a tricky bouncing ball and slides over in one motion to score. So, so good from England. They've absolutely shattered expectations.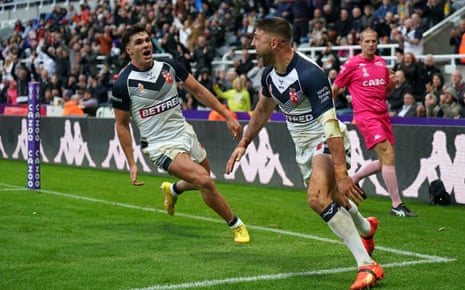 73 mins: Samoa kick the restart straight out. They're falling apart.
TRY! England 44-Samoa (Whitehead, 71)
Bang! BANG! That's a second try in two minutes for Whitehead. England have the ball in their own half in midfield and realise there's space on the left. They send it down the line with a skipped pass to Makinson and he wins the one-on-one battle with Crichton, staying on his feet, gathering himself and then passing infield to his right where three England supports runners are with him. Whitehead is the one who catches it and, after a glance at the referee to make sure the pass wasn't forward, he canters home to slide in for the four points. That becomes six thanks to Makinson's boot.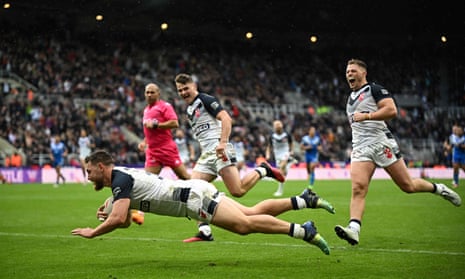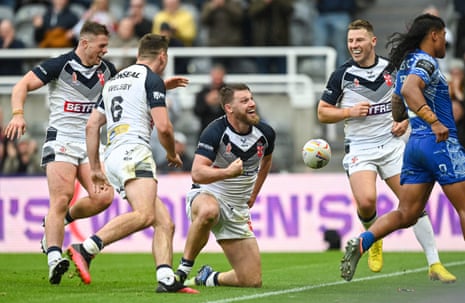 TRY! England 38-6 Samoa (Whitehead, 69)
It's been all about England's slick backs but Whitehead has got one on the board for the bruising forwards. From close range, he dips his head down and gets over the line, riding three tacklers and muscling the ball to the deck. Makinson nudges the added two. This is becoming a rout.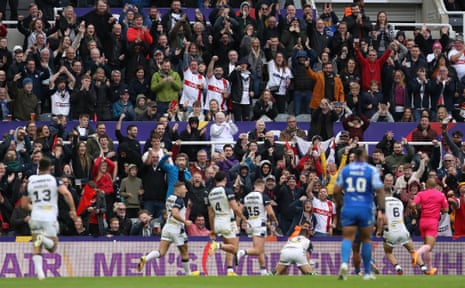 68 mins: Samoa have to drop out from their own goal area after Suaalii misjudges the bounce of the ball from a poked kick off the boot of Williams. The Samoan fullback is hoping to goes dead but instead it sits up. He has no choice but to grab it and Williams, chasing up, shoves him over the line. England then get a penalty after the dropout doesn't go 10m.
England charge up and could have a try! Whitehead has motored over from close range. Has he burrowed down to get the score?
TRY! England 32-6 Samoa (Farnworth, 65)
If it wasn't before, the game is certainly over now. Farnworth has been immense and deserves to get his name on the scoresheet. England bring it towards the poles with a strong charge from Hill. With the man advantage there's an overlap on the left so that's where the ball goes. Farnworth collects on the bounce and has to regather. Rather than pass to his man on the wing he steps back inside and busts over to score. Clinical. Makinson strikes this sweetly and curls his conversion through the middle of the poles.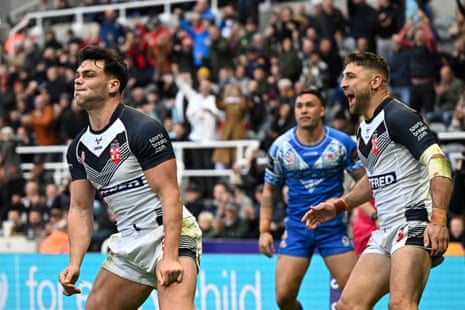 PENALTY! England 26-6 Samoa (Makinson, 63)
Makinson just about squeezes this in off the post. It's a tricky kick out towards the right and he doesn't catch it clean, but it's clean enough and that's another two points for his team.
YELLOW CARD! Samoa (Milford, 63)
There can be no complaints there. That was a late, late hit, with a bit of shoulder, on Tomkins well after the ball had been shovelled on.
64 mins: Good passing from England. Just aboout every back was involved in this move that goes down the left.
Oh. What a dirty late hit that is from Milford on Tomkins. Card coming.
62 mins: That's a good jinking run from Williams. Crichton collects a deep kick. Samoa have it but then drop it again. What is happening? That's Hamlin-Uele. Radley with a good tackle but it wasn't a bone cruncher. Samoa are going to have to learn how to hold on to it if they're going to beat one of the heavyweights.
60 mins: Dropped. Again. 5m from the line. Samoa have been their own worst enemies today. Levi pops a short ball to Papalii but they're not on the same page. Levi though the run was going right. Papalii thought the pass was going left. So he drops it. Another wasted chance.
58 mins: Great move off the back of a scrum from Samoa. Crichton collects on a loop around but is dragged down just short. The ball goes bacl and Sua'a comes close. They're 5m out.
56 mins: Tago with a good carry down the left. Milford hoofs a high ball but it's not well chased or well directed so Makinson has all the time in the world to field it.
Young drops the ball and then there's a bit of argy-bargy. Samoa must be feeling frustrated, but grabbing blokes' shirts and shoving them in the chest ain't gonna solve their problems.
54 mins: What a tackle that is from England. That causes Samoa to drop the ball in the collision. That's been a theme of the game and mens Samoa can't reach the end of their set. So England charge upfield. A dinked kick bounces into touch right in the corner. Samoa with a long way to go again.
52 mins: England stretching the game a bit more, going down the left rather than bash it up the middle. There's a kick deep into Samoan territory and it's a teaser but Suaalii mops up well. Samoa work it upfield and win a penalty after an English player strays offside. The men in blue have to score next. They've got their hands on the pill 30m out.
TRY! England 24-6 Samoa (Watkins, 49)
Doesn't Watkins deserve that. It starts further back as England hammer away in the midfield, trying to work the space and Cooper punches a hole and gets the ball away to Williams (I think, will come back to that). The ball isn't held but it comes off the leg so it's not deemed a knock on.
England keep the ball alive down the left with short passes and Watkins straightens and beats the final challenge to dive down and score under the poles. Wilsby involved again. He's having a brilliant game.
Makinson kicks the extras.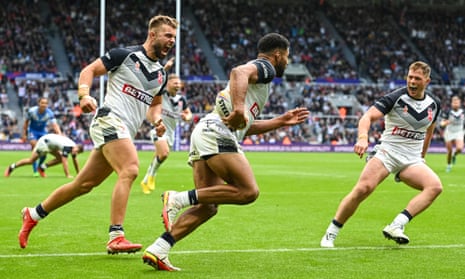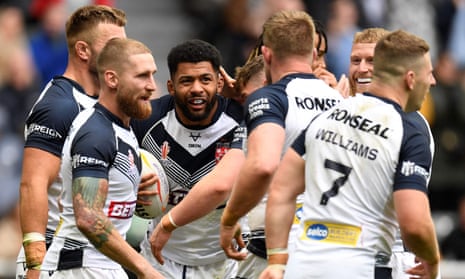 46 mins: He might be a tackle buster but Suaalii has soap for hands, that's his third drop in the carry. That offers England possession inside Samoan territory. Farnworth cahrges on the right. Tomkins and Lees straighten. Oh, Farnworth gets so close, cuts back on the angle but is well tackled by Su'a. Just 2m short. Ball turned over.
This doesn't look good. The stretcher is out and paramedics are surrounding May. That could well be his tournament. A knee or a hip, unsure at the minute. Either way, he's leaving the field on his back to the sound of applause.
England have been very impressive. They had to hear all week how Samoa were favourites, how they'd run the, ragged. But the home side have kept things simple. Quick ball, tidy passing, (mostly) clinical finishing when given the chance. But most importantly, they've been immense on defence. Samoa have had little room around the park.
45 mins: Turnover on the ground. A forced turnover from England to get the ball back. A great tackle from Watkins in the wide channel means May has nowhere to go and Welsby mops it up. May is in trouble, though, looks like a twisted kneed. That's two injuries for Samoa right at the start of their competition. When we get going again England will have the ball.
44 mins: Good running from England. They bring it 50-odd metres. Disciplined, nothing too fancy, good game management.
42: Just get the ball to Suaalii. Every time the 19 year old touches the ball he busts a tackle. What a player. Strong start for Samoa. Taupau involved. Samoa risk losing the ball by keeping their last tackle in hand and they're turned over 5m out.
And we're back. England with a lead to defend, Samoa with more gears to find.
Very. He's been very good.
"Hi Daniel. I fear we could get crucified on the wings. Hoping not though"
That was from David Brown before kick off. I was on the same page but England have kept it tight and have actually been the more threatening in the wide areas. Samoa need to find their groove.
HALF TIME: England 18-6 Samoa
England lead by 12 points, but it could, and should have been a lot more. They were dominant throughout the half with their backs controlling it with some direct running and sharp movement. Tomkins, Watkins, Farnsworth and Welsby all heavily involved and having great games.
But it's Young who has stolen the show with two cracking scores. One a 50m dart with an inside step and the other with a diving touchdown in the corner.
Tago's intercept pegged one back for Samoa whgo haven't found their groove. They did come alive late in the half with Crichton coming close and Suaalii lighting up whenever he got the ball.
England will want to close this out but can't let up.
Catch you in a bit.
NO TRY! Crichton is judged to have knocked the ball on over the line. Tell you what, that was close.
40 mins: Much better from Samoa. Papalii with a big charge through the middle. A Hail Mary off load is thrown and finds Suaalii who dazzles with a step, then another, then another. His long, long legs get him moving towards the try line but he's dragged just short. Samoa keep the ball and stab a kick through. Chrichton has the ball grounded over the line but they're going upstairs. Could be a try…
38 mins: Oh, unlucky for England. It seemed as if Makinson was set free but the ref has adjudged the inside pass from Williams to have gone forward.
Even worse luck for Tabuai-Fidow who is off the park with a suspected broken leg.
37 mins: Excellent from Luai who shifts right and then left and offloads in the tackle to keep Samoa moving forward. He's been their best player. Everyone else has been a little too static but that was coherent play.
TRY! England 18-6 Samoa (Tago, 35)
Tago has picked England's pocked and charged in for a 50m intercept try. It was Welsby's pass, and it was on, as he had a two-on-one overlap to his right, but Tago read the situation perfectly and stepped up to snatch the ball at it's apex. No one was going to catch him. Very much against the run of play but that is what Samoa needed.
The extras are added. England still on top but that might prove the shot in the arm the Pacific Islanders needed.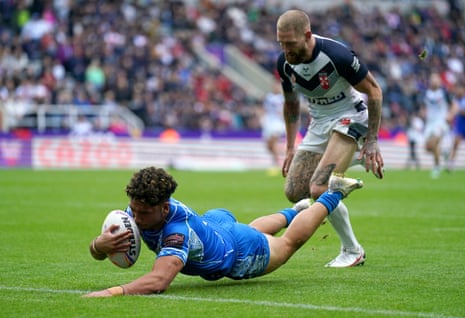 32 mins: England are relentless at the minute. Tomkins everywhere. Cooper, on from the bench, is involved as well. They kick away the ball when they have to but Samoa are right against their own line.
Oh wow, they're up the field with a scintillating run from Suaalii, shrugging off tackles, motoring past his teammates and the English alike. He drops the ball though and England go back.
TRY! England 18-0 Samoa (Young, 30)
Behave Dom Young! Another corker! This kid is special. It's a diving, acrobatic, blockbuster finish in the right corner. He gets a great pass from Welsby, and it was poor defence from Samoa who seemed to switch off, but that is the score of a star in the making.
It all started on the opposite flank with Farnworth busting up field and getting the Samoans back peddling. Welsby having a cracking game, stitching things together.
Makinson misses the kick.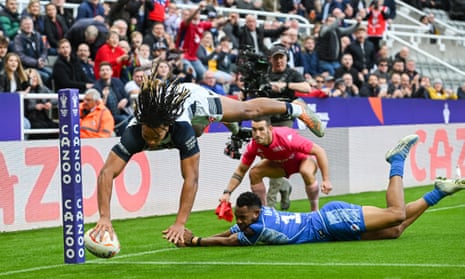 28 mins: Radley has had a great game. He's won just about every collision on the carry. Samoa need to get things going. Paulo with a huge carry shows what they can do. But when they go wide they cough the ball up and England get it back. Samoa getting frustrated.
TRY! England 14-0 Samoa (Young, 25)
STUNNER! What a try! Oh my word. Dom Young, that is why he's had so much hype around his name. He gets the ball on the right touchline right on his own own half and puts on the after burners, he cuts inside, makes eyes with Suaalii and absolutely skins him, shifting through the gears on the inside and dives over for the score. What an absolutely brilliant try.
Makinson with the added two.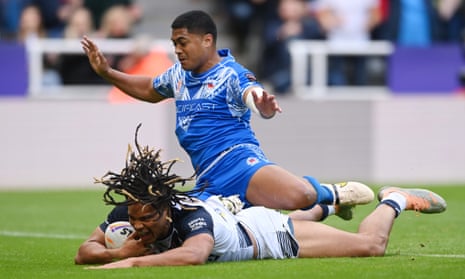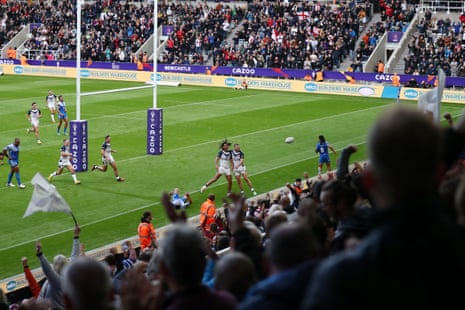 TRY! England 8-0 Samoa (Welsby, 23)
That's what happens when you bust through a tackle. Williams gets the pass against the grain and burst through a challenge. Welsby running a superb line on the inside gets it back and canters home unopposed. Direct running the secret to their success there. Wonderful score from England. Watkins involved too to get the move going.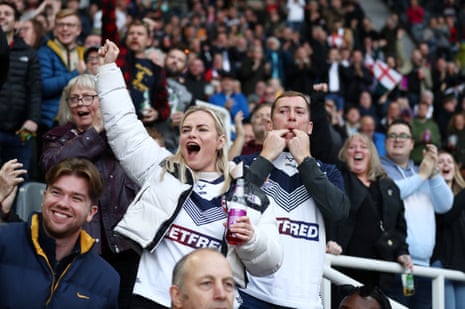 Makinson makes it look easy and adds the cherry on the top.
21 mins: Paulo, a hawuuuge human being, charges up field. A grubber kick from Samoa is stolen so England get back up field. Radley wriggles some space and England hoof the ball back into Samoan territory.
Levi is now injecting more pace around the tackle for Samoa and getting his ball carriers on the charge.
19 mins: Neat step from Williams opens space on the left but a poor kick from England is intercepted and Samoa go cantering up field. They get up to English territory but continue to look disjointed. I'm not really sure what their game plan is. They get nowhere and have to kick.
Tomkins collects well under the high ball and sets off on a counter. He's having a good game. Later he hoists a high kick that Samoa gather without much fuss.
It all ends in a Samoan penalty deep in theor own half.
It's a frantic pace but it's not very cohesive from either side. Still jabbing, rather than throwing knockout punches.
15 mins: It's a great tackle from Watkins and McMeekan teaming up on Luai that resulted in the turnover. Really good from Watkins. England's ball on their own 22 out on the right.
15 mins: Samoa finding front foot ball. Papalii heavily involved, busting through tackles. Samoa get a fresh set of six and have crept inside the England 22. But there's a knock on on the left just as they start to string some passes together. Disjointed is the word.
14 mins: Samoa's attack isn't clicking. They might be stacked with superstars but they're struggling for cohesion. They don't seem to have a plan and it's all first phase rugby at the minute. England's scrambling defence keeps them at arm's length.
Burgess dots down, but does he?
They're going back upstairs because Burgess has reached out and slammed the ball over the line, basketball style. But is he in control of the ball? Does he have enough downward force for it to count? The answer to both is no. No try.
13 mins: Watkins with a strong carry up field. Radley, oh what a game he's having, finds space on the left. Williams steps back inside and off loads to Hill who gets within touching distance. Tompkins picks up and makes a dart for the score under the poles but is held up, he can't put it down. England really need to convert these chances. Great defence from Samoa under the sticks. England having great joy with the big fellas through the middle.