Key events
72 min Spurs bring on Ryan Sessegnon for Ivan Perisic; and Frankfurt have introduced Luca Pellegrini in place of the captaion Sebastian Rode.
70 min A dangerous cross from Richarlison is just too fast for Perisic, arriving late on the far side.
69 min Nothing much to report in the last few minutes. Both sides are still trying to win the game, but they are even more determined not to lose it.
66 min This is a good spell for Frankfurt, with Sow and Rode starting to dominate in midfield.
62 min Perisic beats Rode on the left of the area and stands up a dangerous cross that is headed away brilliantly by Hasebe, under all kinds of pressure from Richarlison and Kane. Great defending.
60 min: Chance for Lindstrom! Spurs get in all sorts of bother trying to play out from the back. Eventually Dier tackles Borre on the edge of the area but can only slide a perfect pass towards Lindstrom, who shoots over from 16 yards. He should have scored, or at least worked Lloris.
59 min Some beautiful short passing from Frankfurt on the edge of the Spurs area. Eventually Lindstrom runs out of room, and Kamada's follow-up shot is blocked by Dier.
57 min Spurs still haven't had a shot on target, which is a slightly absurd stat given how many decent chances they've had.
56 min: Leverkusen substitution Rafael Borre replaces Randal Kolo Muani, who had a quiet night. Borre is a slippery No9, who scored in the Europa League final last season.
53 min: Just over from Son! Tuta takes too long dealing wit h Kane's cross and is robbed by Richarlison. He lays the ball back to Son, who whips a curler just wide from 16 yards. That was another good chance.
51 min: Off the line by N'Dicka! A brilliant move from Spurs almost brings the first goal. Kane and Son combine to find the overlapping Perisic on the left side of the area. He draws the keeper and then slides the ball back towards Kane, whose stabbed shot is desperately blocked by N'Dicka in the six-yard box. That's superb defending. Kane fell awkwardly after taking the shot and is limping quite heavily.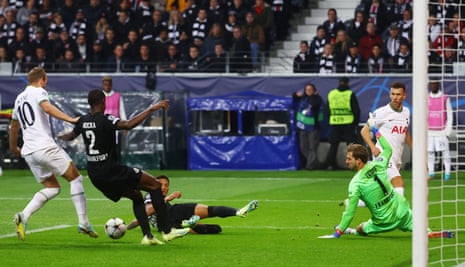 50 min: Good save from Lloris! Sow, 40 yards out, teases a lovely chip over the defence to Spurs find Knauff, who had made a superb run infield past Emerson Royal. Knauff takes the shot first time, twisting his body to sweep a volley that is saved to his right by the diving Lloris.
49 min A better start to the second half from Frankfurt, with most of the game taking place in the Spurs half.
46 min Sow's cross isn't cleared properly by Perisic. Jakic collects on the edge of the area and rakes a shot that hits Perisic and spins a few yards over the bar.
46 min Peep peep! Frankfurt begin the second half, with no changes on either side.
"It's not as if Spurs are playing anti-football," says Yash Gupta. "Like the Arsenal game, there were lot of chances in the first half. But it is worrying this team suddenly can't score lots of goals given the quality of chances created. How much does Haaland's full package of transfer fees and salary cost?"
How much does it cost to build a time machine?
Half-time reading
On the stroke of half-time, Spurs had an appeal for a penalty turned down when Perisic's corner brushed the hand of a defender at the near post. I'd like to see that again, though the first replay suggests he was probably trying to pull his hand away from the ball.
Half time: Eintracht Frankfurt 0-0 Tottenham Hotspur
Peep peep! A tale of frustration for Spurs, who created a handful of good chances but were unable to work the Frankfurt goalkeeper Kevin Trapp. See you in 10 minutes for the second half.
45 min Hojbjerg plays an excellent through pass to Richarlison, who is challenged by Hasebe in the act of shooting. The ball spins wide, Richarlison goes down and Hasebe accuses him of diving. Replays show that Richarlison sliced the shot wide and was then caught by the sliding Hasebe. No penalty.
44 min Hojbjerg is booked for holding off Kolo Muani, who felt a bit of contact with his face and went down. That's pretty harsh.
43 min: Just wide from Perisic! Another big chance for Spurs. Richarlison nutmegs N'Dicka to find Emerson on the right side of the area. His low cross deflects across to his fellow wing-back Perisic, whose first-time shot hits Rode and spins this far wide of the far post.
41 min That was such a lovely touch from Kane, and a familiar shooting position for Son. He usually whips those round the keeper and into the far corner.
40 min: Chance for Son! And a big chance at that. Hojbjerg pushed the ball into Kane, back to goal on the edge of the D. He flicked it deftly round the corner to Son, who took a touch and then curled just wide from the edge of the box.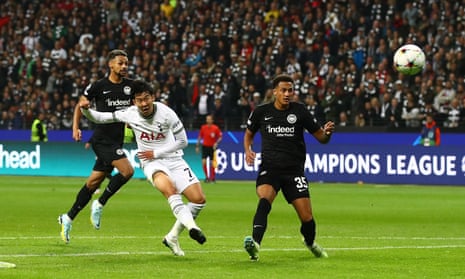 38 min A shot on target! Rode has a dip from distance, and Lloris holds comfortably.
37 min It's a bit of a nearly game, with some bright attacking play but, thus far, no shots on target.
33 min Son's clever pass releases Perisic on the left. He tries to pick out Kane but his cross is headed clear by N'Dicka.
28 min: Just wide from Kane! Spurs are looking dangerous now. Son plays a simple pass into Kane, 22 yards out. He rolls Hasebe expertly and cracks a low, right-footed shot back across Trapp that goes a few yards wide.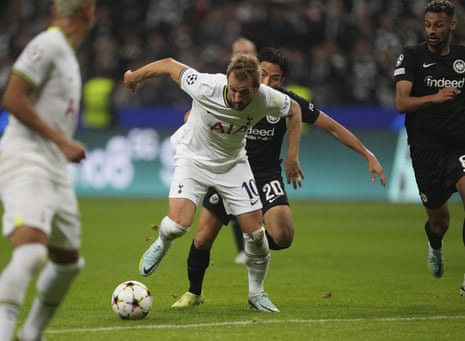 25 min: Chance for Spurs! That was a superb move, Spurs' best yet. Royal fed the ball infield to Son, who allowed it to run on to Richarlison and spun away from his marker. Richarlison slipped it back into the path of Son, whose cross brushed the hip of Kane, six yards out, and flashed across goal to safety. It wasn't an easy height for Kane, but I'm surprised he didn't try to do something with it. Hump it into the net if you have to; we've all done it.
22 min It's all Frankfurt now. After another good move, Jakic crosses too close to Lloris.
20 min A lovely set-piece routine from Frankfurt. Kamada drags a corner back towards Sow, an apparent homage to the old Anderton/Sheringham corner – except Sow ignores the ball and allows it to run to the unmarked Lindstrom on the edge of the area. He mistimes a shot that is blocked, I think by his teammate Rode. I don't think it was going in.
19 min The resulting corner is swung beyond the far post towards Kolo Munai. He heads back across goal and Lloris punches behind for another corner.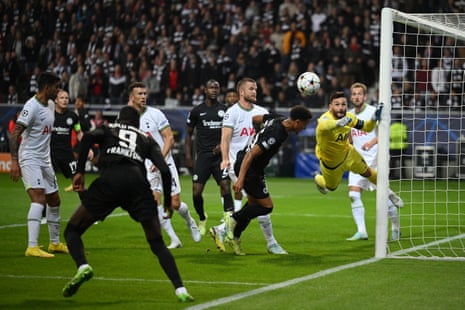 18 min: Chance for Frankfurt Sow slides a lovely ball inside Emerson to find Knauff on the left edge of the area. He moves the ball across to Lindstrom, who helps it on towards Rode. His first-time shot hits the head of a Spurs defender and goes over the bar.
19 min And now it's Frankfurt's turn to enjoy an extended spell of possession. It's an intriguing rather than exciting game.
17 min Lindstrom plays an interesting ball towards the advancing right wing-back Jakic, but Lenglet slides in to clear the danger.
14 min Spurs are dominating possession now, though that's a mixed blessing in a game between two counter-attacking sides.
11 min I don't think it was deliberate, but Lenglet's studs went into the back of Lindstrom's leg, ripping his sock in the process. Meanwhile, Spurs take a quick free-kick and Son whips in a superb ball that somehow evades both Romero and Kane at the far post. That was a great chance. Romero missed his header, which also put Kane off.
10 min Knauff fouls Emerson Royal, who is causing Frankfurt a few problems. The home fans aren't happy because they thought Lindstrom was fouled by Lenglet a few moments earlier. And they're right.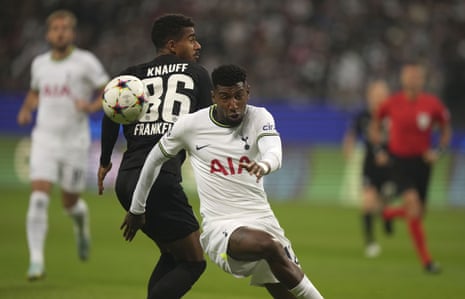 8 min Both teams are happiest on the counter-attack, so it's been a relatively cagey start to the game.
6 min A half chance for Spurs. Dier drives an outstanding 60-yard pass in behind N'Dicka to find the rampaging Emerson Royal. The ball bounces nicely for Emerson, but he wallops it over the bar from 15 yards.
4 min A quiet start, on the field if not off it. Frankfurt are having more of the ball in the early minutes.
1 min Peep peep! Spurs get the game under way. It's seriously noisy in Frankfurt.
The players line up around the centre circle to pay their respects to those who died at the Kanjuruhan Stadium in Indonesia at the weekend.
Full time: Marseille 4-1 Sporting Lisbon Marseille, hitherto pointless, have plugged the group leaders Sporting Lisbon in the early game. This is shaping up to be the closest of all the groups.
The players are lining up for the old Champions League anthem. As ever at the Waldstadion, the atmosphere is sensational.
The pre-match thoughts of Antonio Conte
I decided to pick the same 11 players. I trust them and I think this is the best solution for us today. This game isn't decisive, but it's really important. Every manager has a bit of concern about injuries because we are starting a long road with many games in a short period of time. Fingers crossed.
There's a big game at Anfield tonight, a long overdue first competitive meeting between two of Britain's giants. Scott Murray is watching that one.
"So Conte starts Emerson Royal," sniffs Yash Gupta. "That was never a red card but also he shouldn't have made the challenge anyway. Ever since he arrived at the club, Emerson has been a polarising figure. I still remember his debut against Crystal Palace where I thought, 'Wow, Tottenham moved on from Aurier only to sign Brazilian Matt Doherty.' Doherty wasn't great back then.
"I've watched this video many times today. I can't stop sniggering."
I feared that video was going to end in a Sopranos-style boat trip.
The other game in this group, Marseille v Sporting Lisbon, is an early kick-off. Marseille lead 3-1 at half-time, and Sporting have had their keeper Antonio Adan sent off. Group D is getting extremely tight.
Pre-match reading
Antonio Conte trolls the trolls by sticking with the same team that lost at the Emirates on Saturday. Frankfurt make two changes: Kristijan Jakic and Djibril Sow replace Luca Pellegrini and the injured Mario Gotze.
Eintracht Frankfurt (3-4-2-1) Trapp; Tuta, Hasebe, N'Dicka; Jakic, Rode, Sow, Knauff; Lindstrom, Kamada; Kolo Muani.
Substitutes: Grahl, Ramaj, Smolcic, Alidou, Borre, Alario, Chandler, Lenz, Dina Ebimbe, Pellegrini.
Spurs (3-4-3) Lloris; Romero, Dier, Lenglet; Emerson, Bentancur, Hojbjerg, Perisic; Richarlison, Kane, Son.
Substitutes: Forster, Austin, Doherty, Skipp, Sanchez, Gil, Sessegnon, Spence, Sarr, Davies, Bissouma, White.
Good evening. Spurs might be the best counter-attacking team in England, so it's hard to make sense of their away record this season. They've won only one game in five, against Nottingham Forest, and were comprehensively outplayed at Chelsea (even though they drew) and Arsenal. They also lost 2-0 away to Sporting Lisbon in the last round of Champions League games, which makes this trip to Eintracht Frankfurt, if not quite a musn't-lose game, then at least a really-could-do-without-losing-for-the-sake-of-morale-and-potential-qualification-for-the-knockout-stages game.
A crisis, perceived or actual, is never far away in the extreme world of English football, and Antonio Conte had to use his pre-match press conference to remind people that maybe, just maybe, he knows more about football management than Twitter's finest. But Conte also knows that, if Tottenham lose tonight against last year's Europa League winners, the noise will get louder.
Kick off 8pm.