Key events
BT Sport are showing an interview with Jude Bellingham. There is some good footage of him playing at youth level for Birmingham City. What a remarkable talent he is.
"Mr. Liew wonders if Haaland scoring so much will become passé at some point," emails Mary Waltz. "I root for Everton. We have played 12 games. We have scored 11 goals. No, no one will get bored with Haaland's incredible goal scoring streak."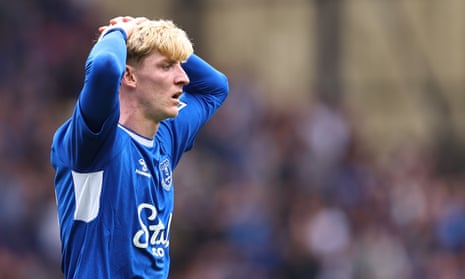 "Having lived in Sweden, I am pretty sure that Haaland is pronounced 'Hawland' but that's just the tip of the iceberg," writes Julian Menz.
"Havertz is also having a bad time of it, depending on the pundit/commentator, and that segues rather nicely into my MBM-writers question …
"I remember Ozil being Özil, while Schurrle was deemed not worthy of an Umlaut, and German Umlauts are pretty simple.
"Do you ever get to the "oh eff it" point when trying to type MBM in a game involving, say, Polish or Czech players?"
Thank you for getting in töuch. Such is the lightning speed with which we write these MBMs, we often dispense with accents and umlauts. In regard to Polish and Czech players we avoid accents altogether, online and in print.
Celtic v Shakhtar Donetsk teams
Celtic: Hart, Juranovic, Carter-Vickers, Jenz, Taylor, O'Riley, Hatate, Abada, Haksabanovic, Giakoumakis, Furuhashi. Substitutes: Mooy, Turnbull, McCarthy, Bernabei, Abildgaard, Bain, Siegrist, Maeda, Forrest, Ralston.
Shakhtar Donetsk: Trubin, Taylor, Bondar, Matviyenko, Mykhaylichenko, Zubkov, Bondarenko, Stepanenko, Sudakov, Mudryk, Traore. Substitutes: Shevchenko, Kryvtsov, Totovytsky, Sikan, Kryskiv, Djurasek, Kulakov, Topalov, Konoplya, Pyatov, Kozik, Petryak.
Referee: Serdar Gozubuyuk (Netherlands)
Dortmund v Manchester City team news
Stefan Ortega Moreno makes his competitive debut in goal tonight, with Stones, Ake, Gundogan, Foden and Alvarez also coming into Guardiola's side. Ortega Moreno signed from Arminia Bielefeld in the summer.
Dortmund: Kobel, Schlotterbeck, Hummels, Sule, Reyna, Can, Bellingham, Hazard, Brandt, Moukoko, Adeyemi. Substitutes: Meyer, Unbehaun, Wolf, Modeste, Malen, Passlack, Rothe, Coulibaly, Papadopoulos
Manchester City: Ortega Moreno, Stones, Dias, Ake, Cancelo, Mahrez, Rodrigo, Gundogan, Foden, Alvarez, Haaland. Substitutes: Ederson, Carson, Grealish, Laporte, De Bruyne, Bernardo, Akanji, Palmer, Lewis, Wilson-Esbrand
Courtesy of the elite content team at uefa.com, here are some permutations for this evening:
Qualified teams that may be confirmed as group winners tonight: Bayern, Club Brugge, Manchester City, Napoli, Real Madrid
Teams with a chance of qualifying tonight: Benfica, Chelsea, Dortmund, Inter, Leipzig, Liverpool, Marseille, Paris, Porto, Salzburg, Sporting CP, Tottenham
Kai Havertz has just made it 2-1 to "Chelsh" in Salzburg with a stunning curling finish from the edge of the penalty area.
Here is how Group G looks before City's match in Dortmund:
The Champions League match between Benfica and Juventus will be played without goal-line technology due to works at the Portuguese club's stadium, Uefa has said.
Benfica commissioned works at the Estádio da Luz "without the knowledge of Uefa and Uefa's goal-line technology supplier", European football's governing body said in a statement, which made the goal-line technology system dysfunctional. The works included replacement of the giant screens, installation of LED lighting and a new sound system, Benfica said on their website.
"Unfortunately it will not be possible to replace and install a new system in time for the match and therefore the match will go ahead without the use of goal-line technology as per the Uefa Champions League regulations," Uefa said.
Juventus, who are third in Group H on three points, must beat Benfica to have any hope of reaching the knockout stages. A win for the Portuguese, second on eight points with leaders Paris St Germain, would guarantee a last-16 spot. (Reuters)
Salzburg are level with Chelsea at 1-1. Luka Sucic with the equaliser.
Meanwhile, here's Sid Lowe on Unai Emery's mission at Aston Villa:
I'm keeping a beady eye on the wires for team news. That'll be coming up before too long.
Here's Jonathan Liew on Erling Haaland. Will the novelty wear off?
Scott Murray is live-blogging Red Bull Salzburg v Chelsea here. Chelsea are a goal up. Click here to find out more:
Is there hope for humanity? If Erling Haaland is any measure, the answer is probably yes. Simply consider his superiority as a player compared to his dad, Alf-Inge Haaland, a hard-running but limited central midfielder. That is what you call progress.
Anyway, before we get too existential, there is football on tonight. Manchester City are off to Dortmund, to see if they can back up the 2-1 win at the Etihad last month. Haaland junior scored the winner then, as if you needed reminding, and the chances of his former club keeping him out tonight are surely close to zero.
Celtic are already eliminated but will be playing for a pride-boosting victory – and the chance of a place in the Europa League – against Shakhtar Donetsk in Glasgow, on top of which there is Paris Saint-Germain v Maccabi Haifa, Dinamo Zagreb v Milan, Benfica v Juventus and RB Leipzig v Real Madrid. Let's get it on!