Two games, two wins and qualification for the Rugby League World Cup quarter-finals assured. To that end, it is job done for Tonga in the opening 10 days of the tournament, but it would also be safe to assume we are still expecting a little bit more from a nation some believe can go all the way this year.
Kristian Woolf's side were perhaps fortunate they escaped their opening game against Papua New Guinea with a victory. They were once again tested here, this time by a gallant Wales side made up predominantly of part-time players with day jobs away from this tournament. In truth, the Tongan team were somewhat underwhelming again, even if the scoreline does not quite suggest so.
That is not decisive just yet, as there is still time for them to build into this tournament. But England supporters in particular will be watching their clunky displays with intrigue, given the two sides could meet in a semi-final. Tonga ultimately got the job done here but were some way below the standards many expect from a nation littered with NRL superstars.
They actually trailed Wales 6-4 as half-time approached, with Kyle Evans's try putting John Kear's side ahead after 15 minutes. Tonga hit back through Daniel Tupou but even then, they appeared lackadaisical at best before tries in the final five minutes of the half from David Fifita and Keaon Koloamatangi made it 16-6. That was a hammer blow for Wales, who had led on merit to that point.
"We've got a lot of improvement in us," Woolf said. "But we probably looked like we thought it was going to be a bit easier than it was. You can see the potential there though, there's a lot of potential." He is right about his side's capability, but his admission that this team had an air of complacency to them should also be of concern.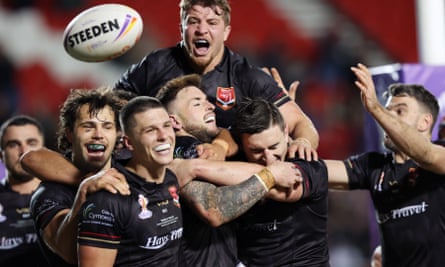 With a quarter-final berth now secure, Tonga's World Cup journey will continue beyond the group stage;unlike that of Wales. But their players can take real heart from how they have tested both Tonga and the Cook Islands in their two group games so far. Just two of this squad plays in Super League, the rest come from the lower leagues of the English and Australian domestic scene.
"They're all heart, aren't they?" Kear said of his side. "You've got to take your hat off to them. They committed totally against a big, physical team and I'm proud of them. They gave everything." Wales certainly did, but in the end, the class Tonga's superstar side possesses was too much, even with their questionable attitude.
Tupou was their one real top performer here, finishing with a hat-trick on a night when history was made, as Kasey Badger became the first female referee to officiate a men's World Cup match. Badger's performance, like Tupou's, was well worthy of a mention.
You feared the worst for Wales when Tesi Niu's try made it 22-6 shortly after the restart but yet again, the Welsh effort and endeavour despite being huge underdogs was clear for all to see.
They were never likely to fight back and cause a huge upset, but they battled until the very end. That kept the scoreboard more than respectable, with only two more tries for Tupou added to the margin of victory as the Tongan attack began to show brief flickers of what it is undoubtedly capable of in those closing moments. Though they will need much more than that to get the job done and uphold the expectations many have for them when the knockouts begin.