Key events
A few wifi issues this end – apologies, what I was going to do was sing a glorious descant for the the Sussex babes in the wood who I didn't have space to write about yesterday. Ali Orr – just run out for 198 (No!) and Tom Haines 126 not out in an opening partnership of 328 against Glamorgan.
Haines and Orr spoke yesterday evening:
Tom Haines, who scored two centuries in the day, said, "It was just great to be out there, it was a special day. In the second innings the way Ali took down their spinners made it a lot easier for both of us and hopefully we can come back tomorrow and do the same again. The broken hand I had earlier in the season came at the wrong time for me personally and coming back was tough, but in the second innings at Durham last week I began to feel back to normal so it's been really pleasing to get the runs in this game and hopefully I can get a few more tomorrow.
"We had a lot of work to do in the second innings but the way Ali batted took a lot of pressure off me and allowed the partnership to build. We need to get through the first hour tomorrow but we want to finish on a positive note. If we can get a draw after they got 533 it will be a decent outcome."
Ali Orr, who made an unbeaten 185, said, "Tom was really good because when I started I didn't feel that good, I was on the move a lot. We've been in some tough situations this season and it was actually nice today not to be batting under the clouds with the floodlights on for once. Records didn't cross my mind, I just enjoyed batting in those conditions without too much pressure.
"I thought I was a bit one-dimensional last season but knowing I have the shots and when you play them is the most important thing – that's been the biggest development in my game this season."
There's rain about – at New Road at the moment but drifting with intent.
A collection of BTL terms for new readers to the blog
With many thanks to Romeo who compiled the list over night. Click here to read. A bit late for this year but if we're back next year I'll repost it again.
Shan Masood confirmed as club captain at Yorkshire next year
An great appointment – Masood is by all accounts an excellent human being.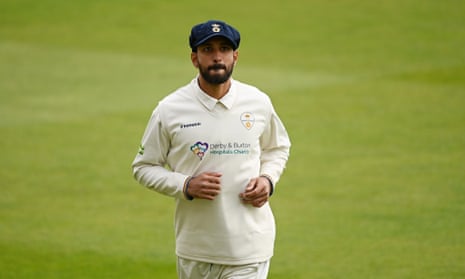 Kent 492 BEAT Somerset 202 and 139 by an innings and 151 runs
Old Trafford: Lancashire 512 BEAT Surrey 209 and 173 by an innings and 130 runs
Wantage Road: Northants 163 v Essex 263 and 63-5
Edgbaston: Warwicks 272-4dec and 62-2 v Hampshire 311
Headingley: Gloucestershire 190 and 233 BEAT Yorkshire 183 and 222 by 18 runs
DIVISION TWO
Derby: Derbyshire 568-9dec v Leicestershire 249 and 131-2
Trent Bridge: Notts 662-5dec and 121-2 v Durham 207-9 and 14-2
Hove: Sussex 258 and 312-0 v Glamorgan 533-9dec
New Road: Worcs 225 v Middlesex 509
A seat-squirming day at Headingley could not provide a happy ending for club institution Steven Patterson, last man out after a valiant 27-ball duck as Yorkshire fell just 18 short of victory against Gloucestershire. The result leaves them reliant on Hampshire denying Warwickshire victory in order to stay in Division One next year.
Dom Bess was stranded on 79 not out, nearly carrying Yorkshire over the line after the middle order had foundered. Zafar Gohar and David Payne finished with four wickets each, and already-relegated Gloucestershire end a forlorn season with two victories and a spring in their step. One bit of good news for White Rose fans came from Otis Gibson, who confirmed Shan Masood as Yorkshire's captain next year.
Warwickshire fought desperately to bowl out Hampshire at Edgbaston but were held up by a pretty 98 from James Vince and 76 from their former player, Keith Barker. The visitors reached 311, with Warks 62-2 in their second innings, a slender 23-run lead. The home side's only hope of avoiding relegation is to somehow complete a victory on the last day of the season.
Lancashire delivered six of the best to Surrey, thrashing them by an innings and 130 runs to hand the champions their only defeat of the season. Surrey were dismissed for 209 in their first innings and folded for 173 in the second, with young slow left-armer Tom Hartley taking five for 52, including Rory Burns, for 61, and Hashim Amla. The trophy presentation followed, as dusk blew the collar of Old Trafford for the last time this year.
Middlesex are but an outstretched finger from crossing the line in their quest for Division One status. They pocketed maximum batting points with just 10 balls to spare, thanks to a century from Stevie Eskinazi and 90s for John Simpson and Pieter Malan. A draw tomorrow against Worcestershire ensures they are promoted alongside Nottinghamshire – who declined the chance to make Durham follow on, but still had them 14 for two at stumps chasing an unlikely 577 for victory.
Somerset collapsed like a faulty deckchair against Kent, losing by an innings and 151 runs. Hamidullah Qadri hit a career-best 87 as Kent reached 492, Kasey Aldridge collecting six wickets and Craig Overton limping off with an injury. Somerset were then blown away for 139 in just 40.4 overs.
And, for the very last time this season, good morning! It feels about time, I wore wellies to walk the dog and have the first knockings of a winter cold. Hibernation approaches.
But before that, we have on last day of Championship cricket and the sky is still blue, the sun still has a milky warmth. Most things are sorted now, the Champions, the promoted teams (unless something extraordinary happens to Middlesex); and Gloucestershire's three-day victory over Yorkshire has given them a boost, but only to start Division Two next April. The game to watch is at Edgbaston – where if Warwickshire can beat Hampshire, they stay in Division One. They currently lead by 23 with eight wickets remaining. It is shit or bust for the Bears. Yorkshire, who will go down if Warwickshire do manage to pull of a win, will be watching nervously
Play starts at 10.30am.