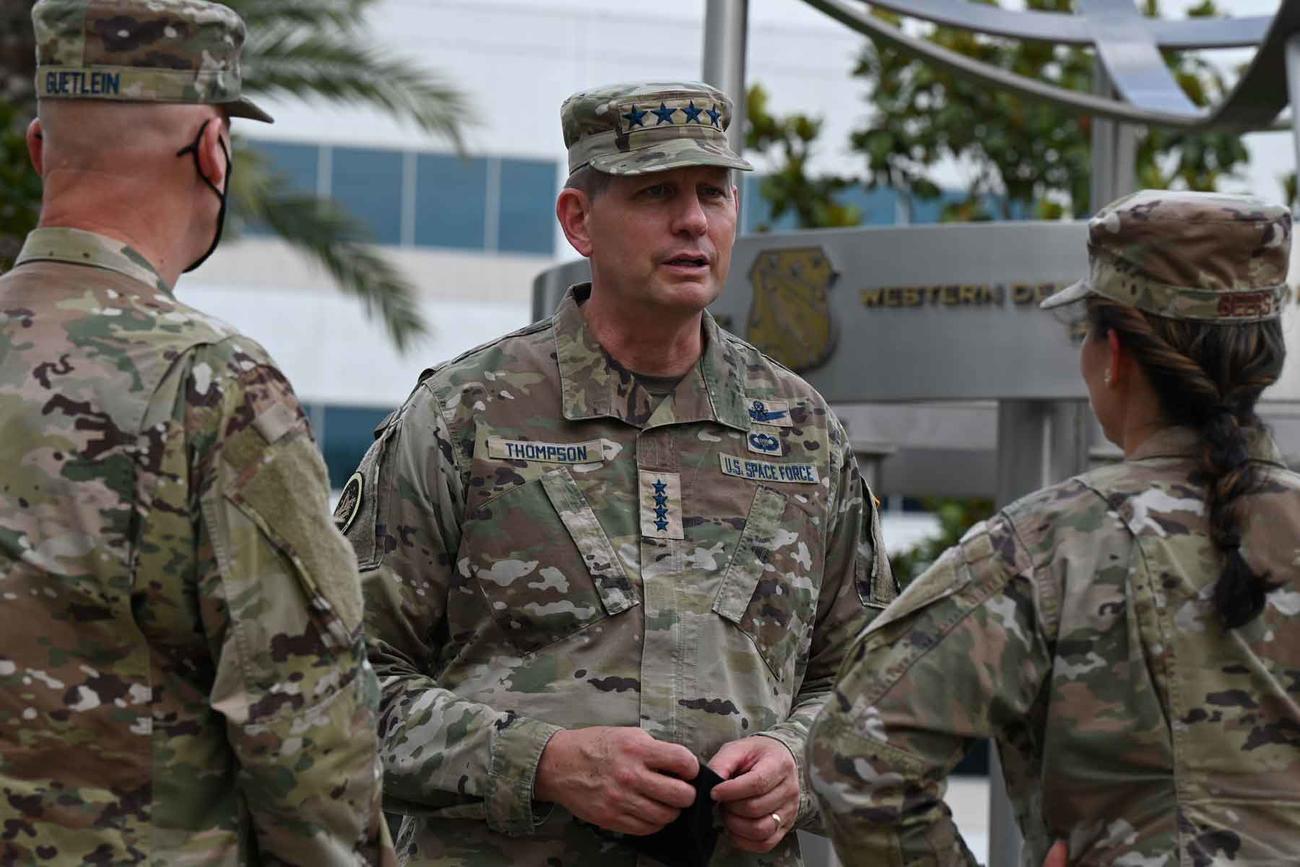 A top Space Force official said the service needs more money to protect America's satellites as it faces a growing threat and rapid competition with China.
Gen. David "DT" Thompson, vice chief of space operations, told attendees at a Mitchell Institute for Aerospace Studies event in Arlington, Virginia, on Tuesday that there is a "tremendous need for growth" so the service can keep pace with China's technological advances.
"In 2023, you're going to see a significant increase in the resources for the United States Space Force and other space missions," Thompson said. "I can't talk about the current budget process that we're in, but you should not expect that emphasis and that understanding to change as we move into the future."
Read Next: Space Force on Notice as Russia Warns Commercial Satellites May Be a 'Legitimate Target'
The Space Force asked for $24.5 billion in its 2023 budget request, a 40% increase from the previous year. But amid rising tensions with China and newfound threats to satellites that are crucial to America and its allies, officials will likely be asking for even more in subsequent years.
Thompson said China is developing and fielding a wide range of technology such as jammers and lasers that could harm America's satellites. While he didn't go into detail about all of the Space Force's capabilities, he said China's development should be alarming.
"Are they better than us? Are they not as good as us? Will we win? Will they win? Are we at parity? I can't say that," Thompson said. "All I can say is that they are a serious challenge. They are a serious threat. They are serious about what they need to do. Their capabilities are close to ours. We simply need to do what we need to do."
One particular area of concern is China's openness about potentially targeting commercial satellites.
"The Chinese have indicated publicly that they would shoot down, or attempt to, any company, including, by name, SpaceX, if they helped Taiwan in a crisis," Seth G. Jones, senior vice president of the International Security Program at the Center for Strategic and International Studies, told Military.com on Thursday. "It's an interesting question of how the U.S. would respond in that case, to an attack against a U.S. or a multinational space company, particularly one that was involved in supporting an ally or a partner of the U.S."
In the 2022 National Defense Strategy released this week, the Pentagon said China is "deploying counterspace capabilities that can target our Global Positioning System and other space-based capabilities that support military power and daily civilian life."
But the strategy did not address how the military would respond to an attack on a commercial satellite.
Some policy experts in Washington believe the Space Force is unequipped to take on space threats from China and Russia.
The Heritage Foundation, a Washington-based think tank, said in its annual assessment of the military released Oct. 18 that the new service has not shown "that it is ready in any way to execute defensive and offensive counterspace operations to the degree envisioned by Congress when it authorized creation of the Space Force." The Foundation classified the Space Force as "weak."
China isn't the only looming threat in Space. A Russian Federation official indicated this week that commercial satellites could be considered legitimate targets. Satellites have helped Ukrainians with tasks from taking overhead photos to guiding offensive combat operations, Jones said.
Maj. Helen Annicelli, a spokesperson for U.S. Space Command, did not respond to Russia's threats directly in a statement to Military.com on Friday, but said the command is prepared to defend those commercial satellites.
"U.S. Space Command maintains its readiness 24/7 to protect and defend against threats to the space architecture," Annicelli said in an emailed statement. "Commercial space systems are an essential component of U.S. critical infrastructure and vital to our national security."
— Thomas Novelly can be reached at thomas.novelly@military.com. Follow him on Twitter @TomNovelly.
Related: The First Shots in a Ukraine Conflict May Be in Space
© Copyright 2022 Military.com. All rights reserved. This material may not be published, broadcast, rewritten or redistributed.