Key events
90 + 2 min: Chelsea have another corner and Svitkova takes the kick. England connects with it but her header is over.
90 min: Imagine having a hat-trick but not the headlines. Harder has played well but Kerr has four goals in this one despite being subbed 20 or so minutes ago. Kirby's shot is just wide. There will be four minutes added.
GOAL! Chelsea 8-0 Vllaznia (Harder, 89′)
That was so sloppy from the defence as Harder's tap rolls past the keeper and two defenders! It's a hat-trick for Harder.
88 min: The free kick is popped in and it is wide by Doci. Harder puts in a great cross but it is headed out for yet another corner for Chelsea. Perisset is the taker but it is blocked.
86 min: It is quickly dealt with and we are back in action. Vllaznia have a free kick after a foul but it is deep in their own half. Perisset gives away another in defending the first free kick.
84 min: Vllaznia makes another change as Lufo is off for Davidson – Lufo did not start the match so the sub has been replaced, slightly brutal. Kirby pops the ball in but it has too much on it. There are boos ringing round Kingsmeadow as flares have been thrown onto the pitch. There's a break in play while it is dealt with.
82 min: When Vllaznia faced Real Madrid in the first round of the groups the Spanish giants could only win 2-0, Real did rest Caroline Weir for the game but it just shows by comparison just how dominant Chelsea have been this evening. Back to the match Doci wins a free kick but Eriksson heads away.
80 min: How many more can Chelsea get? England comes through but Perisset's shot is deflected – another Chelsea corner. Svitkova sends it in but it hits the side netting.
GOAL! Chelsea 7-0 Vllaznia (Svitkova, 78′)
What a smashing header!
77 min: Vllaznia are making changes with Williams-Mosier and Patterson off. And you have guessed it, Chelsea are on the ball again.
75 min: Chelsea are still all over Vllaznia, the visitors still have not had a shot at goal. And here's a look at Kerr's goal which warranted the back flip celebration:
73 min: That is a brace for Harder, muted celebrations from her too. Carter is being shown a yellow card and she looks like she can't believe it. Chelsea make two changes with Reiten off for Abdullina and Kirby is on for Fleming.
GOAL! Chelsea 6-0 Vllaznia (Harder, 72′)
England wins a corner with Reiten sending it is. England's header is saved but Harder taps in the rebound.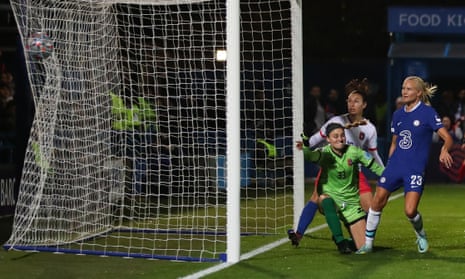 70 min: How has that not gone in?! The ball glides across goal but Harder's attempt is saved.
68 min: Kerr had only scored one goal in all competitions before this match and now she has five! A hugely impressive outing for the striker. Chelsea are still thumping the Vllaznia goal with Harder's attempt over the crossbar.
66 min: Ingle is a silent star for Chelsea, she may not always grab headlines but she is having a great match. The hosts are in possession once more and they look hungry for more. Williams-Mosier catches the latest attempt.
64 min: Chelsea make some changes with Charles is off for Carter, Kaneryd is off for Svitkova and Kerr is off for England. After some conversations with my editors we believe it was Kerr who scored the fourth goal – meaning she has four this match!
62 min: Apologies for the delay on confirming the fourth goal scorer but Chelsea fans won't mind either way, it is an utterly dominant display! I am also trying to hunt down the Kerr back flip.
GOAL! Chelsea 5-0 Vllaznia (Kerr, 60′)
Well she has the hat-trick regardless and she pulls out the signature back flip celebration for it!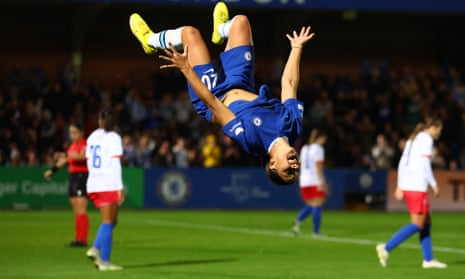 60 min: Well I am perplexed, DAZN reporting Eriksson has been credited with the goal but Chelsea are celebrating Kerr on social media. I am having a hunt to confirm! Chelsea in possession.
58 min: There was a lot of confusion over the scorer there, Kerr was celebrating wildly but the stream says it is Eriksson who scores. I will treble check that. The captain has another shot and it is wide.
GOAL! Chelsea 4-0 Vllaznia (Kerr, 57′)
Oh wow that was a beauty! Reiten's cross was perfect and Kerr heads in.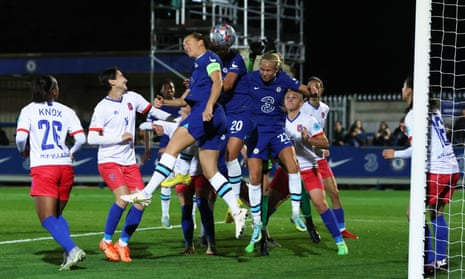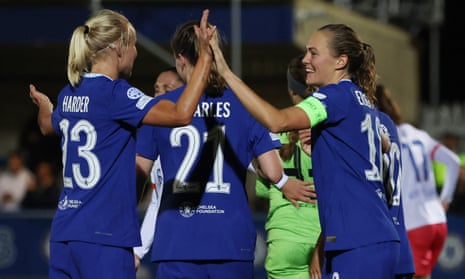 55 min: Fleming has another shot off target. Williams-Mosier does really well to stop Kerr, she comes out and collects with Kerr having to jump over the keeper. In the other match happening in the tournament Wolfsburg are leading Slavia Praha 1-0, Jule Brand the scorer in that one.
53 min: Reiten has a perfect ball in but Kaneryd's shot is just wide. Reiten again pops the ball in but it's out of play, she is having a great game so far.
51 min: It doesn't look like Doci is being replaced. Chelsea immediately attack and Fleming's shot is just over the bar. The hosts come through again, there is no letting up, but Charles' pass has too much on it.
49 min: Ingle tries to find Kaneryd but she runs it out of play. Doci is down here, holding the back of her head. There's a break in play as she receives some attention.
47 min: A sloppy bit of play from Chelsea as they lose it on the edge of the box. Doci counters but Musovic takes control.
Back underway! Chelsea 3-0 Vllaznia
How big will this score get? We will find out shortly. There has been a break as Vllaznia make two changes with Ramadani and Lufo on for Bashka and Popovic
Adam has got in touch via email and said: "I think I heard on QI at one point that cakes go hard when they get stale whilst biscuits get soft. That would make Jaffa Cakes a cake…I think Less importantly, however, and why yes I am asking mainly because I'd quite like to see this typed out: how on Earth does one pronounce 'Vllaznia?'" I think you are right about the QI fact and so far we have had no votes for biscuit. In relation to the pronounciation, I think the double l make a y – I hope that helps!
Have a look at Sam Kerr's two goals in that first half:
Chelsea's dominance is displayed through the first half stats. They have had 73% possession with 16 shots at goal, five on target. Vllaznia have had 27% of the ball with no shots whatsoever.
Half-time: Chelsea 3-0 Vllaznia
Chelsea are sailing to the top of the group with this performance as they lead following two goals from Sam Kerr and a tap in from Pernille Harder. The hosts are completely dominant.
44 min: Kerr's long range shot is blocked and it seems those two quick goals have energised the hosts even more. Kerr looked as though she had her hat-trick but she was offside, Chelsea have the potential to be in front by a lot more.
42 min: Kerr was brought down in the box with Chelsea players screaming for a penalty but it isn't given. Kerr is there once again but Williams-Mosier punches away, Chelsea almost collect the rebound but the offside flag is raised. Fleming is the next to have a chance but it's wide.
40 min: Kerr has tripled her goal count this season in this game as I think she had only scored one ahead of the match. Please do correct me if I'm wrong! Chelsea have the ball once more and have it in the box but it's blocked.
GOAL! Chelsea 3-0 Vllaznia (Harder, 39′)
Wow that didn't take long! A great cross has the visitors napping and Harder taps home.