Key events
Half-time reading
This is all kinds of happiness.
Half time: Chelsea 0-0 Man Utd
Peep peep! Not much goalmouth action but it was an interesting half at Stamford Bridge. United were quietly dominant for 35 minutes, prompting Graham Potter to make a tactical substitution, and Chelsea came into the game after that. United had the best chances, though: Rashford was twice denied by Kepa, and Antony shot just wide on the stroke of half-time.
45 min: Great chance for Antony! United should be ahead. Fernandes holds off Jorginho 30 yards from goal and plays a good angled pass to Antony. He takes it nicely in his stride, away from Thiago, but pings a shot this far wide with his right foot.
44 min "Some superpower Aubameyang has," says Yash Gupta, "every team looked worse with him this year."
That's a bit harsh on a man who scored a Clasico hat-trick. But as you're a Spurs fan, I'll allow it.
43 min It's a much more even game now; if anything, Chelsea are on top. Mount's cutback from the right finds Sterling in the area. He takes a touch and pokes it across to Aubameyang, who is distracted by the sliding Dalot and fails to control the ball. That was a decent chance.
41 min Chilwell floats a cross towards the unmarked Aubameyang, who tries to control it in mid-air, 10 yards from goal, when it would surely have been better to throw himself into a diving header. It was a difficult ball to control and he could only knock it through to de Gea.
40 min Erik ten Hag is playing with a tactics board on the bench. Meanwhile Eriksen, who scored an outrageous goal here a few years ago, cracks another long-range shot wide of the near post. Kepa had it covered.
39 min Chelsea already look better. Kovacic's pass towards Sterling is intercepted and deflects towards Aubameyang, who steers a volley wide from the edge of the area. In fact, Chelsea's shape isn't 4-1-4-1, it's a diamond with Mount playing behind Aubameyang and Sterling.
37 min Mount and Martinez have a bit of a row, prompting Shaw to come across and usher Mount away.
36 min: Chelsea substitution Kovacic replaces Marc Cucurella, which means Chelsea can match United's 4-1-4-1 formation. Cucurella accepted the decision without complaint.
35 min Graham Potter is planning an early tactical substitution, with Mateo Kovacic preparing to come on.
34 min Sancho's deflected drive from the edge of the area is well held by Kepa, who had to change direction and plunge to his left. It's all United.
33 min Rashford runs at a backpedalling Chelsea defence, gets into the area and rifles a drive that is beaten away by Kepa, diving low to his right. That's a decent save.
31 min Antony is booked for flattening Jorginho.
29 min Shaw is lucky not to be booked for delaying a Chelsea throw-in.
28 min: Good save by Kepa! That's a much more significant save. Fernandes snapped a fine first-time through pass to Rashford in the area. His first touch was slightly heavy, which allowed Kepa to rush out and block Rashford's attempted dink.
27 min Though United have been much the better team, Kepa has only had one relatively comfortable save to make. They really miss Anthony Martial.
26 min Antony overhits a lofted pass that is going out for a goalkick until Kepa inexplicably helps it behind for a corner. United take it short again, and do bugger all with it again.
25 min After a good run down the left from Rashford, Sancho wins a corner off Chalobah. United take it short, and do bugger all with it.
24 min Rashford's free-kick hits Jorginho and ricochets to safety.
23 min Antony buys a foul 25 yards from goal, to the right of centre. Eriksen and Rashford are over the ball…
20 min United have had 60 per cent of the possession and the only shot on target. It's all a bit cagey out there.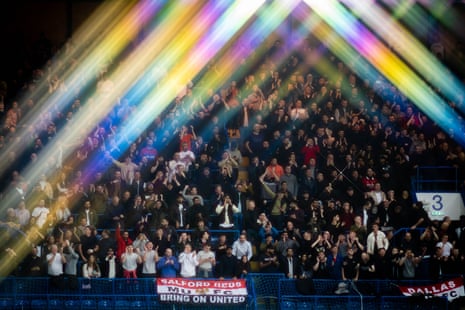 17 min United are really dominating the middle of the pitch, where they have three players to Chelsea's two. Graham Potter might think about pulling Mount into midfield for a while.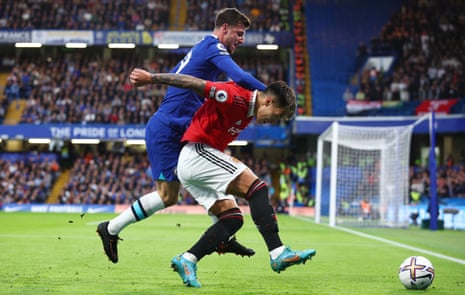 15 min Nothing comes of the corner.
14 min Mount's lovely cross towards Aubameyang is crucially intercepted by Varane, sliding towards his own goal. Corner to Chelsea, their first of the game…
13 min The corner is taken short to Sancho, whose cross flashes across the face of goal and behind.
13 min After another good move from United, Antony curls a decent shot from 20 yards that is pushed round by the sprawling Azpilicueta. It might not have been going in anyway.
12 min A decent spell of possession for United, with Casemiro seeing plenty of the ball.
10 min Azpilicueta is down after an accidental clash of heads with Sancho. I think he's fine.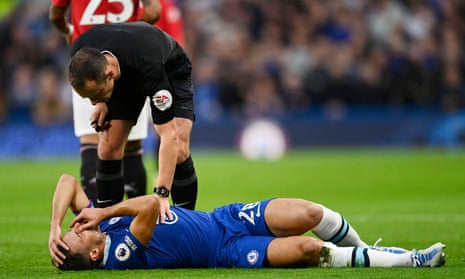 9 min Good play from United. After a series of first-time passes from Casemiro, Fernandes and Eriksen, Shaw is released on the left-hand side. He runs to the edge of the area and drives a cross shot that goes a few yards wide of the far post.
7 min Loftus-Cheek wins a header in midfield and releases Aubameyang on the left. He runs at Martinez but overhits a cross towards Sterling.
7 min "Looking forward to this one," says Tom Stratford. "Interested to see how Graham Potter navigates that notoriously tricky 44th day in a new job."
They can always go back to Thomas Tuchel if he does quit.
6 min United's formation looks more like a 4-1-4-1 than 4-2-3-1, with Eriksen playing further forward than he has in recent games.
6 min See 4 min.
5 min "The TV and press will continue to bring up the Ronaldo question," says Mary Waltz. "Understandable, it draws eyeballs, responses, and clicks. But ten Hag will continue to ignore it. Ronaldo would be an incredible super sub and occasional starter for any contender. But he will never accept that role. EtH is doing the right thing. Downplaying the controversy until CR7 leaves the club."
Yes, I think he's handled it almost flawlessly.
4 min A quiet start to the game. Sterling was wrongly flagged offside when he broke away down the left; that's about it.
2 min Chelsea are playing as expected, with Cucurella as the left-sided centre-back.
2 min "Interesting about the rivalry that never quite exploded," says Digvijay Yadav. "I always thought that the 2006-10 period was as intense as any. In fact the '06-'07 was the most cathartic title win since Fergie's first. And that was partly a result of the fear that Chelsea had sowed in the league and the loathing that inspired in United. Or maybe that's just me."
I know what you mean, and the standard was seriously high around then. But to me it never had the same intensity and enmity as United v Arsenal or Chelsea v Liverpool.
1 min Peep peep! Manchester United kick off from left to right as we watch.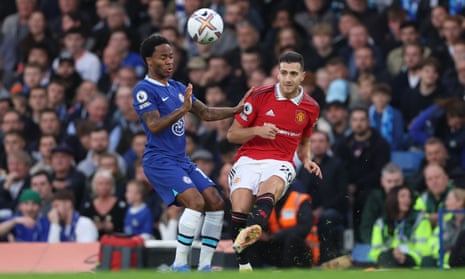 More pre-match reading
"Astounding how Roy Keane, while saying gentle and emollient things about Cristiano Ronaldo, manages to look extremely threatening," writes Charles Antaki. "It's the hooded eyes, I think, plus 100 years of suppressed, and not-so suppressed, on-field violence."
And the beard. Nobody wears a statement beard quite like Roy Keane.
Roy Keane on Cristiano Ronaldo's absence
It's interesting that, when Paul Scholes refused to play against Arsenal in 2001, Sir Alex Ferguson still started him in the next game.
Jonathan Liew on the absent Cristiano Ronaldo
Graham Potter makes four changes to the Chelsea side that drew at Brentford. Thiago Silva, Ben Chilwell, Raheem Sterling and Pierre-Emerick Aubameyang replace Kalidou Koulibaly, who has a knee injury, Conor Gallagher, Kai Havertz and Armando Broja.
One change for United: Fred out, Christian Eriksen in.
Chelsea (possible 3-4-2-1) Arrizabalaga; Chalobah, Thiago Silva, Cucurella; Azpilicueta, Jorginho, Loftus-Cheek, Chilwell; Mount, Sterling; Aubameyang.
Substitutes: Mendy, Kovacic, Pulisic, Zakaria, Ziyech, Gallagher, Havertz, Chukwuemeka, Broja.
Man Utd (4-2-3-1) de Gea; Dalot, Varane, Martinez, Shaw; Casemiro, Eriksen; Antony, Fernandes, Sancho; Rashford.
Substitutes: Heaton, Lindelof, Malacia, Fred, Pellistri, McTominay, Garnacho, Iqbal, Elanga.
Referee Stuart Attwell.
Hello and welcome to live coverage of Chelsea v Manchester United at Stamford Bridge. This is a slightly unusual rivalry, which has never fully exploded despite a number of title deciders and even a Champions League final. The status of today's game is best reflected by the fact the winners will end the day in fourth place. That's the prime ambition for both clubs this season, particularly United, but there is unlikely to be room at the Champions League table for both of them.
Still, the two teams look in reasonable shape under their new managers. Chelsea are unbeaten under Graham Potter, even if their last two performances weren't the best. Those games were away from home; at Stamford Bridge, Chelsea have looked formidable. United have been up and down, but looked like a proper Erik ten Hag team for the first time when they overwhelmed Spurs on Wednesday. If they do it again at Stamford Bridge, where they have won only twice in the league in the last 20 years, United fans will have good reason to be excited.
Kick off 5.30pm.