Key events
25 min Castellanos collects a poor kick from Berger then, from the right side of the box, tries a surprise shot which whooshes just over the bar.
24 min Kirby is playing centrally now, which makes sense. But I don't love Chelsea's formation, and we've hardly seen Reiten, upon whom they're relying to make the play.
23 min City play through midfield then look for Shaw, who reaches the ball ahead of Kirby, checks, and lofts a shot from 20 yards over the bar.
22 min James is doing a decent job at wing-back, but she's so much more dangerous not having to defend. I can't believe she'll play there on a regular.
21 min Chelsea knock it around a bit, looking to take the sting out of things.
19 min Chelsea can't handle Shaw at the moment. She gets in front of Buchanan, no pushover herself, but when Greenwood's free-kick comes towards them, Shaw easily out-muscles her marker, chesting down and shooting wide. Chelsea need to find a solution to her – perhaps a player in front and another behind.
18 min Kelly's corner is a goodun, flat and fast, Eriksson getting to it just before Aleixandri and sending the ball behind again. Aleixandri wants a penalty – she was certainly paid close attention – but there was nowhere near enough for that, I don't think.
17 min James, though, is looking lively, weaving away from two challenges down the right. Her ball into the box, though, is cleared, and again Shaw runs the channel as City counter – she's been a real handful so far – drilling a shot that Bright blocks behind.
16 min Chelsea's finishing, though. Not words I expected to write even two weeks ago, but they've made a couple of belters here already, only to make poor decisions when in.
15 min Shaw takes some treatment, so I can let you know that Man United have scored two quick ones at West Ham, Garcia and Blundell doing the honours.
13 min Shaw drives away from Fleming and inside Bright, then slips by Buchanan, who leaves a foot on her. The ref signals no foul in ostentatious style, but that was blatant – though not a penalty, because it was just outside the box.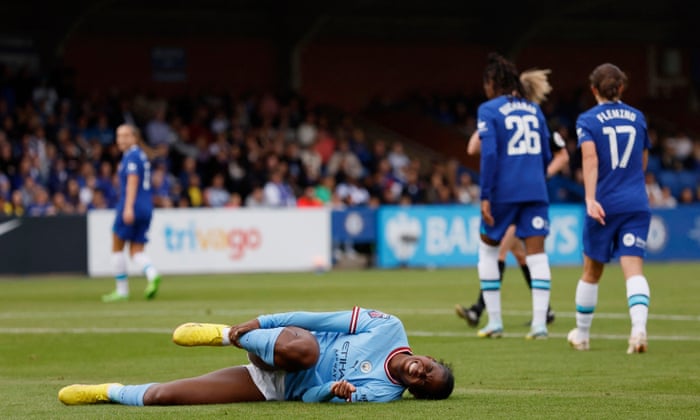 12 min Chelseas are at it again! Kerr menaces Houghton, who sells Roebuck way short. One on one, though, Kerr opts to square to Kirby when only the keeper stands between her and goal. And her pass is a little behind her mate, so the eventuating shot is blocked and, though the loose ball winds up with James, the chance has gone. I get why Kerr passed there, but there were defenders between Kirby and goal – she wasn't setting up a tap-in
11 min Both sides look a threat going forward; neither defence looks secure. 0-0 it is, then.
9 min Reiten streaks down the left and clips a cross to Kirby, inside the box. She can't find a shooting angle so rolls back to Mjelde, who curls to the back stick where James cushions back across and Fleming can't quite force a clean connection, so Roebuck collects easily.
9 min Castellanos slides in late on Eriksson, introducing herself to the WSL in the grand style.
8 min Brighton have beaten Reading 2-1.
6 min A long punt catches Eriksson underneath it and Kelly is hunting, doing really well to judge the flight of the ball and hold off the defender. But with a decent shooting lane available, she rushes, prodding a side-footer – I think that's possible – straight at Berger.
5 min Oh, after all that blather, James isn't through the middle she's out on the right, to chase her full-back. Kerr will, then, need proper support from midfield.
4 min Superb from James, who shows great strength in midfield to power away and set Kerr free. Houghton is drawn over and Kerr has legs on her, but she does just enough to see her away from goal and force a blind square pass … to no one.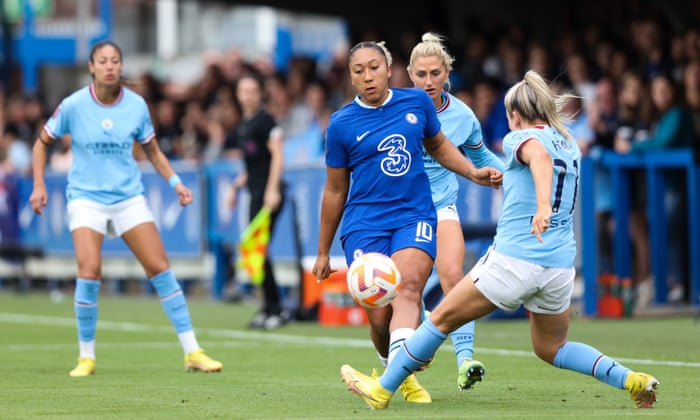 4 min Chelsea get the corner away; this has been a decent start.
3 min Shaw pressures Buchanan and wins the battle of strength, also getting by – rather through – Fleming, but her cut-back ends up going behind for a corner.
2 min Chelsea would've won last week but for poor finishing; two strikers is all very well, but to make the system work, they need to fill their boots.
1 min Chelsea should score in the opening seconds! Bright clobbers long and Kerr wins a terrific flick-on. But Kirby, on the left of the box, doesn't put enough on her return cut-back such that when Kerr comes to shoot, the ball's behind her and all he can do is drag it wide of the near post.
1 min And away we go!
The players take the knee. Black lives matter.
Here come the teams!
It's so good to see Jill Scott pitchside. I think she'll be great at this, especially once she's settled.
Yeah, course.
It's so good to see Ann-Katrin Berger back for Chelsea after her second cancer situation. And it's good for Chelsea too, because she can keep some goal.
Hayes says too much emphasis is put on what happens after loss; she wants her players to do the same things, be professional, and take care of the details on the training ground. She won't say how the players will play, because she doesn't have a crystal ball, but it's been a good week and she's looking forward to a full crowd. Harder, she confirms, is injured.
Kate Robinson has put Brighton 2-0 up on Reading while Man United have West Ham under the pump – but that game is still goalless.
On Sky, Karen Carney is giving City aggro for not replacing Keira Walsh, who they knew would at some point be off; fair enough. I am, though, looking forward to seeing how Khadija Shaw does this season … filling Ellen White's boots. No pressure.
Gareth Taylor notes that sometimes it takes time for new players to gel, and that his team play where the spaces are. So if Chelsea press, they may not play out from the back, instead targeting the gaps left as a consequence. He wants his team to give away fewer counter-attacks than they did last week, though, and to stay in the game early doors.
I daresay, though, that City, and Lauren Hemp in particular, will be fancying their chances of getting down the side of Millie Bright. She's matured into a much better player than I expected her to, I must say, but she's not the most mobile, and as an outside centre-back, there's scope for her to get isolated.
The thing is, once you see Lauren James and Sam Kerr up front, any other concern kind of dissolves. Allowing them to form a partnership and focus on attacking and pressing, wasting neither time nor energy chasing opposing full-backs, makes a lot of sense. Most centre-backs are used to marking one striker between them, not two of this frankly ill calibre.
I feel like an idiot wondering about an Emma Hayes decision, but I much prefer Fran Kirby in the middle than off the left. I can see why she's playing with 3-4-1-2 – it gives her team defensive solidity and a silly amount of attacking flexibility – but I bet City, and pretty much everyone else, will be targeting the areas behindthe wide midfielders.
By the way, Sky giving this a full hour's build-up: about time. Let's hope this becomes a regular occurrence, not just when there's a big game over men's international weekend.
As for City, they change both full-backs, bringing in Caasparaji and summer-signing Ouahabi, while in midfield, Castellanos, another new arrival, also makes her first start, replacing Angeldal.
Hayes makes three changes: in net, Berger replaces Musuvic, while in midfield, it's Mjelde and Fleming not Charles and Ingle. My guess is that Cuthbert moves from centre to right, with the two coming in taking the central berths. Oh, and Harder isn't in the squad so must still be injured.
We'll look at those in detail presently, but in the meantime, Rachel Daly's penalty has given Villa the lead at Leicester, while Lee Geum-Min has put Brighton in front at home to Reading.
Chelsea (an expert's 3-4-1-2): Berger; Bright, Buchanan, Eriksson; Cuthbert, Mjelde, Fleming, Kirby; Reiten; Kerr, James. Subs: Musovic, Ingle, Carter, England, Svitkova, Perisset, Kaneryd, Cankovic.
Manchester City (a non-negotiable 4-3-3): Roebuck; Casparij, Houghton, Greenwood, Ouahabi; Aleixandri, Castellanos, Coombs; Kelly, Shaw, Hemp. Subs: MacIver, Keating, Stokes, Fowler, Angeldahl, Raso, Losada, Hutchings, Blakstad
"We had a good team on paper," Brian Clough once noted in a post-match interview. "Unfortunately, the game was played on grass". A line that sprung to mind after last weekend's football, when Chelsea lost to promoted Liverpool from a goal up with 25 to go and City were beaten by Villa, having led 3-2 with 15 to go.
As it happens, City's defeat was not entirely surprising – Lucy Bronze and Keira Walsh have left for Barca while Ellen White, Karen Bardsley and Jill Scott have retired – but no one saw Chelsea succumbing as they did. And given Arsenal lost only once in the league last season and still came second, the significance of the reverse should not be underestimated.
Emma Hayes, though, won't panic. She knows it'll take a little time for her new signings to integrate – of the five, only Kadeisha Buchanan started last week – and that, in Lauren James and Sam Kerr, she has strikers of ludicrous potency, never mind Pernille Harder who was an unused sub last time out. At some point very soon, things will click, and there's every chance that it's today.
Over at City, Gareth Taylor has a similar situation – though is building from a position of comparative weakness. He too only started one of his new acquisitions in his side's opening game, Laia Aleixandri, and like Hayes, must now decide whether to just toss in the others and let them find their way.
Before the season started, Taylor was adamant that his side are aiming for the title. But not many think that likely, and while for Chelsea it's the minimum, Hayes would not be the first brilliant manager to stuff the big domestic pot while pursuing Champions League success.
All of which is to say there's an absolute expletive-load going on for us this afternoon – and all we have to do is wade right in.
Kick-off: 4pm BST