Key events
23 min: Brighton initially claimed an offside, but March was way deeper than everyone else in the home defence, playing everyone on. Kane points to the heavens. That one was for Gian Piero.
GOAL! Brighton 1-0 Tottenham (Kane 22)
The corner from the right is half cleared. Hojbjerg recycles possession, dinking down the inside-right channel for Son, who checks and curls a shot goalwards. The shot is turned into a cross by Kane, who flicks an instinctive header into the left-hand side of the net from six yards!
21 min: … so having said that, Bentancur's powerful shot flies through a crowded box and towards the bottom right. Sanchez does extremely well to react just in time, and palm the ball out for a corner. From which …
20 min: It's been a lively and fairly entertaining first 20 minutes, even if neither keeper has had any serious work to do yet.
18 min: More catcalls directed at Kane, who is booked after slyly sweeping the ball past Webster with his hand as he zipped into the Brighton box. Kane looks perplexed, but it looked like a deliberate action, and he can have no complaints.
17 min: Mac Allister slips a pass down the inside-right channel for Welbeck, who reaches the edge of the box and takes an early shot. He drags the ball across Lloris and inches wide of the left-hand post. Not a bad effort by any means, though had he rolled infield, Trossard, ahead of the last man, would have surely slapped home from 12 yards.
16 min: Ah, you can hear the home fans now, as Kane lumps an uncharacteristically dreadful pass, intended for Sessegnon down the left, out for a goal kick. They enjoy goading the Spurs captain, whose playmaking is usually so much better than that.
15 min: Spurs have done a good job of silencing the home crowd. It's the away section you can hear, marching in, all that.
13 min: Son drops a shoulder to make himself some space, 30 yards out. The resulting shot flies 30 yards over, but Spurs continue their impressive start. They've enjoyed 70 percent possession so far, Brighton being played at their own game.
11 min: Son sends Sessegnon into space down the left. Sessegnon crosses long. Doherty arrives at the right-hand edge of the Brighton D and screams a volley high and wide. It wasn't an easy chance. It would have been some goal.
10 min: Brighton finally show in attack, Trossard and Welbeck linking well down the right. March fires in a cross. Half cleared. He tries again. Cleared again. Finally Mac Allister floats … what? A cross? A shot? Either way, it's an easy catch for Lloris.
9 min: … but Spurs continue to fly, and Kane romps down the right. His shot is blocked. The ball comes back to him, and he looks for Sessegnon in the middle, only for his dinked cross to be cleared. This is a decent start by the visitors.
7 min: Bentancur rolls a pass down the inside-right channel to release Doherty, who has a yard on Estupinan and strides into the penalty area. Doherty should either shoot or roll across for Sessegnon, in acres on his own in the Brighton box, but hesitates, loses control of his feet, and clumsily toe-pokes out for a goal kick. Big chance spurned.
6 min: Spurs are hogging the ball during these early exchanges. They were pretty passive against Arsenal last weekend, so their fans will appreciate this return positivity. Let's see if they keep it up.
4 min: Spurs take their sweet time to line up the free kick. Then Son loops the free kick over the wall and down towards the bottom left. Accurate but light on power. Sanchez is behind it all the way and parries clear.
2 min: Spurs start confidently, and Kane is found just to the left of the Brighton D. Mac Allister panics and clumsily barges into him from behind. A free kick in a very dangerous position here.
An emotional moment of heartfelt applause for Ventrone. Then the knee, a gesture met with more warm applause. Respect and love the top note all around the Amex. Poor Conte looks drained. Spurs get the ball rolling.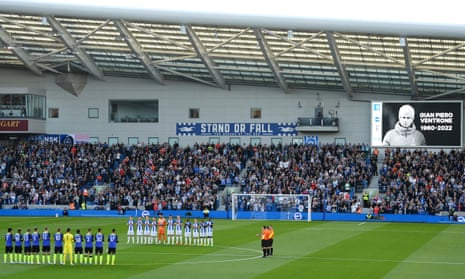 The teams are out. Brighton wear their blue and white stripes, while Spurs sport second-choice purple. The players will take the knee before kick-off, with the Premier League's No Room for Racism campaign taking place over the next two rounds of games. Premier League captains decided before the start of the season to concentrate on several points during the campaign to add emphasis to the gesture against racism and other forms of discrimination. Love and solidarity. We'll be off in a couple of minutes.
Spurs have been warming up in t-shirts dedicated to Ventrone. Both teams will wear black armbands and there will be a minute of silence before kick-off.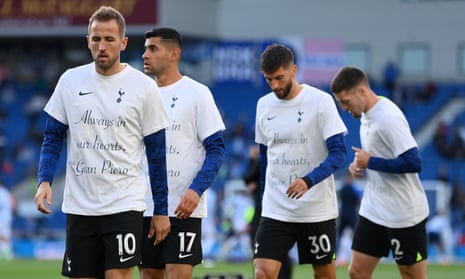 A sombre Antonio Conte speaks to Sky about the loss of their fitness coach Gian Piero Ventrone, who passed away earlier this week. "To find words for Gian Piero is very difficult at this moment. I'm … and we are … devastated by the pain of what has happened. No-one expected this situation. Sometimes life is not always a positive situation. And for this reason we have to cope in the best possible way, and also because I know Gian Piero wanted us to stay strong. We will continue to do our work in the way he taught us."
Roberto De Zerbi talks to Sky Sports. "I didn't want to change things so much. This week we have worked to find more order and organisation, and to continue as we did against Liverpool. I didn't want to change the first XI because in Liverpool it was a good game, and for the moment I want to continue in this way."
This was a match-up between third and fourth this morning. The 3pm kick-offs have altered that, though. Brighton have been knocked down a couple of places to sixth, thanks to Chelsea's 3-0 win over Wolves and Newcastle's 5-1 rout of Brentford. Manchester City have gone top, by the way, two points clear of Arsenal after dispatching Southampton 4-0, but our table generator, tasked to concentrate on Spurs and Brighton, doesn't want to show that. To be fair, it also doesn't want to show Bournemouth rising to eighth after their 2-1 comeback win over Leicester, but what you gonna do. Anti-City bias! Cherry-hating agenda!
If It Ain't Broke dept. In the wake of Brighton's 3-3 draw at Anfield, a result that seriously flattered Liverpool, Roberto De Zerbi names an unchanged side. Moises Caicedo passed a late fitness test to retain his place.
Spurs make four changes to the side that drew 0-0 at Eintracht Frankfurt on Tuesday. Ryan Sessegnon, Matt Doherty, Ben Davies and former Brighton midfielder Yves Bissouma come in for Richarlison, Ivan Perisic and Clement Lenglet, who are benched, and the suspended Emerson Royal.
Brighton & Hove Albion: Sanchez, Veltman, Dunk, Webster, March, Mac Allister, Caicedo, Estupinan, Gross, Welbeck, Trossard.
Subs: Lamptey, Colwill, Lallana, Sarmiento, Undav, Mitoma, Steele, Gilmour, Turns.
Tottenham Hotspur: Lloris, Romero, Dier, Davies, Doherty, Bissouma, Hojbjerg, Bentancur, Sessegnon, Son, Kane.
Subs: Skipp, Sanchez, Richarlison, Gil Salvatierra, Perisic, Forster, Spence, Sarr, Lenglet.
Referee: Tony Harrington (Cleveland).
Welcome to the big meridional meeting between two erstwhile titans of the Southern League: the 1909-10 champions Brighton & Hove Albion and 1899-1900 winners Tottenham Hotspur. However, while it's one title apiece from those non-league days, Spurs have authored a vastly superior resumé during the subsequent Football League years: champions of England twice, plus eight FA Cups and four League Cups, set against Brighton's … but football's not just about winning trinkets, is it.
Still, this illustrates much about size and concomitant expectation. And that in turn explains why Spurs – currently third, just four points off the top – go into this weekend on something of a downer, while Brighton – three points behind in fourth – are high on life. Tottenham had their shorts and pants handed to them by league leaders and rivals Arsenal last Saturday lunchtime, Antonio Conte's brand of rope-a-dope football failing to wow the punters. Brighton by contrast could have had six or seven at Anfield, playing football so easy on the eye they're melting hearts all across the land (with the possible exception of Croydon and surrounding areas).
So this is teed up intriguingly. Will Goliath grind out a win? Or will David show them how it should be done? Brighton will want to back up the good notices they received after the 3-3 at Liverpool with another progressive performance against one of the big boys. Spurs may feel they need to make a statement by putting on a show themselves. Brighton have won two of the last three against Spurs. Conte is unbeaten in four matches against Roberto De Zerbi, winning three and drawing one with Inter against Sassuolo. Good luck calling it, then! Kick off is at 5.30pm BST. It's on!