Key events
Filling up nicely.
Under two hours to the bounce…
Chris Scott is speaking to Channel Seven and he has confirmed Geelong's 22. Max Holmes misses out.
Mark O'Connor comes in and in Brandon Parfitt will be our sub. It's desperately unlucky for Max because he was so close. This was one of those calls where, in my mind, he is probably 98% there but we just needed certainty for the team. It's really hard on him. He probably could have done it but this was the right decision under the circumstances and Brandon and Mark have been good for us this year. We are just going to go with the fit guys.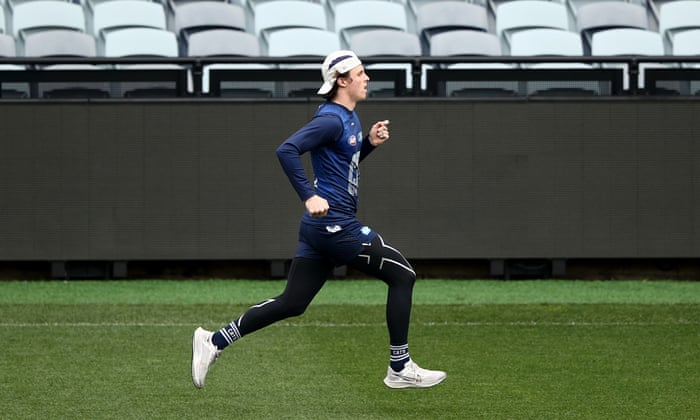 Speaking of the sprint, the magnificently named Hugo Ralphsmith from Richmond has just dashed to glory.
That's just got me thinking – turn the half-time sprint into a competition between the club mascot animals, instead of the players. Hawks chasing magpies leaving a bulldog on the starting line. Dean Brogan could race for both Port Adelaide and GWS.
Cats on the move
Also, here's a cat on the move.
This is tremendously specific. Hickey for Norm Smith would be incredible.
Time for a Robbie Williams cul-de-sac, before the former Take That heartthrob (and nouveau Carlton fan) takes the stage.
Here he is with Jon Ronson talking UFOs
Here he is playing golf.
Here he is playing for the football club of his dreams, Port Vale.
Ok, futile argument klaxon. What did Jonathan Horn get right and what did he get wrong in his list of the greatest grand finals of the past 50 years?
Surely nobody's challenging top spot, are they?
Swans on the move.
Also, a swan on the move.
Thanks Harry. Hopefully I'll be wrapped up in time here to enjoy the NRL prelim with you.
There are individual storylines aplenty today from the record-breaking Joel Selwood, to Patrick Dangerfield's defining moment, or the resilience of brothers McCartin, but Lance Franklin looms large, returning to the G for his sixth grand final – and third with Sydney, with doubts over his stunning switch from the Hawks a distant memory.
Craig Little shares the Buddy love.
We are privileged to again see Franklin on the game's biggest stage, 17 years after his debut. Since his last appearance in a grand final in 2016, his standing in the game has only been enhanced. The reaction to his 1,000th career goal in March when Sydney last met Geelong all but confirmed his status as an enduring legend of the sport.
Enjoy the day, and roar "BALL!" for me.
The MCC Library is a wonderful place and they do great things.
Much more on the situation at Hawthorn can be found here with the latest report detailing how disturbing the review's author, Phil Egan, found the revelations. "To hear and see the trauma as it was personally conveyed to me was like a nightmare," he said.
Inevitably we need to confront the disturbing allegations reported by the ABC this week, and the report submitted to Hawthorn and the AFL around the club's historic treatment of young First Nations footballers.
Jonathan Horn considers how Wednesday's revelations juxtapose with today's celebrations.
It evoked a sense this entire competition is built on bullshit, that it's hard to take anything coming from the mouths of clubs seriously. Football clubs, and the entire industry that feeds off the game, throw around words like "culture" as though they're building orphanages. "Bloods Culture" and "The Family Club" almost become marketing terms. We build up the leaders, and particularly the coaches, to the point where they are apparently unimpeachable. We often forget that their ultimate business is winning, and that they will do anything to accomplish that. The "Whatever It Takes" sign at Essendon became something of a running joke during the supplements scandal. But there's no joking about this story.
Anyone who arranges a wedding for the last Saturday in September deserves no guests.
The Sydneysider perspective comes from Cynthia Banham in a beautiful column that demonstrates the importance of a football club to a person's identity.
It isn't just that the Swans as a club are highly professional, with emotionally intelligent people, a selfless brand of football, and a commitment to supporters based on the principle of inclusivity. It isn't just that attending games at the SCG is a joyous experience, full of music and community and superstar athletes. Or that the Swans have come to embody Sydney, the city. That, more than accepted, they are beloved, they are us. The fact is, the Swans are wrapped up in my identity. I feel a connection to the club that transcends the game, the players and people of the day.
This is a clash between footy's two constants of the millennium with both teams heading to their record-equaling sixth grand finals since Y2K. However, Brisbane's three-peat, Hawthorn's cruise to four, and Richmond's resurgence have put the consistency of Geelong and Sydney in the shade.
The Cats in particular would benefit from a flag that amends the historical record to more accurately reflect their brilliance over the past couple of decades. Geoff Lemon, a lifelong Cat, takes up this theme in his love letter to the blue and white hoops.
Flags are not everything, but the best win-loss record in the competition over a decade without one is hard to understand. There was a strange upset to Fremantle in 2012, a missed kick in the last minute of the 2013 prelim, out in straight sets in 2014, and several knockout torchings in years to follow. The 2020 grand final was strange – shortened quarters played in Brisbane during lockdown against a Richmond side in its own pomp – but a third-quarter lead was still an opportunity lost. This season is back to normal, back to the MCG at last, and the Cats have clearly been the best team of the year. This is the one that they should and must bring home, for this era to feel worthwhile. Although, no matter the result, the crowds will turn up to Kardinia Park again to start next year. They are Geelong, after all.
All things considered, conditions should be pretty decent this afternoon.
The headline news is that it's chilly and blustery, but dry with a chequerboard of blue sky and white fluffy clouds overhead for the duration.
The only impediment is likely to be that southerly breeze as it sneaks into the G and dances around annoyingly, like Peter Hore. It should make for some pretty shots of flags fluttering in the stands though.
There are one or two very isolated showers skirting around Port Phillip Bay, so don't sue me if one drifts over the ground before the final siren. However, the chances of that happening appear very low.
If email and Twitter weren't enough, we're open below the line!
Thanks Reason4, you are correct, this is the most challenging of all the live-blogs, but also one of the most fun (if my jelly snake supply doesn't run out).
The sense memory of grand final week is enhanced by so many good (or so-kitchy-they're-good) songs providing a soundtrack. Sure, it might give the occasion an aesthetic of a certain vintage, but that will doubtless be updated and overhauled as time goes on. For now, I think it's something to cherish.
The suburban pageantry of Grand Final week is Australiana at its best. All over the country there are flags in front yards, fences painted in team colours, and posters papered over windows. It is more than just a football match it's a marker of time, riding shotgun with the equinox to navigate us away from the cold muddy depths of the winter footy season and into the blossom-filled jasmine-scented spring warmth.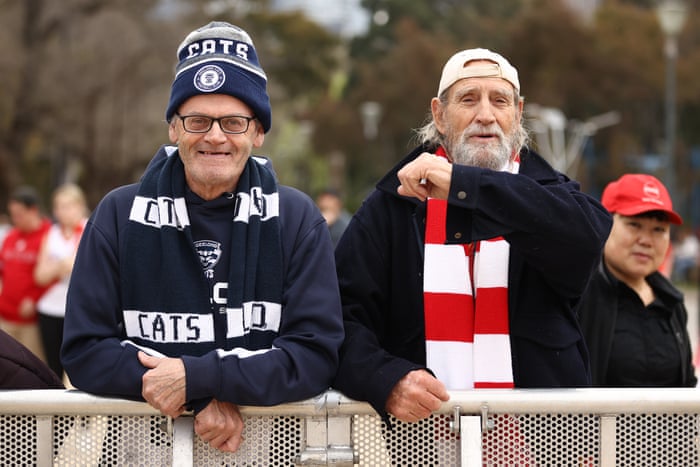 Speaking of the Norm Smith medal, here's today's voting panel.
John McDougall wins the prize of my eternal admiration for sending in the first email of the day. "The Cats will win today by 14 and Blicavs will get Norm," he opens with confidence. Changing tone quickly, he adds, "almost too anxious to tune in to free-to-air from sunny Canberra, given our history of carrying handbags, but this year feels different – a little like 2007 where we just believed to hell we'd do enough and just kept on maniacally until the final siren, so hoping for that again. Have my scarf and my Cheezels, so go Cats!"
Good luck John, but sunny Canberra; seriously?
I'll hold off the final team lists until they're confirmed as there are a couple of doubts around the fitness of players named in the 22s earlier this week.
Of those, it seems likely Max Holmes will miss out for Geelong which is devastating news for one of the performers that have allowed the Cats to up their intensity this season. Chris Scott need take no risks though considering he has both Brandon Parfitt and Sam Menegola among the emergencies.
For Holmes it appears to be yet more grand final day disappointment. Here he is back in 2010.
There's still a tiny window of opportunity to get the bet view of this afternoon's match. Get in there quick!
It's going to be a long day, so I'm going to need your help (especially after being up since five am to deal with a six-year-old with a mozzie bite on his bum).
I want to know all your grand final traditions, superstitions, and rituals. I want to know where you're tuning in from, how you're watching along, and what kind of odyssey you've undertaken to get to the G, return to your home state, or find an illegal stream.
Tell me who's going to win and why. Give me your Norm Smith tips. Share your highlights of the season and grand finals past. What are your thoughts on Robbie Williams? Did anybody go to the parade yesterday? You get the idea.
Emails: jonathan.howcroft.casual@guardian.co.uk
Tweets: @JPHowcroft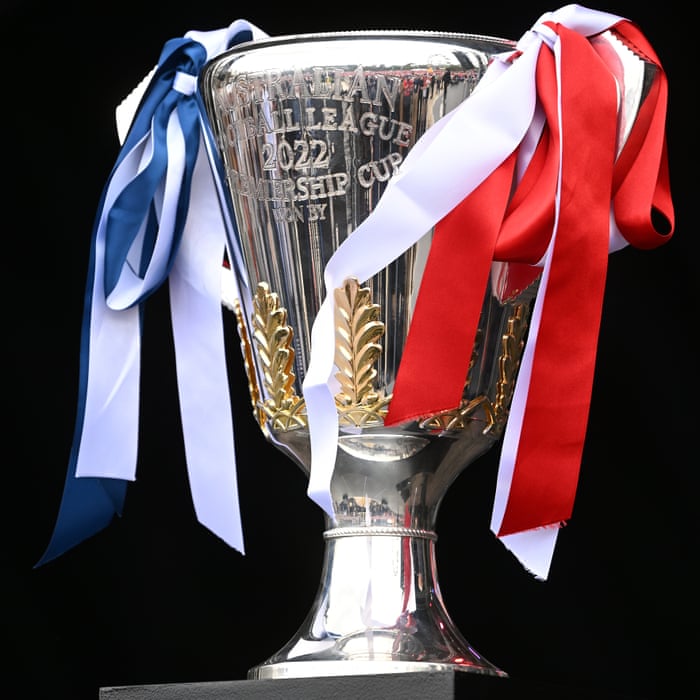 Dodge the swooping magpies, stick your party pies in the oven, fill up your esky with ice, and clutch your bar scarves close because the 2022 AFL Grand Final between Geelong and Sydney is here. The first bounce at the MCG is 2.30pm.
It's that One Day in September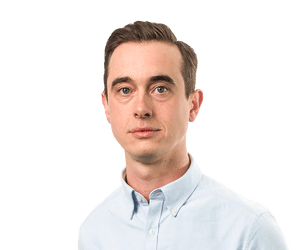 Jonathan Howcroft