Former Afghan Air Force (AAF) Maj. Samimullah Samim, one of the thousands of Afghans who ran the gantlet of Taliban checkpoints and the deadly chaos at the Kabul airport gates to escape to the U.S. in late August 2021, is still in the fight.
But rather than bombing and strafing Taliban positions as he did in the AAF, he's targeting fires in the Pacific Northwest, using his piloting skills to combat a pressing threat in his adopted country.
Samim flew hundreds of close-air support missions in a U.S.-supplied A-29 Super Tucano attack aircraft and a rigged-out Combat Caravan Cessna AC-208 to back Afghan ground forces in what was ultimately a losing fight in Afghanistan.
Read Next: Republicans Vow to Put 'Woke' Military in Crosshairs if They Win in November
With the support of a U.S. veterans group, the 32-year-old Samim earned U.S. flight certification and now flies reconnaissance missions out of Montana in a single-engine turboprop Pilatus PC-12 to scope out the wildfires ravaging the U.S. Northwest and direct fire attack aircraft to the scene.
"As I fly over the fire, I send images. Our company [Bridger Aerospace] uses that if needed for the fire attack," Samim said in a phone call with Military.com last week. "I love the job, the meaning of it.
"We track fires everywhere," he said, adding that his most recent missions took him over Idaho, Oregon and California. "Wherever there is fire, we go there," said Samim, whose new life in America has been profiled by outlets including The Wall Street Journal.
Samim credited the U.S. Air Force officers who trained him with guiding him through a harrowing escape from Kabul with his wife and three children, and then arranging for his civilian flight certification and job with Bridger Aerospace in Montana.
He first came to the U.S. in 2012 for English language schooling at the Defense Language Institute in San Antonio and initial pilot training at Columbus Air Force Base in Mississippi. He returned to Afghanistan to fly with the fledgling AAF and then came back to the U.S. in 2017 to train on the A-29 at Moody Air Force Base in Georgia under the tutelage of Air Force Lt. Col. Nicholas Ervin.
Samim's last mission in the AAF was a medical evacuation in southwestern Helmand Province in mid-August 2021 to bring wounded Afghan troops back to the AAF base at Hamid Karzai International Airport (HKIA) in Kabul. When he landed, he learned that the northern hub of Mazar-i-Sharif had fallen to the Taliban on Aug. 14.
"That was like a big alarm that things were getting out of control," Samim said. He thought it would be months before the government collapsed, but his family woke him at his Kabul home the next day, Aug. 15, to tell him that the Taliban had taken over the capital.
"I went into hiding each night while trying to get to the airport" with his wife and kids before the last U.S. military aircraft left HKIA, which eventually happened a minute before midnight on Aug. 30, Samim said.
For four straight days, he tried and failed to get to the airport gates. "Going through the checkpoints with the Taliban wasn't easy. If they knew who I was, they would kill me. They don't forgive, they don't forget," he said.
He was giving up hope but was in contact by phone with his former trainer, Ervin, who pressed him to keep trying. "I was starting to get mad at him," Samim said.
"It was difficult to the point that I didn't believe it would happen," but Ervin kept telling him, "Please trust me. Push yourself to that gate. You've got to make it to that gate," Samim said.
Around Aug. 20 or 21, his fifth day of trying, Ervin stayed on the phone with him continuously until he managed to reach a U.S. team leader Ervin had tipped off to be on the lookout for Samim and his family. They got past the gates with only a backpack, four bottles of water and two dolls for the kids. "I give all the credit to him," Samim said of Ervin.
"I didn't know where we were going; I didn't know what would happen next," Samim said. The first flight took them to Qatar and then it was on to a U.S. base in Germany before finally arriving at Fort McCoy, Wisconsin, for resettlement and processing with thousands of other Afghan refugees.
With the support of Ervin and others, Samim and his family left Fort McCoy after about two months to stay with a family in Orlando, Florida, while he worked on his pilot certification. His supporters also arranged for a contract with Bridger Aerospace, and he's been flying for them since May.
Retired Air Force Brig. Gen. David Hicks, former commander of the Train Advise Assist Command (TAAC) Air in Afghanistan that organized the Afghan Air Force to fly the A-29, counts Samim as a rare success story in his ongoing efforts to aid AAF personnel — many of whom were unable to evacuate when the U.S. withdrew.
"Like everything else that's happened in the past year, nothing is easy and everything turns out to be 10 times more challenging than what we thought it would be when we started," said Hicks, chief executive of Operation Sacred Promise, which formed in September 2021.
The nonprofit's stated mission is to offer "evacuation and resettlement assistance to our allies from the Afghan Air Force and Army Special Mission Wing and their families," but Hicks acknowledged cutbacks as Afghanistan has faded from the headlines and the nation's focus has turned to Ukraine.
New Mission for U.S. Afghanistan Vets
Operation Sacred Promise began with about 200 volunteers, but "the numbers are far less now — folks get burned out" in the struggle to raise funds and find workarounds to the State Department's labyrinthine rules on who qualifies for visas and resettlement in the U.S., according to Hicks.
He said it is impossible to know exactly how many AAF personnel remain in Afghanistan and are looking to get out, but "we know there's a lot in Afghanistan, well north of a couple of thousand."
The Taliban has offered amnesty to former AAF personnel if they agree to fly under the command of the new government or maintain aircraft as it seeks to build its own air wing.
"We know some former [AAF] members have defected back to the Taliban, but there's no way to verify" how many, Hicks said.
At an October 2021 NATO meeting in Brussels that took place as the Taliban consolidated control and sought out those Afghans who aided U.S. troops, Defense Secretary Lloyd Austin told reporters, "We continue to work to ensure that those people who have helped us have the opportunity to leave the country if they so desire."
Hicks' organization and more than 16 other veterans groups loosely linked under the umbrella of the Moral Compass Federation have charged in interviews with Military.com that the U.S. government has fallen short in providing that opportunity to leave.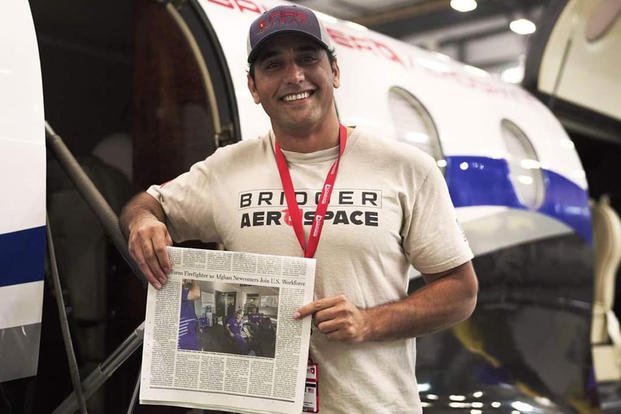 Numerous agencies and nonprofits have sought to aid Afghans who worked directly or indirectly for the U.S. Some of the groups in the federation focus on particular sets of Afghans who fought against the Taliban, such as the NMRG Rescue Project founded by Army Sgt. 1st Class Thomas Kasza, a 13-year Green Beret veteran now serving in the National Guard.
Kasza estimated that there are about 300 Afghans desperately seeking to leave the country who served for years in the National Mine Reduction Group, often clearing mines ahead of U.S. Special Forces missions.
"These guys were literally there to take an IED [improvised explosive device] on our behalf," Kasza said. "There was an unspoken pact that they would take this risk in exchange for us providing help down the road. That puts a pretty substantial moral burden on our shoulders."
But even if the NMRG Afghans manage to make it to a neighboring country to apply for a visa at a U.S. embassy or consulate, they face the possibility of being turned away.
"We're getting rejections for mundane things," such as the lack of a human resources letter, a document proving employment by the U.S. government, to qualify for a visa, Kasza said.
Other groups in the Moral Compass Federation focus on providing aid and safe housing for thousands of Afghans who served in the Afghan National Army Special Operations Command while trying to get them the paperwork to qualify for a visa and resettlement in the U.S.
"We sold them life, liberty and happiness, a chance to be free in their country" if they fought alongside the U.S, "and now of course they're not," said retired Army Lt. Col. Perry Blackburn Jr., one of the original Special Forces "Horse Soldiers" who entered Afghanistan shortly after the Sept. 11, 2001, terror attacks.
"We seem to not have the national patience for fixing something we broke," said Blackburn, founder of the AFGfree veterans group. He described the laborious, multistep process involved in trying to get the ANASOC veterans out of the country for a chance of coming to the U.S.
"When it's time to process a visa, they now need an interview with a U.S. official," Blackburn said, but there no longer is a U.S. presence in Afghanistan. "So we have to move them to Pakistan or another country, get them a visa to stay in that country" and then try to get them an interview, he explained.
In their efforts to aid Afghans seeking to come to the U.S., the veterans groups also have to be wary of potential scammers claiming to have ways of arranging transport and quick access to a visa.
A lawsuit filed in federal district court in Florida by the veteran-led Save Our Allies group charged that it was fleeced out of more than $700,000 by companies and individuals, including other veterans, who promised to assist nearly 200 refugees but failed to deliver.
"They did not provide what was promised as far as air transport, visas, decent housing and kept trying to stick 'em up for more money to the point where it became clear that it was a classic scam," Kevin Carroll, the lawyer representing Save Our Allies, told Military.com in a phone interview.
In June, the Departments of State and Homeland Security announced steps aimed at "alleviating certain obstacles" in the process that has barred many Afghans seeking to come to the U.S.
There could now be "exemptions" to the stringent vetting process for "Afghans who supported U.S. military interests" and even for Afghans who fought against the Soviet occupation, the State Department and Homeland said in a joint release.
But that still leaves the stranded Afghans with the problem of getting out of the country while evading the Taliban to make their case for a visa, assuming they can get an interview with a U.S. official, said retired Air Force Special Operations Master Sgt. Travis Peterson, head of the Moral Compass Federation.
Peterson said he was encouraged when Congress moved to pass the Afghan Adjustment Act (AAA), which would have eased the path to getting a Special Immigrant Visa for Afghans seeking to come to the U.S. while also making it easier to grant permanent resident status to the more than 70,000 already settled in the U.S.
But the initial attempt to attach the AAA to a must-pass spending bill to keep the government from shutting down failed when the AAA was left out of the bill. Supporters of the AAA said they would try to attach it to two other must-pass bills that come up in December, but Peterson is not optimistic.
"It's never gonna happen. With the triple 'A' going south, I don't know what else we can do," Peterson said. "The only thing we can do is keep pressing" the Defense and State Departments to ease restrictions.
But he also expressed concerns about how much longer the veterans groups could keep up the lobbying effort without additional funding.
Peterson said he had spoken at "four pretty major events in [the] last three months, and the total raised out of those was $1,500." Each one of the organizations in the Moral Compass Federation is strapped for money and, "without the federal government supporting us, I don't know what the future holds," he said.
— Richard Sisk can be reached at Richard.Sisk@Military.com.
Related: Bill to Keep Government from Shutting Down Leaves Out Afghan Refugees Despite Vet Protest
© Copyright 2022 Military.com. All rights reserved. This material may not be published, broadcast, rewritten or redistributed.