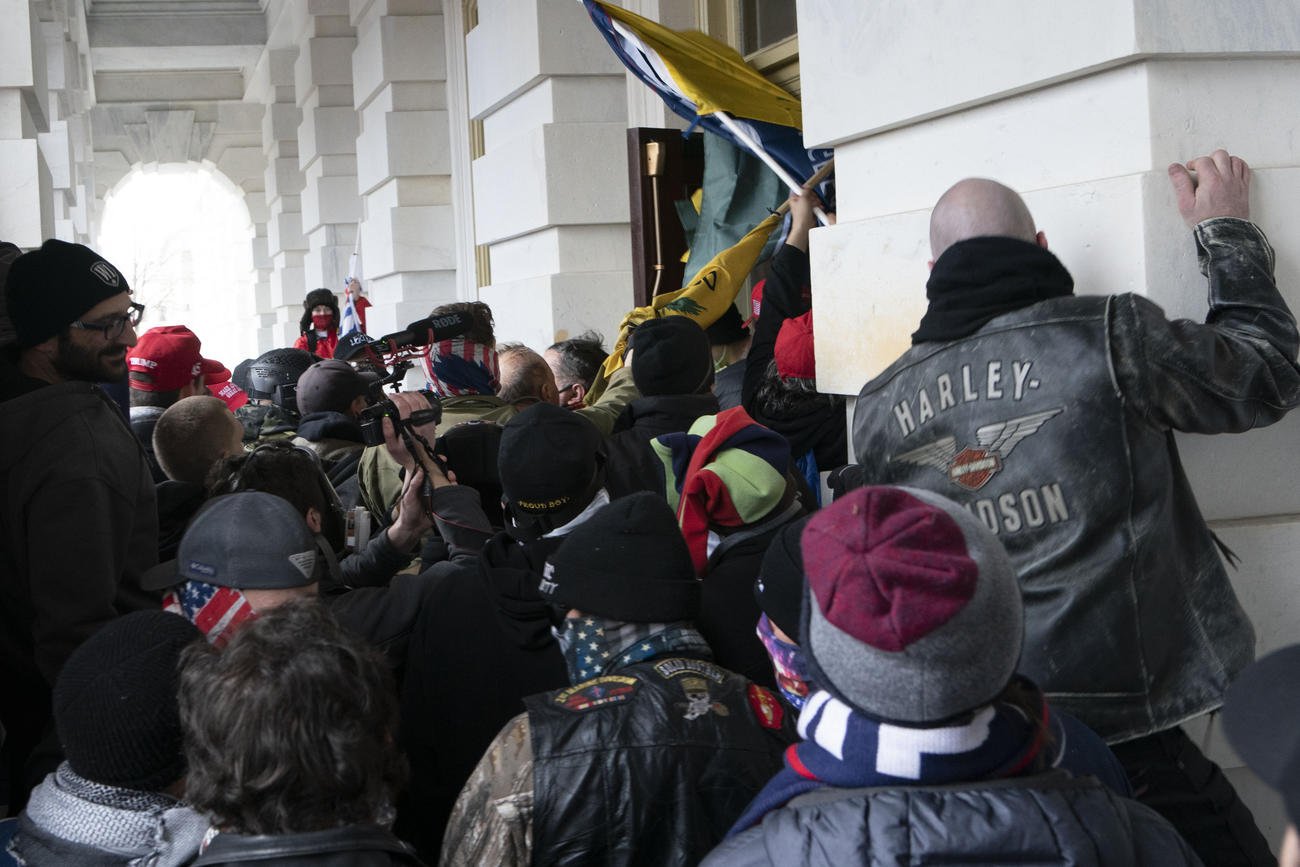 Three Marines were arrested Wednesday for their participation in the riot at the U.S. Capitol on Jan. 6, 2021, according to court documents unsealed Thursday.
Micah Coomer, Joshua Abate, and Dodge Dale Hellonen — three men identified by investigators as active-duty Marines — were arrested on four charges each stemming from their participation in the mob that stormed the U.S. Capitol in a bid to prevent the certification of Joe Biden's victory in the 2020 presidential election.
The three men are the first active-duty military members to be arrested in connection with the siege since Marine Maj. Christopher Warnagiris, who was taken into custody in May 2021 on nine charges. All three Marines, who were arrested more than two years after the attack, work in jobs connected to the intelligence community.
Read Next: The Army Forced to Change the Name of Its New Rifle
A Marine Corps spokesman confirmed that the service is "aware of an investigation and the allegations" and added that service "is fully cooperating with appropriate authorities in support of the investigation."
According to the complaint filed by federal prosecutors, investigators first learned of the three men when they found photos from inside the Capitol that Coomer had posted on Instagram including "the caption 'Glad to be apart [sic] of history.'" A search warrant was issued for his social media accounts in August 2021.
After officials identified Coomer, they used video and images from inside the building that day to identify Abate and Hellonen as well, according to court documents.
Later, investigators explained that all three men's identities were confirmed by comparing their images in the videos to their driver's licenses, as well as their military identification card photos.
According to court documents, the trio spent just under an hour milling about the Capitol, including the Rotunda, where they put "a red MAGA hat on one of the statues to take photos with it."
In a chat with another Instagram user in the weeks after the siege, the court records say Coomer told an unidentified person "that everything in this country is corrupt. We honestly need a fresh restart. I'm waiting for the boogaloo." When the other person asked what a "boogaloo" was, Coomer said "Civil war 2."
The Boogaloo movement is broadly anti-government in nature but favors violence with the use of the term "boogaloo" typically slang for a future race war. However, some experts, like the Anti-Defamation League, have noted that "most boogalooers are not white supremacists, though one can find white supremacists within the movement."
According to records provided to Military.com by the Marine Corps, all three men have been enlisted in the Marines for more than four years, with Hellonen, who enlisted in August 2017, being the most senior. On paper, the three Marines hold demanding jobs tied to the intelligence community, are stationed at major commands, and have personal commendations and awards to their name. At least one held a significant security clearance. All three had been awarded good conduct medals.
Abate, a sergeant, is assigned to the Marine Corps' Cryptologic Support Battalion at Fort
Meade, Maryland — also home to the National Security Agency headquarters — as a signals intelligence operator and analyst. Records provided by the Marine Corps show that among his awards was a Navy and Marine Corps Commendation Medal, an unusual and prestigious medal for a junior Marine.
Court documents say that Abate admitted to being in the Capitol in a June 2022 interview that was part of his security clearance process.
"During the interview, Abate discussed entering the U.S. Capitol Building on January
6, 2021 with two 'buddies,'" the documents say, before adding that they "walked around and tried not to get hit with tear gas."
"Abate also admitted he heard how the event was being portrayed negatively and decided that he should not tell anybody about going into the U.S. Capitol Building," the court document said.
Hellonen, a sergeant, is assigned to the 3rd Marine Raider Support Battalion — a unit that supports Marine Corps Special Operations Command — also as a signals intelligence operator and analyst. He is stationed at Camp Lejeune, and his warrant shows he was arrested in Jacksonville, North Carolina.
Earlier in his career in the Marine Corps, Hellonen was highlighted by the Air Force as a "student of the month" while attending a joint school on an Air Force base.
Coomer, a corporal and the man whose social media posting was credited by investigators as leading them to the trio, is assigned to 1st Radio Battalion, I Marine Expeditionary Force Information Group, at Camp Pendleton as a system engineer for intelligence and reconnaissance systems. His arrest warrant shows he was arrested in nearby Oceanside, California.
The careers of the three men stand in contrast to the other enlisted service members who were arrested for allegedly taking part in the riot. Most were lower ranking than the three Marines, and some were struggling to find success in the military. For example, Pfc. Abram Markofski, a Wisconsin National Guardsman who pleaded guilty to charges related to his role in the assault on the Capitol, was removed from Special Forces Selection for failing the Army's physical fitness test.
However, the men are not the only members of the intelligence community to be arrested for their alleged part in the siege. In the summer of 2022, federal authorities arrested Petty Officer 1st Class Hatchet Speed, a sailor assigned to the Naval Warfare Space Field Activity at the National Reconnaissance Office, an agency that says it is responsible for developing, launching and operating America's spy satellites.
The three Marines now join the other nine service members — active, reserve and National Guard — who have been arrested for alleged crimes stemming from Jan. 6. Two other men were booted from basic training as their investigations unfolded.
According to the George Washington University's Project on Extremism, out of the 940 defendants charged with crimes stemming from Jan. 6, 118, or 12%, have some form of military background.
— Konstantin Toropin can be reached at konstantin.toropin@military.com. Follow him on Twitter @ktoropin.
Related: Reservist Inspired by the Unabomber Gets Felony Gun Crimes Added to His Jan. 6 Charges
© Copyright 2023 Military.com. All rights reserved. This material may not be published, broadcast, rewritten or redistributed.